Under the Indian tax system, the taxable amount is deducted by a deductor (person or organisation) from the total earnings of a deductee. So, if your employer (deductor) makes a payment to you (deductee), they are liable to collect TDS and transfer the balance amount to your account. Your employer is also responsible for depositing the correct TDS amount with the tax department within a specified timeline.
This system does sound complex, but fortunately, it is quite convenient to pay TDS online. Keep reading to learn more about this hassle-free TDS payment procedure.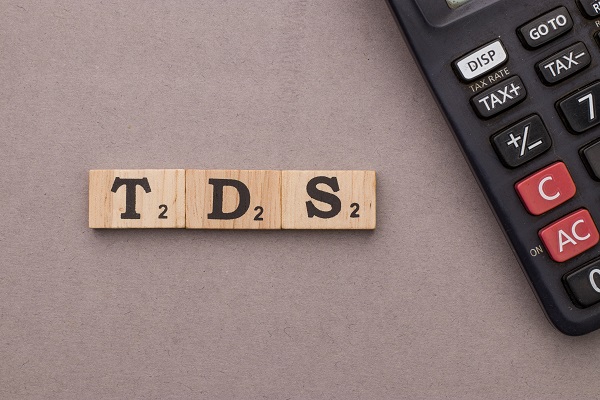 Procedure to Make TDS Payment Online
In India, TDS e-payment is offered by National Securities Depository Limited. All you have to do is follow these nine easy steps:
Step 1: Visit NSDL's official website.
Step 2: Hover your anchor around the top navigation bar, and from the "Services" dropdown menu, click on "e-payment: Pay Taxes Online."
Step 3: Once the new page opens, you will see a list of applicable challans. Select "CHALLAN NO./ITNS 281" in the TDS/TCS column.
Step 4: On this e-payment page, you will have to fill in the required information and click on "Proceed." After this, a new page opens up.
Step 5: You have to be careful while entering the information on this page.
It requires you to select a 'Tax Applicable' category: Company Deductees or Non-Company Deductees.
Fill out your Tax Deduction Account Number (TAN) and assessment year (AY).
It is mandatory to select your PIN code and State from the dropdown menu.
Select "Type of payment": TDS payable by taxpayer or TDS on regular assessment.
Lastly, opt for the nature and mode of payment before clicking on "Submit."
Step 6: After verifying your TAN, the taxpayer's name will get displayed on the screen.
Step 7: You will then have to confirm all the data, and then you will get redirected to your bank's net banking site.
Step 8: Log in to your banking profile and make the requested payment.
Step 9: After a successful payment, you will see a challan counterfoil containing your CIN, payment details, and bank name. As this challan counterfoil is proof of your payment, it is vital to store it for future reference.
Also Read: Income Tax Act, 1961
How to Check TDS Payment Status Online?
To check whether the e-filing of TDS payment by the deductor is successful or not, you can follow these steps:
Step 1: Visit the official TRACES (TDS Reconciliation Analysis and Correction Enabling System) website.
Step 2: Enter the verification code and click on "Proceed."
Step 3: Provide the deductee's PAN details and deductor's TAN details.
Step 4: From the dropdown menu, select financial year, quarter, and type of return.
Step 5: Finally, click on "Go" to view your TDS status.
However, there is another procedure that you can follow to view your TDS status without using your PAN card. For that, you have to follow these steps:
Step 1: Visit the Income Tax Department's official portal.
Step 2: A new member needs to register themselves. Meanwhile, an existing member can log in with his/her User ID and password.
Step 3: From the "My Accounts" tab, select "View Form 26AS."
Step 4: Select the relevant "Year" and "PDF Format" to download the file.
Step 5: You can access this file using your date of birth as your password and view your TDS status.
Timeline for TDS Online Payment
The deadline for completing TDS payments varies for government and non-government assessees.
Due dates for government assessees are as follows:
For tax payment without challan: The day of deduction
For tax payment with challan: 7th of next month (for example, the deductor has to pay TDS for the month of February, by March 7)
Due dates for non-government assessees are given below:
Payment of TDS for March: April 30 of that year
Payment of TDS for every other month: 7th of next month
Quarterly payment
Only with the permission of the Joint Commissioner, taxpayers can pay TDS every quarter. The deadlines for these payments are as follows:
Quarter ending on June 30th: July 7
Quarter ending on September 30th: October 7
Quarter ending on December 30th: January 7
Quarter ending on March 30th: April 7
Consequences of Missing the Deadline
If you delay in deducting TDS and thus, end up not meeting the TDS payment deadline, the deductor is liable to pay interest. From the due day of deduction to when the deductor actually collects TDS, interest at the rate of 1% is charged per month on the due amount.
TDS deducted but payment not made
Under Section 201A of the Income Tax Act, a non-payment of TDS carries an interest of 1.5% per month on the due amount. This penalty applies from the day of the TDS deduction to the day of successful payment. 
Also Read: All PAN Card Services At NSDL
Final Word
Indeed, understanding the tax system and TDS payment can be daunting. However, Tax Deducted at Source is crucial as it protects the tax system against individuals who indulge in tax evasion. Fortunately, with digitalisation, you can now pay TDS online from anywhere without submitting a physical challan.
Frequently Asked Questions
Q1. Do I have to pay TDS every month?
Ans: According to the Income Tax mandate, you need to pay a month's TDS amount on the 7th of the coming month. In the case of TDS deducted in March, the payment deadline is April 30. However, with the permission of the Joint Commissioner, you can make these payments every quarter. 
Q2. Do I get refunds on Tax Deducted at Source?
Ans: Yes, if you pay more tax than what you owe, you will get a refund. This applies to Tax Deducted at Source as well. To obtain refunds, you will have to file the income tax return on time and show the TDS amount. 
Q3. Do only salaried individuals pay TDS?
Ans: No, as per the norm, any individual who earns an annual income above Rs. 2.5 lakh has to pay TDS. Thus, both salaried and self-employed individuals have to pay income tax before the deadline. 
Q4. What is Form 26AS?
Ans: Form 26AS includes all the details about a taxpayer's tax credit. Thus, it gives you information about the amount deducted as TDS or TCS, any advance tax you pay, the tax refunds you receive in a financial year, etc. 
Q5. What is the new tax regime?
Ans: In FY 2020-21, the Government of India introduced a new tax rate regime. This regime lowered tax rates and removed the major tax exemptions and deductions that were available in the old tax regime. However, this new regime is optional.
Before you go…