If you deal with foreign clients, sell your product globally and get paid by customers abroad, you must know about the telegraphic transfer. It helps in money transfer from international clients. In this article, we discuss everything you need to know about the telegraphic transfer. Read on!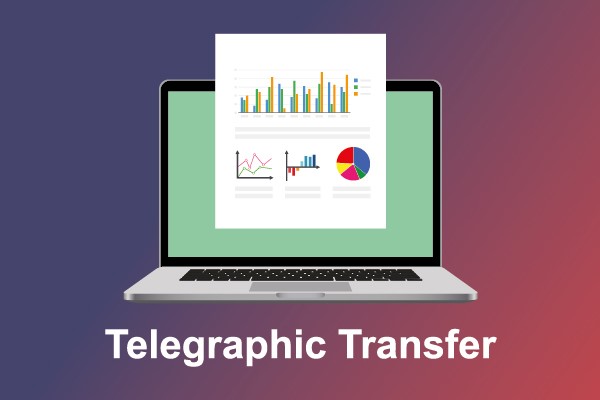 What is a Telegraphic Transfer?
Telegraphic transfer (TT), means a way to move money from one account to another using a phone or cable. People used to send money by telex, a way to send printed words over a line. No longer is that the norm. Now, the term 'wire transfer,' 'money transfer,' or 'SWIFT transfer' is used interchangeably (even though SWIFT originated as a completely different system).
Before the SWIFT network was set up, telegraph transfers were the only way to move money worldwide. Even though the term "telegraphic transfers" now covers a wide range of bank-to-bank money transfers, it's safe to assume that most use the SWIFT system. Different banks and countries use the term "telegraphic transfer" differently.
In some situations, the method of payment called Real Time Gross Settlement (RTGS) may be called a telegraphic transfer.
Telegraphic Transfer (TT) is a way to pay that you can use. Most of the time, we use it to send money to other countries. The word "telegraphic" comes from the fact that the first system was run by the telegraph. Telegraphs were used to send messages all over the world.
The telegraph was no longer functional, so the system had to change. As technology got better, so did Telegraphic Transfer (TT). With cable communications and secure cable networks, banks can send wire transfers to each other. Modern technology makes it easy for financial institutions to talk to each other quickly.
Are Telegraphic Transfers Different from Bank Transfers?
Yes. You will always have to pay a fee when sending money to another country. This is the price you pay for ease of use. It depends on what kind of transfer is being made and who is responsible for paying the cost. Another option is for the person who gets the money to pay the fees. Don't forget about the exchange rate, which the bank sets.
You shouldn't have to pay extra fees when you make a domestic bank transfer. So, if you only need to move money to an account in the same country, you should use a domestic bank transfer instead of a telegraphic bank transfer.
Also Read: What Is Mobile Money Identifier (MMID) And How To Use MMID For Fund Transfer
How does Telegraphic Transfer Work?
Simply put, Telegraphic transfers involve sending money from one bank to another and then passing it on to the intended recipient.
Because the banks that are participating in the transfer, commonly referred to as correspondent banks, set their own prices and processing periods, telegraphic transfers are typically more expensive than other transfer services.
Due to this, transferring money between people and businesses can be costly and time-consuming; the processing period for a transfer is typically 1-2 days.
SWIFT – The Society for Worldwide Interbank Financial Telecommunication network, which we'll discuss further, comprises all of these correspondent banks.
Payments can only be sent between banks that have business contacts with one another. Hence this network is crucial.
What is the Time Limit and Cost Involved in Telegraphic Transfer?
A telegraphic transfer from India will cost you several costs. You'll be given a choice to pay the costs upfront or deduct them from the recipient's cash when you start the transfer. Here is a list of the possible fees you will have to pay:
Sender's bank fees: These are charges set by the bank from which you are sending the funds. They will most likely cost you a little less in India when compared to other countries.
Bank fees for the recipient are set by the bank receiving the funds.
Fees from the associated banks make up the corresponding bank fees. You might need more research to determine how much the affiliated banks charge since the information isn't always straightforward.
Last but not least, it's critical to keep in mind that banks add a margin to the exchange rate. This serves to pay their costs. Regardless of how you choose to pay, banks typically charge more than other, more specialised money transfer providers.
How Fast are Telegraphic Transfers?
It is essential to remember that the amount of time necessary to complete a Telegraphic Transfer, just like the fees, varies depending on whether the transfer is conducted using CHAPS or SWIFT.
The time it takes to complete a CHAPS money transfer might range from a few seconds to as long as two hours, depending on the circumstances. As a result, it is utilised in circumstances in which there is a race against the time in a domestic transaction.
As previously mentioned, completing a telegraphic transfer via this technique often takes anywhere from two to four days. This is the situation because a SWIFT transfer is more involved and may have to travel through more than one bank.
What is the Role of Banks in Wire Transfer?
Transferring Bank
According to the customer's instructions, the ordering bank starts the wire transfer process. To be eligible for a wire transfer, the ordering bank must verify that the customer has accurately submitted all required information (remitter's information). Before processing the request for a wire transfer, the bank must confirm the data.
Banking Intermediary
The intermediary bank involved in the wire transfer procedure must maintain a record of every transaction and ensure that the information is accurately included in the request.
Beneficiary Bank
The beneficiary bank must ensure the transaction has all of the sender's information and the specifics of the amounts sent. Certain standards, like Know Your Customer and anti-money laundering, must be followed by banks (KYC).
You can always approach your bank with the transaction reference number if there is a delay or a problem. As soon as a wire transfer transaction is started, the sending bank gives the sender a transaction reference number. Financial institutions can use this reference number to check the transaction's status.
Remittances sent across international borders are subject to several rules and limitations. Banks carry out their own due diligence as well. Telegraphic transfers make it possible for you to send money to India successfully, conveniently, and with little hassle.
Also Read: A Complete Guide On How To Transfer Money From Credit Card To Bank
What are the Benefits of Telegraphic Transfer?
Convenient: The only thing you need to do for making a telegraphic transfer is to use the services of your bank. This makes telegraphic transfers quite convenient. You can even start the transfer from your bank's browser or the app.
Risk-free: Telegraphic transfers are a dependable and risk-free method of moving money from one party to another. Even the transfer of significant sums of money can be done in a secure manner.
High limitations: In contrast to other methods of transmitting money, like payments in cash, telegraphic transfers are the most appropriate means to move vast quantities of money and have high limits because of their capacity to accommodate such transactions.
Final Word
A Telegraphic Transfer is a safe and reliable way to move money. It can be used to send or receive large amounts of cash within India or to or from places outside of India. But for smaller transactions and transfers within India, you can use less expensive methods than a telegraphic transfer. Before you make the tt payment, you should verify with your bank if you have any questions or concerns about the transaction.
FAQs on Telegraphic Transfer
Q1. Is it possible to track a telegraphic transfer?
Ans: Money transfers are unlike parcel deliveries, where you can follow the approximate position of your delivery. You can also request a trace through your bank with a bit of additional work. They'll only notify you if the money has been deposited. You'll need your 16-20-digit Federal Reference number. SWIFT's latest cross-border payment technology (SWIFT GPI) allows you to track your payment at any time. Track your payments end-to-end in real-time on the SWIFT website.
Q2. How secure is the act of sending money by telegraph?
Ans: Due to the fact that this method of transferring money operates on an electronic level, it is one of the safest ways to send money. You will have a simpler time tracking it and knowing how much cash is transferred as well as when you can expect to receive it. Additionally, you are able to start a TT at any time and in any location.
Q3. Why should I make use of a TT?
Ans: A telegraphic transfer, also known as a TT, is typically the quickest option when sending money to a foreign country. In most cases, the delivery will reach the beneficiary within one to two business days. However, because of the interconnected nature of the banks, there are no guarantees. It is more cost-effective to send a TT in the recipient's currency. It eliminates the need for days to be spent converting or clearing funds, which results in rapid crediting of cash.
Q4. How can you send money using telegraphy?
Ans: Although the specific processes differ from bank to bank, the telegraphic money transfer procedure is generally the same. The steps you must take to make a payment are as follows:

1. Check your bank's website to see if you can perform telegraphic transfers online. You should be able to do this by phoning your bank or visiting their website.

2. Log in to your bank account to access the section for telegraphic money transfers if your bank permits you to make this form of payment online. This might be referred to as a "wire transfer," a "telegraphic money transfer," or some such word. Visit your local branch if your bank does not let you make this kind of payment online.

3. Examine the costs and conversion rate before sending. Telegraphic money transfers necessitate sending funds through matching banks, which may not always be the same as your own. Although you may be aware of your bank's fees, keep in mind that you can also be liable for the relevant bank fees. A good moment to check the currency rate is now.

Specify the relevant details: Give your recipient's name and, if necessary, their address. Additionally, you'll need their basic financial information, like a SWIFT or BIC code.
Before you go…
Disclaimer: Mutual Fund investments are subject to market risks, read all scheme-related documents carefully.
This article has been prepared on the basis of internal data, publicly available information and other sources believed to be reliable. The information contained in this article is for general purposes only and not a complete disclosure of every material fact. It should not be construed as investment advice to any party. The article does not warrant the completeness or accuracy of the information, and disclaims all liabilities, losses and damages arising out of the use of this information. Readers shall be fully liable/responsible for any decision taken on the basis of this article.