GST or the Goods and Services Tax is one of the most significant tax reforms to be ushered in since the country's independence. The GST Act was implemented on July 1, 2017. The Goods and Services Tax is an indirect tax levied on the supply of goods and services in India. Different GST rates are applicable to different goods and services based on their classification and several other factors.
A string of GST rate modifications were announced on July 18, 2022. Read further to know what goods and services became cheaper after GST was slashed on them, what got costlier, and how they impact your day-to-day life.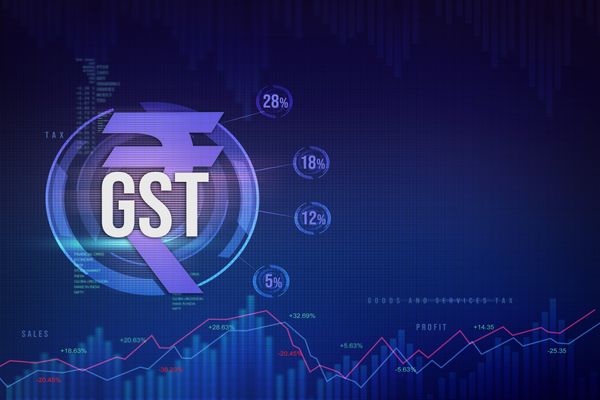 GST Meaning and Current GST Structure
The Goods and Services Tax (GST) is a consumption/destination-based tax. It was proposed by the Indian Government to replace a multitude of taxes with a single tax. GST rates are levied on most items purchased or consumed in India, including food, clothing, housing, and transportation among other goods and services.
The GST tax structure consists of Central Goods and Services Tax (CGST), State Goods and Services Tax (SGST), Integrated Goods and Services Tax (IGST), and Union Territory Goods and Services Tax (UTGST).
The GST slab rates stand at 0%, 5%,12%,18%, and 28%, with the least expensive items placed in the first category and the most expensive in the last.
GST Rates on Goods and Services
GST rate list
| | |
| --- | --- |
| Rate | Description of goods |
| 0% | Milk, unbranded atta, unbranded maida, gur, eggs, kajal, curd, lassi, child drawing and colouring book, unpacked food grains, unpacked paneer, besan, prasad, unbranded natural honey, fresh vegetable, jaggery, salt, phool wali jhadu. |
| 5% | Household items like edible oil, sugar, tea, spices, coffee, packed paneer, coal, raisin, domestic LPG, roasted coffee beans, PDS kerosene, skimmed milk powder, cashew nuts, footwear up to 500, milk food for babies, apparel up to 1000, fabric, matting and floor covering, agarbatti, Indian sweets and Life-saving drugs. |
| 12% | Computers, processed food items, butter, ghee, almonds, mobile, fruit juice, packed coconut water, umbrella, preparation of vegetables, fruits, nuts and other parts of plants including pickle murabba, chutney, jam etc. |
| 18% | Personal care items such as hair oil, toothpaste, soaps, toiletries, capital goods and industrial intermediaries. Ice creams, pasta, cornflakes, soups. |
| 28% | Small cars, consumer durables like ACs and refrigerators. Luxury cars like BMWs, cigarettes and aerated drinks (+15% cess), High-end motorcycles(+15% cess) etc. |
| | |
| --- | --- |
| Rate | Description of services |
| 0% | Education services, Health services |
| 5% | Railways- Transportation of goods, persons, and commodities aboard a ship from outside of India. Renting a cab (not including fuel costs), air travel for pilgrimage via chartered or unscheduled flights, tour operator services, aircraft leasing, print media ad space, and newspaper printing |
| 12% | Transportation of goods (in containers) through rail from a third party other than Indian Railways, travel by air, excluding economy food and beverages served at establishments without ac, heat, or a liquor licence, renting a place to live for more than Rs. 1000 but less than Rs. 2500. Foremen's chit fund services, Building constructions for sale, temporary use of intellectual property rights, less than or equal to Rs. 100 for movie tickets |
| 18% | Meals or beverages in eateries with a liquor licence, in restaurants with air conditioning or heating, outside catering, renting a place to live for more than Rs. 2500 and less than Rs. 5000. Provision of food, shamiana, and party planning, Indian classical, folk, theatre, and drama, contract for the supply of work, movie tickets costing more than Rs. 100 |
| 28% | Amusement facilities, water parks, theme parks, merry-go-rounds, race tracks, go-kart racing, casinos, ballet, sporting events such as the IPL, and race club services. Gambling, beverages and food (at AC accommodations) at five-star hotels or above |
Also Read: What Are IGST, SGST And CGST And What Are The Differences?
Revision of GST Rates
On July 13th, 2022, nine Central Tax (Rate) notifications number 03/2022 to 11/2022 were released. The proposed GST rate modifications became effective on July 18th 2022. In addition, certain daily necessities were removed from the list of exemptions. The government also declared revised rates for goods and services subject to an inverted tax structure. Furthermore, an announcement was made on the changes in the use of reverse charge mechanisms for certain services.
Following are the latest changes in GST brackets that have been in effect since July 18, 2022.
Latest Changes in GST Rates
On 28th and 29th June 2022, the 47th GST council meeting was held. The pruning of the exemption list and the correction of the inverted tax structure were among the decisions taken regarding GST rates. Also, changes to GST rates of a few other goods and services were ordered. Let's take a look.
1. Goods and Services that got Costlier
| | | |
| --- | --- | --- |
| Goods and Services that got Costlier | New Rates | Old Rates |
| Cut and Polished diamonds | 1.50% | 0.25% |
| Tetra Pack | 18% | 12% |
| Tar (From coal, coal gasification plants, producer gas plants and coke oven plants) | 18% | 5%/18% |
2. Goods and Services that got Cheaper
| | | |
| --- | --- | --- |
| Goods and Services that got Cheaper | New Rates | Old Rates |
| Importing Diethylcarbamazine (DEC) for National Filariasis Elimination Programme (IGST) | Nil | 5% |
| Importing particular defence items for end-consumption of Defence (IGST) | Nil | Applicable rates |
| Ostomy appliances, orthopaedic appliances such as intraocular lens, artificial parts of the body, splints and other fracture appliances, other appliances which are worn or carried, or body implants, to compensate defect or disability | 5% | 12% |
| Transport of goods and passengers by ropeways | 5% | 18% |
| Renting of trucks or goods carriage that includes fuel cost | 12% | 18% |
3. Correction of Inverted Tax Structure
| | | |
| --- | --- | --- |
| Description of Goods and Services | New Rates | Old Rates |
| Printing, writing and drawing ink | 18% | 12% |
| Knives with cutting blades, paper knives, pencil sharpeners, blades, spoons, forks, ladles, skimmers, cake-servers etc. | 18% | 12% |
| Power driven pumps like centrifugal pumps, deep tube-well turbine pumps, submersible pumps; Bicycle pumps | 18% | 12% |
| Machines used for the purpose of cleaning, sorting or grading, seed, grain pulses (Machinery used in the milling industry or for the working of cereals etc. -Pawan Chakki that is Air Based Atta Chakki, Wet grinder) | 18% | 5% |
| Machines used for the purpose of cleaning, sorting or grading eggs, fruit or other agricultural produce. Milking machines and dairy machinery | 18% | 12% |
| LED Lamps, lights and fixtures, (including their metal printed circuits board) | 18% | 12% |
| Drawing/marking out instruments | 18% | 12% |
| Solar Water Heater and system | 12% | 5% |
| Prepared/finished leather/chamois leather/composition leathers | 12% | 5% |
| Services of foreman for chit funds | 18% | 12% |
| Working related to the processing of hides, skin and manufacturing of leather | 12% | 5% |
| Working related to manufacturing of leather goods and footwear | 12% | 5% |
| Working related to manufacturing of clay bricks | 12% | 5% |
| Contract for roads, bridges, railways, metro, effluent treatment plant, crematorium etc. | 18% | 12% |
| Contracts supplied to central, and state governments, local authorities for historical monuments, canals, dams, pipelines, plants for water supply, educational institutions, hospitals etc. & sub-contractor thereof | 18% | 12% |
| Contract supplied to central, and state governments, union territories & local authorities involving predominantly earthwork and sub-contracts | 12% | 5% |
Also Read: GST Cancellation Rules And Norms That You Should Be Aware Of
Final Word
The Goods and Services Tax (GST) is an indirect tax that is levied on the supply of goods and services in India. The Government of India, finance department and other stakeholders regularly visit the GST provisions and rules, keeping in mind the changing business environment. As of July 18, 2022, several rate changes and modifications were made public.
FAQs on GST Rate
Q1. What is the full form of GST? 
Ans: GST stands for Goods and Services Tax. It is a consumption-based tax that was aimed at simplifying the tax structure in the country.
Q2. What is the definition of GST?
Ans: GST is a tax system implemented to replace various state-level and indirect taxes in India. The aim of GST is to ensure that all goods and services are taxed under a single tax system with no exemptions.
Q3. Do GST rates remain constant?
Ans: No, GST rates do not remain constant. They are regularly visited and modified, keeping in view innumerable factors.
Q4. What is an inverted tax structure?
Ans: An inverted tax structure is an event where the GST rate on inputs purchased is higher than the rate paid towards outward supply.
Q5. What are the latest GST rate changes?
Ans: Since 18th July 2022, numerous GST rate changes have been announced, including the correction of inverted tax structures.
Before you go…
Disclaimer: Mutual Fund investments are subject to market risks, read all scheme-related documents carefully.
This article has been prepared on the basis of internal data, publicly available information and other sources believed to be reliable. The information contained in this article is for general purposes only and not a complete disclosure of every material fact. It should not be construed as investment advice to any party. The article does not warrant the completeness or accuracy of the information, and disclaims all liabilities, losses and damages arising out of the use of this information. Readers shall be fully liable/responsible for any decision taken on the basis of this article.