The Partnership Act, 1932 regulates firms in India that form a partnership through an oral or written agreement. These firms need to have a PAN card to file Income Tax Returns (ITR). Here's everything you need to know about PAN application for partnership firms – how to apply for a PAN card for Partnership firms online and offline, details the firms are required to furnish in Form 49A, business codes and documents required. Keep reading!
Elements Required for the Formation of a Partnership Firm
Before applying for a partnership PAN card, a company must go over the following elements to confirm it as a partnership firm.
Number of persons involved in the partnership
Contract or deed of partnership
Business agreement to carry on with the business
Mutual agency
Sharing of profits
Requirements Before Partnership Firm PAN Card Application
A firm's partners should finish these formalities before applying for a partnership firm PAN card:
Notarise the firm's partnership deed
One partner must be given authority (defined as an authorised partner) to sign on the firm's behalf and serve as a manager
The partnership deed must specify the place and date of origin of business
Partners of a firm and two witnesses should sign every page of the deed.
Stamp the deed with a rubber stamp, carrying the partnership firm's name and the term 'partner.'
Documents Required for Partnership Firm PAN Card Application
Keep these documents ready while applying for a Permanent Account Number:
Partnership firm's registration certificate
Proof of address of partners
Identity proof of each partner
Address proof of office documents such as utility bills (past 3 months), owner's NOC, sale deed or rental agreement
Authorised partner's digital signature certificate
How to Apply for PAN Card for Partnership Firm
A firm's authorised partner can opt for a PAN through offline or online mode. Let's check out the online mode first.
Follow the below steps for an online PAN application for a partnership firm:
Step 1: Click on NSDL Online PAN Application
To start an online PAN application for partnership firms, visit the NSDL online PAN application site.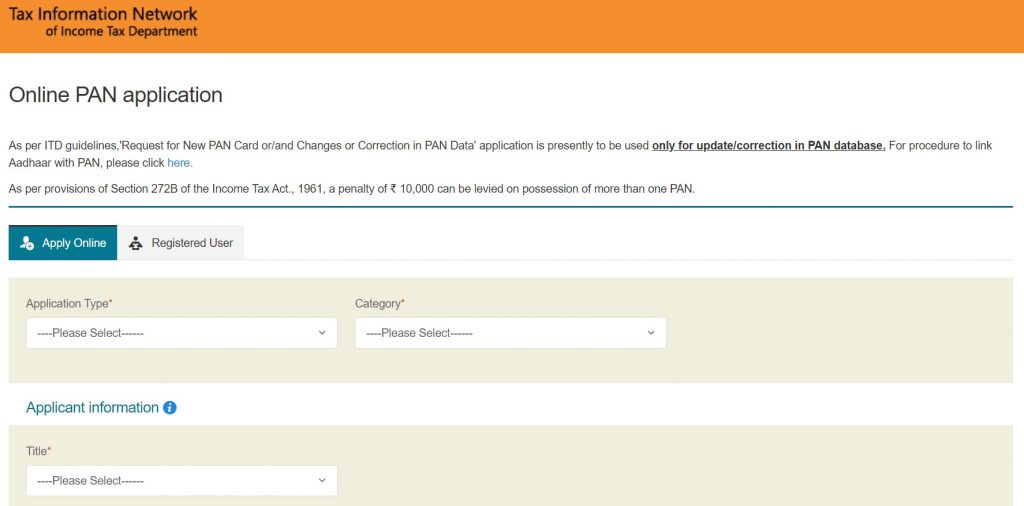 Step 2: Select Form 49A
Choose 'New PAN – Indian Citizen (Form 49A)' from the drop-down menu of the 'Application Type' section.

Step 3: Choose 'Firm'
Next, choose 'Firm' in the drop-down menu of the 'Category' section.

Step 4: Enter other details
Fill in the firm's details, documents, business code, earning details and contact information.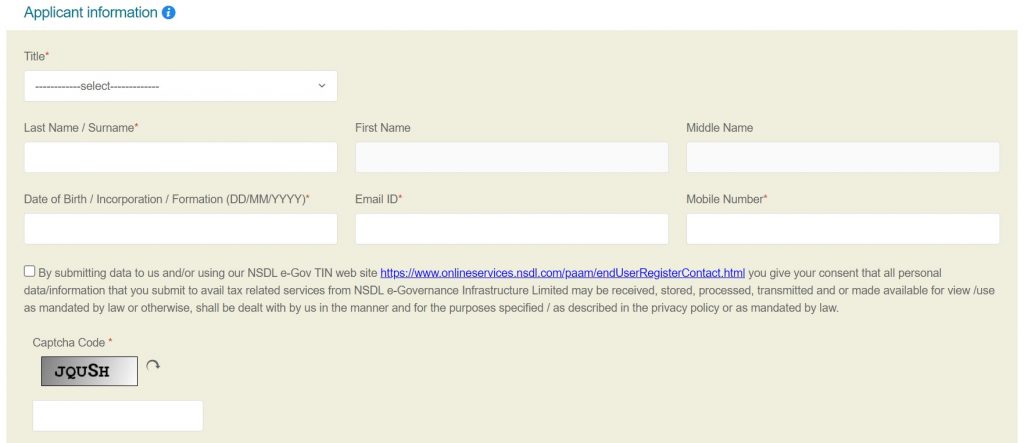 Step 5: Make payment
Select a payment mode such as net banking, cheque, Demand Draft, debit card or credit card and pay Rs.110.
After payment, you need to print out the acknowledgement slip. An authorised partner must paste a passport-sized photograph on the acknowledgement slip (attest this photograph using a black pen). Submit the acknowledgement slip along with the relevant documents to the Income Tax Department within fifteen days of applying online.
Post verification of the documents, you will receive a PAN card at the firm's registered office within 15 to 20 days.
To apply for a PAN card for a partnership firm offline, follow the below steps:
Go to a nearby PAN Centre (office of TIN-FC) and ask for Form 49A (application form)
You may even download this form from the official portal of TIN
Next, fill out the form with a black coloured ball-point pen
An authorised partner must put his/her signature on the form
Now, submit Form 49A and relevant documents to the TIN-FC office and pay Rs. 110 as registration fees
After document verification, you will receive the PAN card at the partnership firm's registered office within 15 to 20 days. You can check PAN status online using the acknowledgement number provided after form submission.
Details Required in Form 49A
A partner must furnish these details in the PAN application form:
Provide the firm's name as mentioned in the Certificate of Registration (the Registrar of firms issues such a certificate, with M/S used before the applicant's name)
Mention the firm's incorporation date as specified in the partnership deed
Specify the firm's office address as mentioned in the deed
In the 'Status of Applicant' section, select 'Partnership Firm'
Give the partnership firm's registration number as per the deed
In the 'Source of Income' section, select 'Income from business/profession'
Select the relevant business code depending on the firm's business
Specify necessary documents you are submitting with Form 49A/ acknowledgement slip (for online mode of application) to the IT Department/TIN-FC office
Provide the authorised partner's name in the declaration section
The authorised partner must put his/her signature on the form
Chart of Business Codes
| | |
| --- | --- |
| Business/Profession | Code |
| Medical profession | 01 |
| Engineering | 02 |
| Architecture | 03 |
| Chartered accountancy | 04 |
| Interior decoration | 05 |
| Technical consultancy | 06 |
| Company secretary | 07 |
| Legal practitioner | 08 |
| Government contractor | 09 |
| Insurance agency | 10 |
| TV, films and other forms of entertainment | 11 |
| Information technology | 12 |
| Developers and builders | 13 |
| Members of sub-brokers, share brokers and stock exchange | 14 |
| Yatra and performing arts | 15 |
| Operation of helicopters, aircraft, hovercraft and ships | 16 |
| Plying commercial vehicles, buses, trucks, lorries and taxis | 17 |
| Ownership of jockeys or horses | 18 |
| Theatres and cinema halls | 19 |
| Others | 20 |
Refer to the above-mentioned list while selecting your line of business in the PAN application form.
Points to Remember before Applying for Partnership Firm PAN Card
One should keep these points in mind while applying for a partnership firm PAN card:
The deed should mention one partner as the managing partner. He/she will be liable to provide his signature on all official documents on behalf of the company.
The partnership must be authorised by a notary of India.
The establishment date of the partnership has to be mentioned.
Each shareholder has to sign all sections of the partnership certificate.
Contact details and the address of the firm should be refurbished in the partnership contract.
The firm needs to avail a rubber stamp with the firm's name and the word 'Partner'. This has to be used by the managing director to sign the official papers.
Final Word
While opting for a partnership firm PAN card, only 1 partner must sign Form 49A. You can correct any mistake in the form and resubmit it. You must keep photocopies of the registration certificate and the partnership deed handy. A PAN card for partnership firm is helpful for filing ITR and also acts as proof of the firm's existence. So, go ahead and apply now!
FAQs on PAN Card for Partnership Firm
Q1. Who can apply for a Permanent Account Number?
Ans: Any individual, foreigner, society, trust, partnership firm, company and HUF can opt for a PAN card. It has lifetime validity. PAN is unique for every entity or individual. A Permanent Account Number is mandatory for filing ITR.   
Q2. Which documents does an individual require while applying for a PAN?
Ans: When applying for a Permanent Account Number, an individual needs 2 kinds of documents─ identity proof and address proof. An individual must furnish any two of the below-mentioned documents while opting for a PAN card:
Driving licence 
Voter ID
Passport
Aadhaar card
Q3. What is the fee for updating an existing PAN card?
Ans: For correcting or updating PAN details, a person must pay a charge. The same amount applies to new PAN registration and correction/update. The fees are as follows:
Rs. 1,020 for communication address in a foreign country
Rs. 110 for communication address in India
Q4. How to track PAN status online?
Ans: You can check your Permanent Account Number status in the following way:
Go to the official website of NSDL
Under the 'Application Type' section choose 'PAN-New/Change Request' from the drop-down menu
Give your acknowledgement number and press 'Submit'
The page will display your PAN status. 
Q5. Why does a person require a Permanent Account Number?
Ans: A taxpayer must obtain a Permanent Account Number because of the following reasons:
For filing income tax returns
To carry out high-value financial transactions
For business registration
It serves as an identity or address proof
It is also a vital document for selling or purchasing shares, mutual fund units, and other assets. 
Before you go…
Disclaimer: Mutual Fund investments are subject to market risks, read all scheme-related documents carefully.
This article has been prepared on the basis of internal data, publicly available information and other sources believed to be reliable. The information contained in this article is for general purposes only and not a complete disclosure of every material fact. It should not be construed as investment advice to any party. The article does not warrant the completeness or accuracy of the information, and disclaims all liabilities, losses and damages arising out of the use of this information. Readers shall be fully liable/responsible for any decision taken on the basis of this article.