PAN or Permanent Account Number is a unique 10-digit alphanumeric identifier issued by the Income Tax (IT) Department of India. It serves as an identity proof and is essential for all tax-related purposes. You can apply for a PAN card online and offline. Here's a detailed step-by-step guide on how to apply for a PAN card online through the NSDL or UTIITSL website and offline through Form 49A and 49 AA. Read on!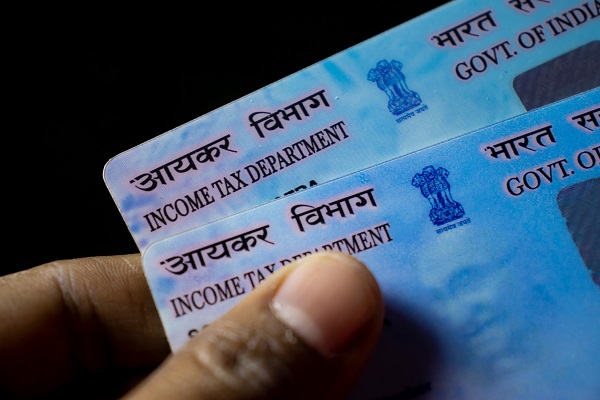 How to Apply for a PAN Card?
You can apply for a PAN card online through NSDL and UTIITSL websites. First, let's see how to apply for a PAN card through the NSDL website. Scroll down.
Apply for PAN Card Online Through NSDL Website
Step 1: First, go to the official portal of NSDL and tap on the Online PAN Application section.
Step 2: Now, go to the 'Application Type' section and choose the type of application: Form 49A for Indian citizens or 49AA for foreign individuals.
Step 3: Choose the category under which you want to apply: Individuals, Body of Individuals or Association of Persons, Limited Liability Partnerships, Hindu Undivided Family, Government, Artificial Judicial Person, Local Authority, Firm or Trust.
Step 4: Fill in the following data: Title, middle name, surname, DOB/formation/ incorporation in the dd/mm/yyyy format, mobile number and email ID. Enter the Captcha code and submit.
Step 5: You will get a token number. Now, tap on 'Continue with PAN application form' and fill up all necessary personal information.
Step 6: Select how you wish to submit all relevant documents: Submit digitally through e-KYC and e-sign, submit scanned images with a digital signature or submit physically.
Step 7: Click on the documents that you would submit as proof of date of birth, identity, and address. Now confirm the declaration along with the place and date of the application and submit the document.
Step 8: Now, click on 'Proceed' to make payments. The fee for a PAN application stands at Rs. 93 for Indian addresses, while Rs. 864 is levied for foreign communication addresses. These charges are devoid of GST. Make the payment through net banking, debit cards or credit cards. You may also opt for a demand draft.
Step 9: Now, take a printout of the acknowledgement slip. Attach two recent photos and send them with all relevant documents to NSDL via courier within 15 days of application. NSDL will start processing your application for the PAN card as soon as it receives your documents.

The second way of applying for a PAN card online is through the UTIITSL website.
Apply for PAN Card Online Through UTIITSL Website
Step 1: Visit the official portal of UTIITSL.
Step 2: Now, tap on 'Services' and then click on 'PAN Card'. Select 'Apply for PAN card.'
Step 3: Click on 'PAN card as an Indian Citizen' or 'PAN card as Foreign Citizen'.
Step 4: Tap on 'Apply for a new PAN card' and select the type of form based on your citizenship. Choose 'Digital Mode' to fill up an online application form.
Step 5: Provide all relevant information in the form.
Step 6: Review the provided data and tap on 'Submit'. Proceed for paying the charges by clicking on 'Make Payment'. You can choose either the BillDesk or PayU India payment gateway. Pay the charges through debit card, credit card or net banking.
Step 7: Once the payment is complete, take a printout of the acknowledgement slip. Attach two recent photographs, provide a signature and send it to the Income Tax Department with address and identity proof documents within 15 days.
You will receive the number in your registered number as the verification process is over. However, the card might take up to 20 business days to reach your address. You can also apply for a PAN card offline. In the next section, you will learn how to do so in easy steps.
There are TIN facilitation centres and PAN service centres in every major city of India, where you can apply for a PAN card. You will have to submit a PAN application form along with the required documents and fees.
Take the following steps to apply for PAN offline:
How to Apply for a PAN Card Offline?
Step 1: Collect a PAN card application Form 49A (Indian citizens) or 49AA (NRIs) from the PAN centre, TIN facilitation centre or a stationary vendor offering such forms.
Step 2: Read all instructions given on the form. Next, fill out this form in block letters (in black ink).
Step 3: Affix two recent colour photographs with white background (3.5 x 2.5 cm). Sign across these photographs so that part of it is on the white paper.
Step 4: Attach a demand draft of Rs. 93 (excluding Goods and Services Tax) along with the form.
Step 5: Attach your identity proof and address proof with the form and send it to the address of the Income Tax Pan Services unit.
Also Read: Common Mistakes To Avoid When Applying For A PAN Card
Documents Required for PAN Application
1. Any Identity Proof
Aadhaar card
Elector's photo identity card
Driving license
Passport
Ration card
Arm's license
Central or State Government issued Photo Identity Card
Pensioner card
Central Government Health Scheme Card
Certificate of identity in original signed by a Member of Parliament
Original bank certificate
2. Address Proof
Aadhaar
Elector's photo identity card
Driving license
Passport
Passport of spouse
Post office passbook
Most recent property tax assessment order
Domicile certificate
Allotment letter of accommodation issued by Central or State Government
Property registration document
3. Birth Proof
Aadhaar
Driving License
Matriculation certificate
Birth certificate
Passport
Elector's photo identity card
Government-issued photo identity card
Domicile certificate
Pension payment order
Central Government Health Scheme card
Marriage certificate
Alternatively, for categories other than individuals, different documents need to be submitted for different categories.
Who Can Apply for a PAN Card?
Indian citizens
Hindu Undivided Families
Minors
Mentally disabled individuals
Partnership firms
Limited Liability Partnerships
Companies
Trusts
Local authorities
Association of persons
Artificial judicial person
Apart from this, every taxpayer in this country must apply for a PAN to make any financial transactions seamless.
Also Read: How Can NRIs Apply For A PAN Card?
Things To Consider While Applying For A New PAN Card
The personal details of an applicant must match with the data in the submitted documents.
One should check the address before submitting a PAN application.
Individuals should mandatorily provide active mail IDs and mobile numbers.
One cannot apply for more than one PAN card.
Final Word
The PAN card is an important document required for basic financial transactions and identification proof. PAN card online application process is convenient, fast, hassle-free and highly efficient. However, you can also apply for a PAN card offline. Keep your documents and forms ready and you will be able to get your PAN card within a few days.
FAQs on How to Apply for a PAN Card
Before you go…
Looking for instant 🚀 personal loans 24*7 anywhere, anytime? Install the Navi app on Android or iOS now!
Or, maybe you're looking to buy that house you've been eyeing 🏠 and you need a loan of up to Rs. 10 crores. Install the Navi app on Android or iOS now and get instant in-principle approval right away! Interest rates starting at 6.46% p.a.
How about an affordable health insurance policy 👨‍⚕️ starting at a monthly premium of just Rs. 241? Install the Navi app on Android or iOS now and get your policy in under 2 minutes.
Instead, want to put your savings into action and kick-start your investment journey 💸 But don't have time to do research. Invest now with Navi Nifty 50 Index Fund, sit back, and earn from the top 50 companies.