Peer to peer lending or social lending is the process of lending money to enterprises or individuals through online platforms without involving financial institutions. In peer to peer (P2P) lending the lenders directly send the loan to the borrowers. Lenders gain comparatively better returns than investment and savings products provided by banks. And borrowers with lower credit scores can lend at low-interest rates.
However, there are a few crucial points to keep in mind before you opt for P2P lending. Read to get all the details here!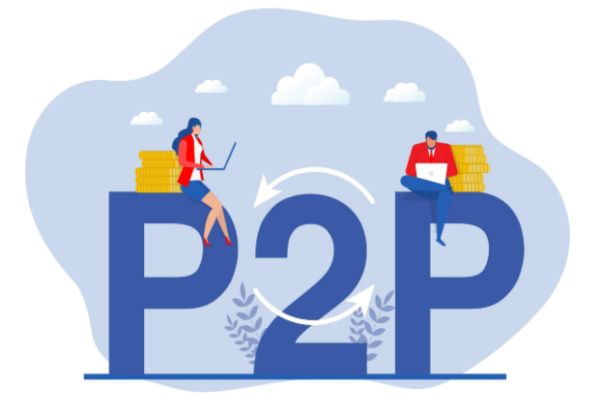 What is Peer to Peer Lending?
Peer to peer lending is an alternative financing system that enables borrowers to get loans from other individuals without the involvement of a financial institution. P2P lending between lenders and borrowers takes place via various online platforms.
How Does Peer to Peer Loan Scheme Work?
The Peer to peer lending process is hassle-free as it doesn't comprise traditional methods like borrowing from banks, NBFCs, etc. The following steps will help you understand how P2P lending works:
Prequalification – Read the terms and conditions to check whether you are eligible for the loan or not. On successful application, the lender will provide a document comprising loan guidelines alongside an Annual Percentage Rate (APR) and other associated fees, etc.
Application – If you like the lending terms and conditions and interest rates, you may fill out the application form. The lender will check your credit score.
Approval – Wait for a few days to get loan approval from the lender.
Review – If your loan gets approved, various lenders will review your loan application.
Funds Transfer – Once your loan request gets enough investors, the amount will be electronically transferred to your account.
Loan Repayment – Based on the loan repayment terms, you will make monthly payments to the investors.
Benefits of Peer to Peer Lending
Here are the benefits of peer to peer lending:
P2P borrowers enjoy sufficient cost benefits compared to the terms provided by financial institutions.
Receiving a loan from P2P lenders is much faster and easier. You only have to make your registration at their website. You will remain in touch with every update on their website by doing so.
The formalities and paperwork in the P2P lending system are much simpler and more convenient than in banks or financial institutions.
Usually, financial institutions and banks disallow offering credits to borrowers having low CIBIL scores. While in the case of peer to peer lending loans, the lenders have complete freedom in offering loans per their discretions.
P2P lending offers higher returns to the investors alongside a low-interest rate.
Also Read: How To Get Instant Loan Without CIBIL Score?
Platforms Facilitating Peer to Peer Lending in India
| | | | | |
| --- | --- | --- | --- | --- |
| P2P Platform's Name | Rate of Interest (per annum) | Amount of Loan | Repayment Period | Registration Fees |
| Faircent | Starts from 9.99% | Rs.10,000 to Rs.5 lakh | 6 months to 3 years | Rs. 500 |
| Lendbox | Starts from 12% | Rs.25,000 to Rs.5 lakh | 6 months to 2 years | Rs. 500 |
| i-lend | Starts from 15% | Rs.25,000 to Rs.5 lakh | 6 months to 3 years | |
| LenDenClub | Starts from 6.5% | Rs.25,000 to Rs.5 lakh | 3 months to 2 years | Rs. 750 |
| i2ifunding | Starts from 12% | Maximum of Rs. 10 lakhs | 3 months to 3 years | Rs. 118 (including 18% GST) |
| OMLP2P | Starts from 10.99% | Rs.25,000 to Rs.10 lakh | 3 months to 3 years | Rs. 100 |
Fees Charged by the Peer to Peer Lenders
P2P Platform's Name
Processing Fees
Faircent
2.5% to 8.5% depending upon loan amount, rate of interest and time interval
OLMP2P
1% to 10% of the amount sanctioned depending upon loan tenancy
i-lend
4% of the loan amount
LenDenClub
Rs. 400 (including GST) for loan amounts up to Rs. 10000.
4% for loan amounts greater than Rs. 10000 (subject to a minimum of Rs. 2000).
Lendbox
2% to 6% depending on the loan amount.
i2iFunding
3% to 6% for salaried individuals.4% to 8% for self-employed individuals.
Eligibility Criteria for Peer to Peer Loan Borrowers
Anyone facing a financial crisis or in desperate need of money can borrow credit from Peer to peer lending system. Although their portals are open to everyone, they mainly draw individuals with low incomes or poor CIBIL scores for loans. But everything depends on the lender's final decision.
How to Get a Loan through Peer to Peer Lending System?
Here are the steps to get a loan through a peer to peer lending system:
Step 1: Visit the official website of a P2P lender that offers services in your region and register yourself.
Step 2: You may find various Peer to peer lending apps that will connect you directly to the lender.
Step 3: The website will connect you with the potential lender who will lend you the loan amount.
Step 4: Before signing the agreement with the lender, make sure that you pass every verification stage like personal information, background, employment position and credit history.
Step 5: The lenders will be checking your financial background and your reasons behind opting for the loan.
Step 6: After getting confirmation, the lender will provide you with several options to select from. You have to decide the one that best suits your need.
How Peer to Peer Loan Scheme Differs from Bank Loan
Firstly, banks provide loans alongside an interest rate of up to 15%. However, adding the other charges like loan processing, prepayment, file handling, etc., this interest rate rises up to 20%-25%. So, while speaking about P2P lending, it doesn't have any hidden charges.
Secondly, when it comes to credit score, every bank or financial institution approves loan requests of an individual depending on his/her credit score. If it is beneath 700, the chance of loan sanction drops. But, in the case of P2P money lending, it offers loans to people even if they have a poor credit score.
Key Points to Check as a Borrower
As a borrower, here are some vital points you should check:
Being connected via online Peer to peer lending platforms, it is essential to verify the reliability of the website before going making transactions.
If necessary, check the reviews and ratings of the website.
Ensure that the website has Symantec SSL certification because you have to share your personal details there.
At the time of borrowing a loan, spend more time researching websites and choose the one that will be beneficial for you.
Before signing the agreement, go through all the terms and conditions of the policy thoroughly.
Disadvantages of Peer to Peer Lending
If the borrower repays the loan too early, then the rate of returns also reduces.
You may not get a P2P loan if you have a financial crisis.
The P2P lending portals are filled with great credit risks as borrowers with low credit scores apply via these platforms.
If the loanee fails to repay the money, the government shows no interest in providing security or insurance to the lenders.
For your every earned interest, you have to pay some tax. Moreover, in the case of an annual tax return, you earn interest that is needed to be paid too.
Also Read: Here's Everything You Need To Know About Private Loans
Final Word
Peer to peer lending is becoming a popular method of availing of a loan by businesses and individuals. Individuals with low credit scores can get better deals and businesses can get crowdsourced funds. It also works for lenders who want better returns. However, P2P lending has its own set of disadvantages too. As a borrower or a lender, you must weigh the benefits and disadvantages before you make your final decision.
If you want a hassle-free, instant loan approval, check out the Navi app and get the amount credited directly to your account in minutes.
FAQs on Peer to Peer Lending
Q1. Is a bank loan more inexpensive than a P2P loan? 
Ans: Generally, bank loans provide an interest rate between 10-15%. But after the extra charges get added, this rate rises to 25%. However, in the case of P2P loans, you do not have to pay any extra charges.
Q2.What is the default, and what happens when it occurs?
Ans: Default occurs when a borrower fails to pay the required loan amount, either the principal or interest. Further, it turns out to be a big loss for the lender.
Q3. What are the documents required when someone applies for a personal P2P loan?
Ans: The documents required for a personal P2P loan are:
– Name
– Address
– Social Security number
– Employer Information
– Salary Slip
Q4. Are P2P Loans really safe?
Ans: P2P loans are safe for borrowers with moderate income and poor credit scores. This is because the online portals offering loans act as middlemen between lenders and loanees.
Q5. Is there any risk involved in P2P Loans? 
Ans: The Peer to peer loans is not government protected. As a result, if the borrower fails to repay the loan amount to the lender, they suffer losses.
Before you go…
Looking for instant 🚀 personal loans 24*7 anywhere, anytime? Get personal loans up to ₹20 lakh starting at 9.9% p.a. Install the Navi app now!
Disclaimer: This article has been prepared on the basis of internal data, publicly available information and other sources believed to be reliable. The information contained in this article is for general purposes only and not a complete disclosure of every material fact. It should not be construed as investment advice to any party. The article does not warrant the completeness or accuracy of the information, and disclaims all liabilities, losses and damages arising out of the use of this information. Readers shall be fully liable/responsible for any decision taken on the basis of this article.