In his mid-forties, Mr Kumar, a daily wage labourer, realises that he needs to save for retirement. With no prospect to earn a pension, he must find a dependable alternative. After considerable thought, he decides to invest in PPF. Income tax benefits and its risk-free nature make public provident funds a safe investment option for many in Mr Kumar's shoes.
If you are pondering on a public provident fund investment, make sure that you go through this write-up first. Here, we answer important questions regarding such an investment.
Also Read: Tax saving Instruments In India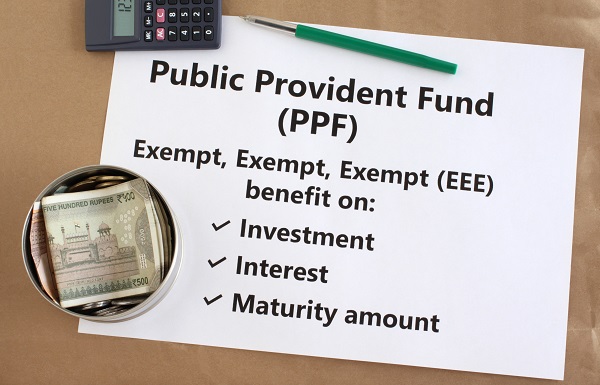 What You Must Know about PPF Accounts
A public provident fund refers to a long-term investment with a minimum lock-in period of 15 years. The principal amount, along with the interest one earns through such an investment, is completely tax-exempt under Section 80C. 
In 1968, the National Savings Institute introduced PPF in India. Since then, it has become one of the safest investment options, alongside fixed deposits. With minimum investments ranging from just Rs. 500 annually, PPF allows individuals from all financial backgrounds to save and earn from their savings.
Also Read: Advantages and Disadvantages of Mutual Funds
Procedure to Open a PPF Account
You can open a PPF account with any of the nationalised banks operating in the country. Presently, a select few private banks also offer this facility. You can also walk into your nearest post office branch for opening a PPF account.
Make sure you submit the following while trying to open such an account:
KYC documents, such as Aadhaar, PAN, etc. are mandatory
A form declaring your nominee details
The account opening form with all relevant details filled up
Passport-size photographs
After submitting these documents, you need to deposit your investment amount to open your account.
Interest Rate on PPF Investment
As per a circular dated September 30, 2021, India's Finance Ministry declared that PPF accounts would continue to generate 7.1% interest, compounded annually. You can expect the interest to get deposited into your account by the end of March every year.
Calculation of interest is simple. Banks consider the lowest balance in your PPF account between the end of the fifth day and each month's last day.
Eligibility Criteria for PPF Investment
The following are some eligibility norms for PFF investments:
You must be an Indian citizen.
You can have only one PPF account in your name. The only exception to this rule is if the second account belongs to a minor and you are opening it on his/her behalf.
There is no PPF for NRIs; non-residents cannot take advantage of this investment option. However, if an individual has already invested in PPF before acquiring NRI status, he/she can earn interest until its tenure ends. Unlike Indian citizens, NRIs cannot apply for an extension after the initial 15 years pass.
Loan against PPF Facility
You can avail a loan against your PPF balance. However, to do so, you must meet certain specific conditions. These are as follows:
Availing of a loan against PPF is possible only between the third and sixth year of investment.
Your loan amount cannot exceed 25% of the available account balance. For instance, if your current balance is Rs.2 lakh, your maximum loan against PPF principal would be Rs.50,000.
Account-holders can avail of a second loan before the sixth year of investment. Nevertheless, he/she must settle the existing debt before applying for a second loan.
Premature or Partial Withdrawal of PPF Balance
You will receive your entire interest earnings from PPF after 15 years of investment. An individual can close his/her PPF account prematurely only under special circumstances, such as diagnosis of a terminal disease or to fund children's higher education expenses.
Partial withdrawals are allowed under specific conditions.
A PPF account is eligible for partial withdrawal upon completion of 5 years of investment.
Up to 50% of the account balance is available under such early withdrawals. Banks consider the closing balance in your fourth financial year or the balance at the end of the preceding year of withdrawal, whichever is lower.
Taxability of Public Provident Fund
PPF is a popular investment option as it offers guaranteed returns, attractive interest rates and tax benefits. It is one of the few investment options in India to have triple tax exemption status, also called EEE (exempt-exempt-exempt) status. In other words, you can get tax benefits at the time of investment, accrual and withdrawal.
All deposits made to a PPF account are eligible for income tax deduction under Section 80C of the Income Tax Act. The income tax deduction is limited to Rs. 1.5 lakh in a financial year. In the case of deposits made by minors, their parents can claim deductions u/s 80C subject to the Rs. 1.5 lakh limit in a financial year.
Furthermore, the accumulated interest from PPF deposits is also exempt from tax at the time of withdrawal. PPF offers relatively high-interest rates among government-backed fixed-income products. This combination of tax benefits, security, and returns make it an attractive investment option.
Finally, the amount after maturity is also completely tax-free at the time of withdrawal. Wealth tax is not applicable on PPF accounts and proceeds. Even the amount withdrawn prematurely from a PPF account is exempt from taxes.
Steps to Close a PPF Account
Whether you are looking for an early withdrawal or closing your PPF account after maturity, here is the distinct procedure you need to follow:
Step 1
Visit the bank or post office where you have the PPF account.
Step 2
Collect Form C and start to fill up two of its three sections.
Step 3
In section 1 of this form, declare your PPF account number, amount you wish to withdraw and the tenure that has passed since your started investment.
Step 4
Skip section 2, which is for office use only. In section 3, provide details of the bank account where you want the PPF proceeds to be deposited.
Step 5
After filling up all necessary information, submit your Form C at the bank or post office.
Transferring a PPF Account
You can transfer your PPF account from a bank to a post office or vice versa. You can also initiate such a transfer within the same bank when you intend to change your deposit branch.
In either case, here is the complete process for such a transfer:
Step 1
Go to your home branch and fill up a transfer application form. Make sure you mention the full address of the branch where you intend to transfer your account.
Step 2
Submit this application form. Your present home branch will start transfer proceedings and send relevant details to your new branch, along with specific documents. These include your PPF passbook, your signature specimen, a certified copy of your PPF account, account opening application form and nomination form.
Step 3
Upon receipt of these documents, the branch you transferred to will intimate the same. You must submit a new account opening form at the branch.
Step 4
Submit KYC documents to complete the transfer procedure.
Benefits of Investing in PPF
Now that you are familiar with PPF meaning and its various aspects, you should consider why investing in it is beneficial. Here are some advantages of such a move:
Tax-free savings instrument
As stated previously, PPF balance comes under EEE category. With no wealth tax or taxes on the deposits or interest amount, account holders can acquire the complete amount at maturity.
Loan against PPF balance
Even if you are ineligible for partial withdrawal, you can look for loans against your balance between the third and sixth year.
Minimal yearly investments
An individual can start investing in PPF with just Rs.500. This allows people from economically challenged backgrounds to invest and earn hefty interest at maturity.
Not linked to markets
The investments in PPF are not impacted by market conditions. Accordingly, it is a suitable option for risk-averse individuals looking to save tax and earn returns at the same time.
Final Word
The popularity of PPF is apparent with each passing year. According to a report, the quantum of PPF balance with post offices across India amounted to more than Rs. 897 billion in FY2020. It was just around Rs. 502 billion in FY2015. Its safety and long-term financial benefits make it an appealing option for individuals of all ages.
Frequently Asked Questions
Q1. What is the maximum yearly deposit in a PPF account?
Ans: An individual can deposit up to Rs. 1.5 lakh per annum in his/her PPF account. This also means that after 15 years, an individual can have deposits worth up to Rs.22.5 lakh in such an account. 
Q2. At what age can I open a PPF account?
Ans: An individual can deposit up to Rs. 1.5 lakh per annum in his/her PPF account. This also means that after 15 years, an individual can have deposits worth up to Rs.22.5 lakh in such an account. 
Q3. Can I have more than 1 PPF (Public Provident Fund) account?
Ans: No, an individual can have only one PPF account in his/her name. However, one can open and operate a PPF account on a minor's behalf till the person turns 18 years old. Thereafter, the person can operate his/her own account.
Q4. What documents must I submit when applying for PPF withdrawal?
Ans: Form C is an application for PPF balance withdrawal. You must duly fill it up when looking to close or withdraw from this account. However, along with Form C, you need to submit a copy of your PPF passbook too. 
Q5. How can I find my PPF account number?
Ans: If you open such an account offline, your post office or bank branch will provide a PPF passbook upon account activation. This passbook contains all relevant information about your account, including the account number, initiation date and transactions made. In the case of online PPF account setup, you can check the account number through your internet banking portal.
Q6.Can I claim double tax benefits if both my minor son and I own PPF accounts?
Ans: No, you cannot claim double tax benefits in case both you and your minor son own PPF accounts. This is because both the accounts are taken as one. The amount of PF contribution for both accounts cannot exceed Rs.1.5 lakh. Therefore, you cannot claim a tax deduction of up to Rs. 3 lakh in a given financial year.  
Q7. Is it mandatory to withdraw the PPF balance at maturity?
Ans: No. Individuals can apply for an extension of PPF account post the 15-year lock-in. These extensions come in 5-year blocks. You can choose to make further deposits during such extensions. Alternatively, you can choose to make no further investments.
Before you go…
Looking for instant 🚀 personal loans 24*7 anywhere, anytime? Install the Navi app now!
Or, maybe you're looking to buy that house you've been eyeing 🏠 and you need a loan of up to Rs. 5 crores. Install the Navi app now and get your instant in-principle approval right away! Interest rates starting at 6.40% p.a.
How about an affordable health insurance policy 👨‍⚕️ starting at a monthly premium of just Rs. 241? Install the Navi app and get your policy in under 2 minutes
Instead, want to put your savings into action and kick-start your investment journey 💸 But don't have time to do research. Invest now with Navi Nifty 50 Index Fund, sit back, and earn from the top 50 companies.