Bhoomi Karnataka is an online Land Records and Management System introduced by Karnataka Government in 2000. It helps to maintain and keep land records and makes them available online for every resident of Karnataka. This project is jointly funded by the Karnataka State Government and the Indian Government. There are kiosk centres in 6000 Gram Panchayats and 176 taluks, 1 additional taluk and 26 special taluks where one can visit and avail of services offered by Bhoomi manually.
What is Bhoomi?
Bhoomi is a project that's jointly funded by the Government of India and Government of Karnataka to digitise the land record system in the state so as to mitigate corruption in the existing land record system. The portal allows citizens to access RTC (Record of Rights, Tenancy, and Crops) which were earlier stored manually in Government offices and were comparatively inaccessible. Some of the services offered by Bhoomi Online include, citizen registration, viewing revenue maps, application for conversion, mutation services, dispute cases, viewing RTC and MR, and more.
Services Provided by Bhoomi Karnataka
You can avail of the following list of services provided by Bhoomi:
i-RTC checking
Tippan
Registration of dispute cases
Mutation register
Mutation status
Mutation extract
Citizen registration
View list of New Taluks
Kodagu Disaster Rescue
XML verification of RTC
Facilities of Bhoomi Karnataka
Digitisation of land records has made services easily accessible. Following are the facilities one can avail of Bhoomi Karnataka online –
Access and download village land records required for loan application
You can get a copy of RTC just by providing plot number and owner's name
Submit a mutation request to complete the sale or inheritance of a property
Access crop related information using i-RTC to get crop insurance
Review mutation request and other application status
Initiate any land-related disputes complaints
How to Register on Bhoomi Online
If you want to avail the vast range of services provided by the Karnataka Government through Bhoomi portal, you have to register yourself first. Here is how you can register yourself –
Step 1: Visit the official Bhoomi login page
Step 2: As you are a new user, click on 'Create Account' tab
Step 3: On the next page, enter details as required
Step 4: Click on 'Sign up/Submit' button, and you have registered yourself as a user
How to Register for Land on Bhoomi Karnataka
You can register your land in Bhoomi Karnataka in a few steps. Here are the steps given below:
Step 1: Keep all relevant documents ready and buy stamp papers as needed
Step 2: Submit all documents to the Sub-registrar's office in local jurisdiction
Step 3: Pay registration charges and collect receipts
Step 4: Photo will be taken for registration purposes
Step 5: A verbal mutual agreement will be made between both parties in the presence of a witness
Step 6: As the final step of the registration process, a registration number is allotted
Step 7: After the manual registration process is completed, the information is shared with the Patwadi for entries in Jamabandi, Record of Rights
How to View Land Record on Bhoomi Karnataka
To view or check land records of the registered land in Bhoomi Karnataka, you have to go through the following steps –
Step 1: Visit the official website of Bhoomi Online Land Records
Step 2: Go to the 'View RTC and MR' option
Step 3: In the following page, enter all the necessary details
Step 4: After that, click on the 'Fetch Details' option to see the land details
What is Bhoomi RTC?
RTC stands for Record of Rights, Tenancy, and Crops. Also known as Pahani, it is an essential land record document issued to the landowner. Local people also know it as Pahani. Following are the details one can find in a Pahani-
Information regarding the landowner/s
Type of land and soil
Tenancy
Type of possession
Area of the land
Water charges and amount used for the land
Crops grown
Any liabilities relevant to the land
Agricultural, non-agricultural, commercial, residential and flood area type
How to Check RTC Online on Bhoomi
You can view your RTC information by following the steps below:
Visit Bhoomi Karnataka Land Records

Go to the official website of Bhoomi Karnataka Land Records maintained by Revenue Department Services and click on 'View RTC and MR'

Enter Survey Number and Other Details

You will be redirected to a page where you have to enter details including but not limited to taluk, district, village, hissa no, survey number, etc.
Once done, click 'Go' to view RTC.
How to Get RTC on Bhoomi Karnataka
You can also obtain RTC documents from the Bhoomi portal. The steps are given below.
Step 1: Visit the official website of Bhoomi Online
Step 2: Click on 'i-RTC Wallet' option from the lot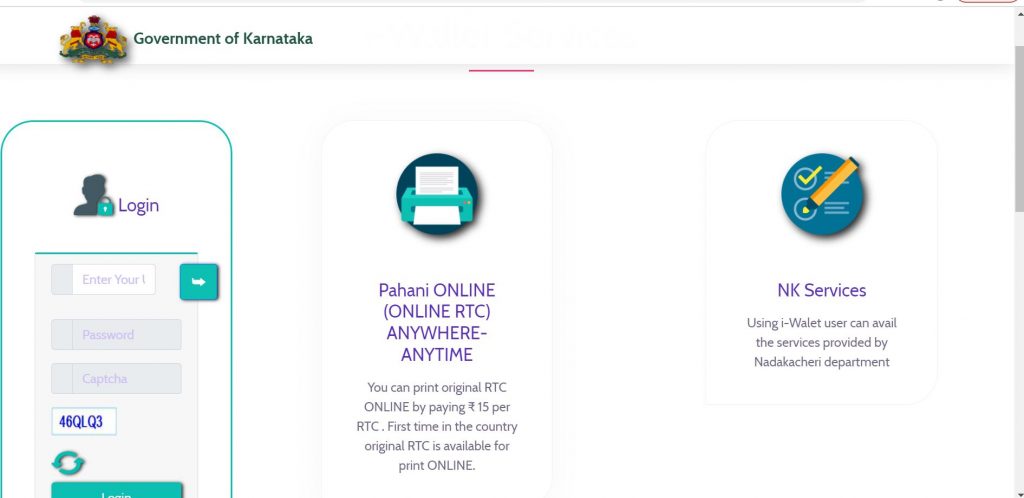 Step 3: Enter your User ID, Password and CAPTCHA to log in
Step 4: On the RTC portal and choose from 'Current Year' or 'Old Year' options available in the top left corner
Step 5: Provide details required, i.e. District, Taluk, Hobli, Village and Survey Number
Step 6: Click on 'Fetch Details' to view the RTC document
How to View Dispute Case Reports on Bhoomi Karnataka
There is also an available option to view your Dispute case report details on the Bhoomi online portal.
Step 1: Visit the Bhoomi Dispute Case Reports webpage
Step 2: Choose your District and Taluk to get the details
How to Apply for Land Conversion on Bhoomi Karnataka
Along with numerous services provided by Bhoomi, it also allows you to apply for land conversion. The following steps will help you to know how to apply –
Step 1: Visit the official website of Karnataka Land records and Revenue Department Services and click on the 'Apply for Land Conversion' tab
Step 2: After logging in, a form will be available on the next page, where you have to provide all the necessary details.
Step 3: Click on 'Submit', and you will have successfully applied for land conversion
You can also avail the service of extracting mutation reports on the Bhoomi portal.
Step 1: Go to the Bhoomi portal homepage and click on 'View RTC and MR'
Step 2: On the newly opened webpage, click on 'MR' or mutation report
Step 3: After that, fill in details in the available form and 'Fetch Details'
Step 4: You can then see the mutation data as per the details provided on that page
Karnataka Land Record Fees and Charges
Through the Bhoomi Karnataka portal, you can access a host of land-related documents, including RTC, Tippan, Mutation status and reports. You can receive land record documents by paying a certain fee. Refer to the table below to know Karnataka land record fees and charges.
| | |
| --- | --- |
| Tippan | Rs.15 |
| Mutation Extract | Rs.15 |
| RTC | Rs.10 |
| Mutation Status | Rs.15 |
Rates might change based on the Government's notice.
Final Word
The Bhoomi Karnataka portal has made it easier and hassle-free for citizens to access necessary land-related information. Moreover, this particular platform also enables individuals to initiate various land-related complaints and check their status without any hiccups.
FAQs on Bhoomi Karnataka Land Record
Q 1. What are the charges for Karnataka land records services?
Ans. One can visit the kiosks and get services by paying a nominal fee in case of the unavailability of the internet. The charges are as mentioned below:
Tippan, Mutation status and extract- Rs. 15
Record of Right, Tenancy and crops- Rs. 10
Q 2. What are the helpline numbers of Bhoomi Karnataka?
Ans. In case of any queries or complaints regarding land records, one can contact Bhoomi RTC on the following helpline numbers or drop an email:
Helpline number- 8277864065/67/68
Email id- [email protected]
Q 3. What is Dishaank?
Ans. Some people may find it difficult to navigate through the website of Bhoomi. One can download the Dishaank app from the Google Playstore to get survey numbers and land details and give feedback on survey number information if any.
Q 4. What is a Revenue map?
Ans. The Revenue map includes details of the mentioned area and divisions within it in a layout of a map. One can access the Revenue Maps in PDF format from the Bhoomi portal as well.
Q 5. Why was DILRMP launched?
Ans. The Digital India Land Records Modernization Programme, previously known as National Land Records Modernization Programme, was launched in 2008 by GoI. It aims to digitise and modernise the central land records management system.
Before you go…

Are you looking to buy that house you've been eyeing 🏠 and you need a loan of up to ₹5 crore. Install the Navi app now and get instant in-principle approval right away! Interest rates starting at 8.60% p.a.
Disclaimer: This article has been prepared on the basis of internal data, publicly available information and other sources believed to be reliable. The information contained in this article is for general purposes only and not a complete disclosure of every material fact. It should not be construed as investment advice to any party. The article does not warrant the completeness or accuracy of the information, and disclaims all liabilities, losses and damages arising out of the use of this information. Readers shall be fully liable/responsible for any decision taken on the basis of this article. 
Home Loan Knowledge Base