If you have recently purchased a property in Karnataka, you are liable to pay stamp duty in Karnataka. According to the Section 3 of the Stamp Act of India, you must submit this charge to the Revenue Department of your local government. In fact, failure to pay this fee timely incurs penalties and can affect your ownership of that particular property.
Read on to know the stamp duty and registration fees levied by the Karnataka State Government.
Stamp Duty Charges in Karnataka
Recently, the State Government has reduced the stamp duty charges in Karnataka from 5% to 3% for properties valuing Rs. 35 to Rs. 45 lakh, curtailing the financial burden on its citizens. However, this decreased rate is applicable only to the new properties to be registered.
Nevertheless, while transacting this stamp duty, buyers also have to complete paying registration charges on the newly owned property. So, they must know both the applicable stamp duty and registration charges in Karnataka in 2022 and settle them accordingly to complete their property mutation.
Property Registration Charges in Karnataka
Let's first know the all applicable charges included during the registration of a property:
| | |
| --- | --- |
| Types of Fee | Charges |
| Registration charge | 1% of the real estate's value |
| Added cess charge of BBMP (Bruhat Bengaluru Mahanagara Palike), BMRDA (Bangalore Metropolitan Region Development Authority) and Village area | 10% of the stamp duty |
| BMRDA and other surcharges | 3% of the stamp duty |
| Added surcharges of BBMP and Corporation | 2% of the stamp duty |
| Affidavit | Rs. 200 |
| Adoption Deed | Rs. 500 |
| Agreement for selling properties with possession | 5% of the current market price of the estate/ |
| Agreement for selling properties without possession | 0.1% of the market price of the estate (Minimum charge: Rs.500/ Maximum Charge Rs.20,000) |
| Lease surrendering charges | Rs. 100 |
| Property re-conveyance charges for mortgage | Rs. 100 |
| Agreement regarding title deed deposits | 0.1% of the property's market price |
After knowing these property charges, you need to discover the stamp duty rate in Karnataka.
Stamp Duty in Karnataka on Different Property Valuations
Following is the property valuation wise payable stamp duty in Karnataka:
| | |
| --- | --- |
| Value of the Real Estate | Stamp Duty Charges |
| Lower than Rs. 20 lakh | 2% |
| Price in between Rs. 21 to Rs. 35 lakh | 3% |
| More than Rs. 35 lakh | 3% |
How to Calculate Stamp Duty and Registration Charges in Karnataka?
Karnataka State Government enables its residents to calculate their stamp duty quickly through its portal. Here is a stepwise guideline to know their applicable duties through this online platform:
Visit Kaveri Online Services

Visit the 'Kaveri Online Services' portal of Karnataka's Stamp and Registration Department.

Click on 'Stamp Duty and Registration Fee calculator'

Scroll down to "Services for Guest User' and click on 'Stamp Duty & Registration Fee Calculator'

Select the type of document from the dropdown list

A new page will open up. Select the document type and click on 'Show Details'

Add Other Details

Choose the region type, indicative consideration amount, and indicative market value. Click on 'Calculate'.

After these steps, this stamp duty calculator of the Karnataka State Government will display the payable duty and registration charge.
How to Pay Stamp Duty in Karnataka Online?
You need to undergo the following steps to pay your stamp duty online:
Step 1: Visit the 'Khajane-II' portal of the Karnataka State Government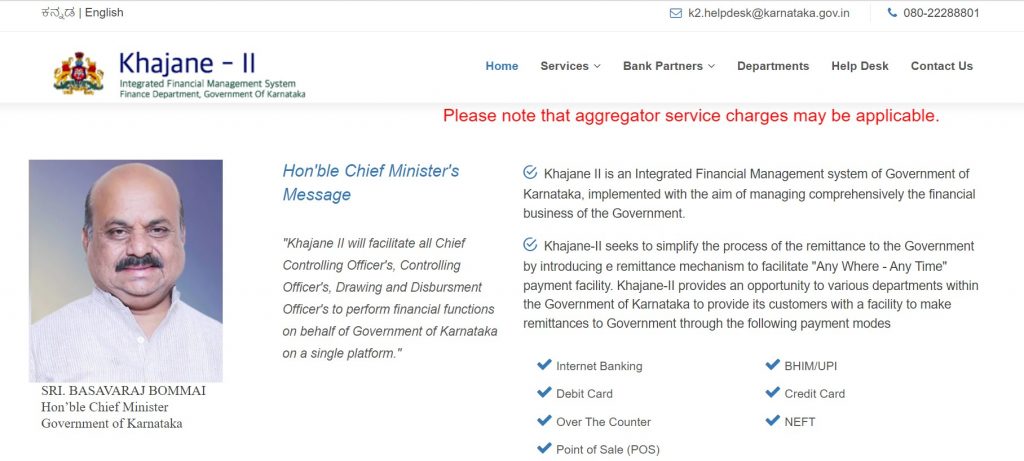 Step 2: Scroll down and click on 'Generate Challan'. A challan form will appear in the next window.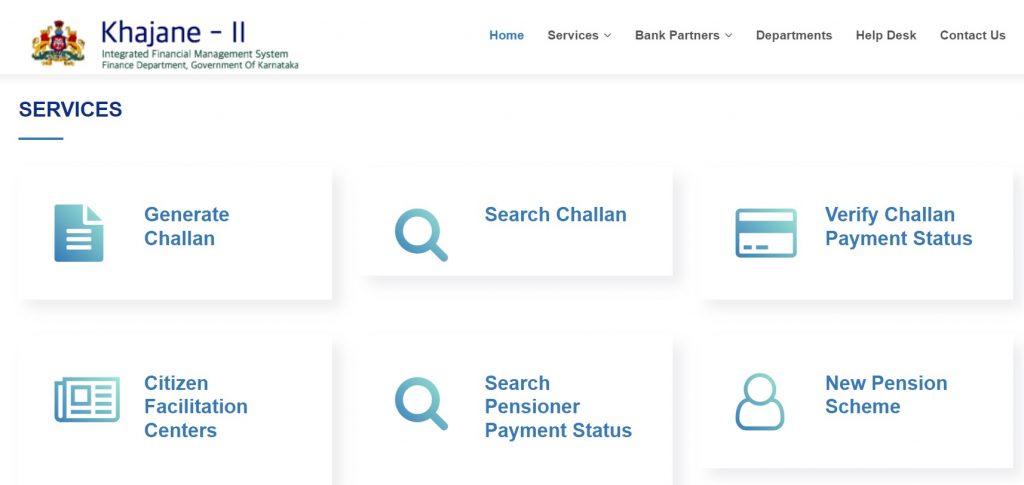 Step 3: Fill in the form with the required details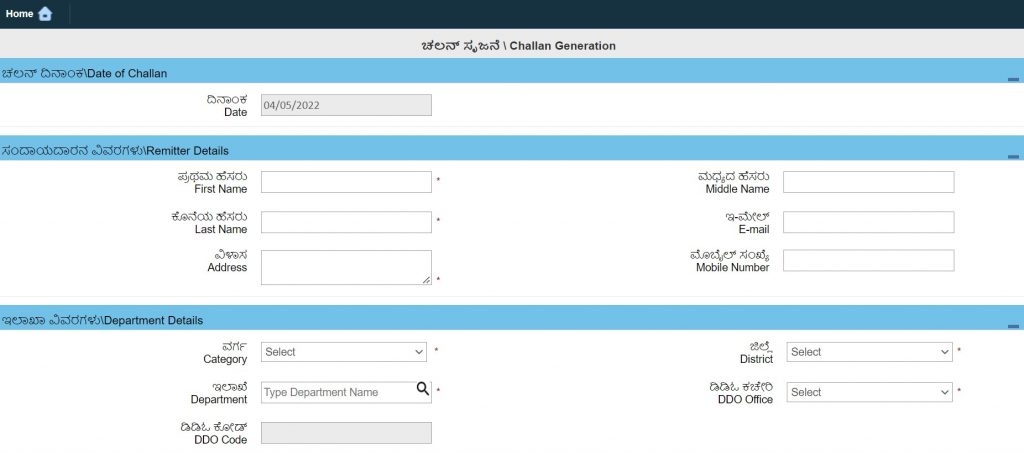 Step 4: Select department and registration type and the sub-registrar office in the DDO office section, and after that, select agreement of sale in sub-purpose and stamp duty in purpose
Step 5: Provide the stamp duty figure and payment mode, and click on submit and provide the CAPTCHA code
After this, you will get a challan reference number and the receipt of the stamp duty payment. You need to save and print this important document for your future references.
How to Pay Stamp Duty Charges in Karnataka Offline
You can visit the office of your local sub-registrar and submit all the required documents for paying this stamp duty physically. Note that all these documents must have the signatures of both the seller and buyer. Apart from this, you need to take at least two people as witnesses of the property mutation.
Your concerned sub-registrar will authenticate property purchase documents after you complete paying the Karnataka stamp duty and registration charges. After this, you will get your property registration certificate.
Factors Affecting Stamp Duty in Karnataka
Here are some basic factors that can influence the applicable stamp duty charges:
Age of property: As newer property provides higher market price than the older ones, their stamp duty also becomes more.
Property location: This stamp duty levied on properties in urban areas is generally higher compared to estates in rural areas.
Amenities: A property with more facilities such as floors, gym, swimming pool etc., incurs higher duty.
Proprietor's age: Across several states in India, the property owner's age also becomes a dependent factor of stamp duty. Generally, senior citizens enjoy a waiver in their applicable charges.
Gender of the owner: Like senior citizens, female property owners also get reduced duties than their counterparts. However, in Karnataka, this charge is similar for both genders.
Factors to Consider before Paying Stamp Duty in Karnataka
Here are a few things that you carefully check while paying your stamp duty and plot registration charges in Karnataka:
You must pay this concerned duty within 6 months of collecting the stamp paper.
Every record of the property to be registered must have the necessary stamp before registration. At least, you need to complete this on the next workday.
Ensure that all the collected stamp papers are issued against your name if you are responsible for paying the amount.
You must not reuse the adhesive stamps removed while executing the property registration process.
Final Word
This stamp duty in Karnataka ensures transferring ownership of properties within this state in another person's name. After purchasing a property in this state, you must pay the amount to establish your legal right to it. In fact, the Karnataka state government has come up with its virtual portals to help you calculate and pay your stamp duty effortlessly.
Stamp Duty Charges in Your City
FAQs
Q1.
What are the pre-requisites while paying the stamp duty from the sub-registrar's office in Karnataka?
Ans: You need to bring two eye-witnesses along with the below-mentioned documents while paying your stamp duty in Karnataka from Sub-registrar's office:
Demand a draft of your stamp duty
Documents having property details 
Proof of address of that concerned property
Photo ID proof and address proof of both buyers and sellers
Q2. What are the tax benefits of paying stamp duty and registration charges in Karnataka?
Ans: The property area is a primary basis for calculating this stamp duty. However, this taxable carpet area varies according to the property types as mentioned below:
For plots: Square feet carpet area
Houses: Entire constructed area
Multi-storey flats: Super built-up area
Q4.
What documents do I need to have while paying registration charges for agricultural land in Karnataka?
Ans: Here is the list of documents you must while paying the registration fees for your cultivable estate:
Encumbrance certificate
Property documents having the signature of both sellers and buyers
Identity and residential proof of both parties
Receipt of stamp duty
Power of attorney
Q5. What is the agriculture land registration charge in Karnataka?
Ans: You need to pay only Rs. 250 per share if the property is an agricultural land.
Before you go…

Are you looking to buy that house you've been eyeing 🏠 and you need a loan of up to ₹5 crore. Install the Navi app now and get instant in-principle approval right away! Interest rates starting at 8.74% p.a.
Disclaimer: This article has been prepared on the basis of internal data, publicly available information and other sources believed to be reliable. The information contained in this article is for general purposes only and not a complete disclosure of every material fact. It should not be construed as investment advice to any party. The article does not warrant the completeness or accuracy of the information, and disclaims all liabilities, losses and damages arising out of the use of this information. Readers shall be fully liable/responsible for any decision taken on the basis of this article. 
Home Loan Knowledge Base