UIDAI or the Unique Identification Authority of India assigns all Indians an easily verifiable 12-digit random number known as an Aadhaar number. The Aadhaar card is used in India as a KYC and verification criterion for identification in a range of cases. However, regardless of the unique code's usefulness, there is always the possibility of misuse. Keeping that into consideration, UIDAI developed a new version of Aadhaar known as a masked Aadhaar card. This masked version of the Aadhaar card adds an extra layer of security by showing only the last four digits while hiding the first eight.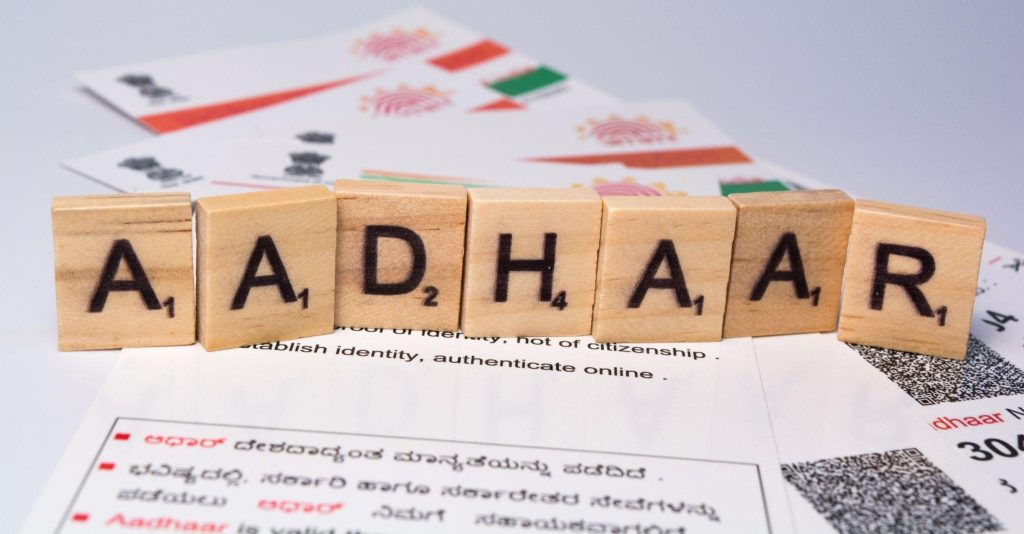 What is a Masked Aadhaar?
The UIDAI provides the option of a 'masked Aadhaar ID' to make Aadhaar identification numbers more secure. A masked Aadhaar offers the benefit to hide the first 8 digits of the Aadhaar number while revealing only the last four digits. It can be shared without disclosing the user's sensitive and personal information, including the 12-digit number.
Your photo, unique QR code, demographic information, and other details will still be present when you download a masked Aadhaar card version of your Aadhaar ID. Since UIDAI will sign this card, you do not have to worry about its acceptance or legality.
This version can be used when Aadhaar is only required as identity proof. You can provide a masked Aadhaar along with the last four digits of your unique ID to verify your ID.
What Makes Masked Aadhaar Card Different From a Regular Aadhaar Card?
The most significant difference between a masked and a regular Aadhaar is that a few digits in your masked Aadhaar are hidden. The first 8 digits are removed and replaced with random characters, with only the last 4 digits visible.
To be eligible for various Government subsidies and for documentation purposes, you must present your regular Aadhaar Card over a masked Aadhaar Card. Masked Aadhaar cards can only be used as identity proof while traveling, booking tickets, etc.
Also Read: List Of Supporting Documents Required For Aadhaar Card Registration
What Is The Process to Open a Masked Aadhaar Card?
It is mandatory for you to be an Aadhaar card holder to get a masked Aadhaar card. The Aadhaar card application process is available offline too. You can go to the nearest Aadhaar enrollment center to apply for it. The documents which are required to get an Aadhaar card enrolled are:
Proof of identity
Proof of date of birth
Proof of address.
You also have the option to track its status online.
When you successfully apply for an Aadhaar card it will be issued and posted at your address. Meanwhile, you can also download an e- Aadhaar card to get your unique Aadhaar ID.
As for the masked Aadhaar card, there is no separate form that you have to fill out. Here is how the process fares:
Step 1:
Select the option of downloading a masked Aadhaar card while printing the e-Aadhaar card on the official site.
Step 2:
The downloaded copy of the Aadhaar card is password protected. To keep the information secure, the user must enter a password. The password for your masked Aadhaar will be the first four letters of the name followed by the year of birth.
Why Should I Use a Masked Aadhaar Card?
Aadhaar is one of several valid identities and address proofs. With the increase in cases of online fraud, it is critical that we protect our data and only share it when necessary. If you are not comfortable sharing your complete Aadhaar Card number everywhere, you can obtain a virtual masked ID from UIDAI and use it instead.
Users can share their masked Aadhaar for e-KYC where the full Aadhaar Number isn't required because it only displays the last four digits of your Aadhaar. This security feature conceals the first eight characters to protect users from fraud. Masked Aadhaar can be obtained through the e-Aadhaar portal, a password-protected electronic copy of Aadhaar. An e-Aadhaar is as valid as a physical copy of Aadhaar for all purposes. UIDAI's competent authority digitally signs these online copies.
If you receive Government subsidies, you are required by law to provide Aadhaar when opening a bank account.
How to Download a Masked Aadhaar Card online?
Anyone who aims at downloading the e-Aadhaar card can also download the masked Aadhaar Card. To download a masked Aadhaar card, follow the steps outlined below:
Visit the UIDAI website at https://uidai.gov.in/.
Select the 'My Aadhaar' option.
Select 'Download Aadhaar' from the list of options.
To download the e-Aadhaar, you will see three options: Aadhaar number, Enrolment ID, and Virtual ID.
These options will include a checkbox that says, 'I want a masked Aadhaar.' Select the check box
Click the 'Send OTP' button.
An OTP will be sent to your registered mobile number.
Enter your OTP to gain access to your masked Aadhaar.
Also Read: How To Get An Instant Personal Loan With Aadhaar Card
Final word
You must treat Aadhaar with the same care as you do your PAN and bank account information as it contains your personal information. The masked Aadhaar card option, as the name suggests, allows you to conceal your Aadhaar number in the e-Aadhaar. You can choose to use it for your KYC verification for the convenience it provides.
While the masked Aadhaar option has been available for several years, few people know it because it appears only when the card is downloaded. There is also a myth that a masked Aadhaar will not be accepted as valid identification, but in reality, masked Aadhaar is a widely accepted form of identification that conceals your Aadhaar number. It follows that masked Aadhaar cannot be considered an 'invalid' form of identification.
FAQs on Masked Aadhaar Card
Q1. Can Aadhaar that has been masked be used for KYC?
Ans: As per the UIDAI, a masked Aadhaar can be used for e-KYC where using the full Aadhaar number isn't required. 
Q2. Is Aadhaar masked valid for bank accounts?
Ans: You can certainly use a masked Aadhaar as identification to open a bank account but for receiving or applying for government subsidies you must use your Aadhaar card with a unique ID number visible on it.
Q3. When can Masked Aadhaar be used? 
Ans: In situations where providing the Aadhaar number isn't required, masked Aadhaar can be used for e-KYC.
Q4. How to get a masked Aadhaar card?
Ans: There is no separate process for obtaining a masked Aadhaar card. You just need to be an Aadhaar card holder.
Q5. Can I use masked Aadhaar as proof of address?
Ans: You can use a masked Aadhaar card signed by UIDAI where you must provide Aadhaar as identity proof. As a result, it can also be used as address proof.
Before you go…
Disclaimer: Mutual Fund investments are subject to market risks, read all scheme-related documents carefully.
This article has been prepared on the basis of internal data, publicly available information and other sources believed to be reliable. The information contained in this article is for general purposes only and not a complete disclosure of every material fact. It should not be construed as investment advice to any party. The article does not warrant the completeness or accuracy of the information, and disclaims all liabilities, losses and damages arising out of the use of this information. Readers shall be fully liable/responsible for any decision taken on the basis of this article.