eKYC or the digitised version of Know Your Customer enables financial institutions to verify their customers' personal data. eKYC has made it easy for the customers and financial institutions to open a bank account, invest money, get a loan or for other financial services and products. Read on to get all the details on eKYC here!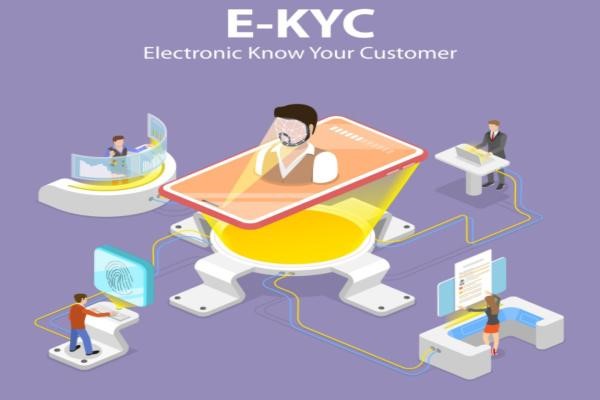 What is eKYC?
eKYC (Electronic Know Your Customer) is a customer verification process. Authorised agencies (such as financial institutions) access Aadhaar card information to verify name, address, phone number, etc. This is done to get a better understanding of the customer's identity, prevent fraudulent activities, etc. Online KYC also helps reduce the time taken to onboard the customers.
How does eKYC Work?
The financial institution starts the eKYC verification procedure as soon as a customer wishes to use a financial service. eKYC is a UIDAI-accredited verification technique (Unique Identification Authority of India). In addition to filling out the Aadhaar-based verification application, you must let the institution validate your information from the UIDAI database. This database has already been confirmed, so you don't need to provide any evidence. Your identity is verified in minutes at most.
What are the Different Types of eKYC?
The several eKYC types are shown below.
Online eKYC methods
1. OTP-Based
The customer must first register their mobile number to use OTP-based Aadhaar authentication. During Aadhaar eKYC, the customer first agrees to the process on a verification platform. They then generate an OTP sent to their Aadhaar-linked phone number. When this OTP is entered, the customer's Aadhaar is checked, and the service provider gets a push of the customer's identifying information from the UIDAI database.
2. Biometric-Based
In biometric authentication, a scanner takes a picture of your fingerprints or retina. These are sent to UIDAI and checked against the biometric information kept with the customer's Aadhaar number. After the match is confirmed, UIDAI sends the customer's identifying information to the verification service provider safely. The verification service provider then verifies the information.
Also Read: Steps To Complete KYC For Mutual Funds
How to Apply for eKYC?
When you make a new account on any of KRA's eKYC sites, you will be asked for information about yourself. Then you'll need to give your Aadhaar card number and the phone number you used to sign up for it. You will get an OTP right away.
After you have been checked, you must give a copy of your Aadhaar card that you have signed yourself. After completing KYC online, you can use your PAN number to check your status on the KRA's website.
Documents Required for eKYC
The following documents of identification must be submitted to register for eKYC Online:
Photos the size of a passport
Cancelled cheque
Identity proof – Aadhaar card, PAN card, passport, driving license or voter ID.
Proofs of address – Aadhar card, voter ID, or driving license.
For NRIs, the following documents must be turned in:
The Foreign Office, a Notary Public, and the Indian Embassy all signed off on the passport.
The Foreign Office, the Notary Public, and the Indian Embassy signed off on the Residential Visa.
What are the Eligibility Criteria for eKYC?
The eligibility criteria for eKYC for individuals are an authentic 12-digit Aadhaar card number and a phone number linked to the Aadhaar card. UIDAI uses this number to access and verify the customer's identity.
Private entities must first obtain UIDAI authorisation before using online eKYC. Additionally, they must pay an additional 25 lakh rupees for an eKYC license. There is a 20 rupee fee for each eKYC verification that they perform. However, private entities can still use offline eKYC techniques.
Difference Between Aadhaar Authentication and Aadhaar eKYC
People use "Aadhaar Authentication" and "Aadhaar eKYC" interchangeably. Aadhaar eKYC is an Aadhaar Authentication process that can be done online or in person. The most crucial difference between Aadhaar Authentication and Aadhaar eKYC is that with Aadhaar Authentication, the answer is either "yes" or "no," and no personal information about the resident is shared. On the other hand, personal information, like name, address and phone number are shared during Aadhaar eKYC.
In the case of Aadhaar eKYC, the personal information is encrypted and sent to the eKYC User Agency. In the Aadhaar authentication process, only the information that is already in the UIDAI database is matched with the Aadhaar number that the Authentication User Agency gives. In the Aadhaar eKYC process, the personal details of the resident are matched with the information that is already in the UIDAI database, and a copy of it is also requested from the UIDAI.
During the Aadhaar authentication process, UIDAI will only share information that is relevant to the eKYC User Agency. This helps protect the privacy of the resident in question.  
Also Read: What is Aadhaar e-KYC?: Know The Process & Benefits
Advantages of eKYC
Here are the advantages of eKYC:
Automated: The online eKYC verification process is entirely automated. Real-time KYC data transfer does not require any manual involvement. A paper-based KYC procedure can take days or weeks to verify information, but an electronic KYC process needs a few minutes.
Secured: According to a recent report from the RBI, commercial Indian banks reported fraud of 1.85 trillion in the fiscal year 2019–2020. With the implementation of eKYC, this figure decreased by 25% from 2020 to 2021.
Convenient: Thanks to eKYC, it is now easy for financial companies and people to open bank accounts and Demat accounts. Because this process uses an encrypted server, there is no way for fraudulent activities to happen. 
Paperless: Document management is no longer necessary because eKYC is a paperless solution that gets rid of this need. Using less paper is good for the environment and also brings down the cost of KYC compliance as a whole. The eKYC solution also keeps customer information safe and keeps documents from getting lost.  
Final Word
The eKYC process is a means by which all your paperwork can be submitted electronically. You may complete all the necessary steps in a matter of minutes with just one click. Handling your crucial personal and professional papers can now be done safely and securely through this method.
FAQs on eKYC
Q1. How much longer does an eKYC take than a conventional offline process?
Ans: An eKYC will be finished in 2-3 business days, but a traditional offline KYC may take up to 7–14 business days.
Q2. Will the information I provide during an eKYC be secure?
Ans: Your information will be secure if you use the services of any of the KRAs indicated above. However, using the services of any of the 3P KYC merchants that have been approved, such as Paytm, will also be secure.
Q3. What distinguishes the Aadhaar Based Offline Paperless e-KYC document from the other forms of identification?
Ans: Giving the service provider identifying documents such as a voter's ID, PAN card, passport, etc., will suffice for identity authentication. All of these documents could still be false, and it's possible that they won't be quickly verified offline. The document verifier must have faith in the person creating the document because there is no technical way for it or the data it contains to be authentic. While UIDAI has safeguarded and digitally signed the XML file created by the Aadhaar number holder using Aadhaar Paperless Offline e-KYC. As a result, while conducting the offline verification, the agencies or service providers can validate the file's demographic contents are authentic.
Q4. Can the Service Provider share Offline Paperless e-KYC documents with other businesses?
Ans: Service Providers will not divulge, publish, or display any XML file, Share Code, or related information to a third party. According to the Aadhaar Authentication Regulation (2016) Sections 25 and 17 and Aadhaar -Sharing of Information Regulation (2016) Sections 6 and 4, and Aadhaar Act (2016) Sections 29(2), 29(3), and 37, any non-compliance with these activities would result in strict actions.
Before you go…
Disclaimer: Mutual Fund investments are subject to market risks, read all scheme-related documents carefully.
This article has been prepared on the basis of internal data, publicly available information and other sources believed to be reliable. The information contained in this article is for general purposes only and not a complete disclosure of every material fact. It should not be construed as investment advice to any party. The article does not warrant the completeness or accuracy of the information, and disclaims all liabilities, losses and damages arising out of the use of this information. Readers shall be fully liable/responsible for any decision taken on the basis of this article.