Are you worried about the privacy of your personal data?
Generate your Aadhaar Virtual ID to enhance privacy controls over your Aadhaar data. The UIDAI rolled out this two-layer security system to strengthen privacy protections for all Aadhaar cardholders. With this ID in your hand, you won't have to share your Aadhaar number. The virtual ID also imposes increased restrictions on the repository of Aadhaar numbers within different databases.
If you wish to know more about this heightened security mechanism, keep reading the below sections.
What is Aadhaar Virtual ID?
Aadhaar Virtual ID is a 16-digit number that individuals can locate on the back of their Aadhaar cards. If you are an Aadhaar cardholder with a virtual ID, you will not have to submit your Aadhaar number for verification purposes. Instead, you can simply generate a virtual ID and utilise it in different areas, including bank account opening, provident fund disbursement and more.
The virtual ID provides access to an Aadhaar card holder's biometric details. It also gives access to other details such as name and address that are adequate for the e-KYC process. As opposed to the previous procedure, the data collecting agency will be unaware of the individual's 12-digit Aadhaar number and other personal details.
Also Read – https://navi.com/blog/change-or-update-aadhaar-card-details/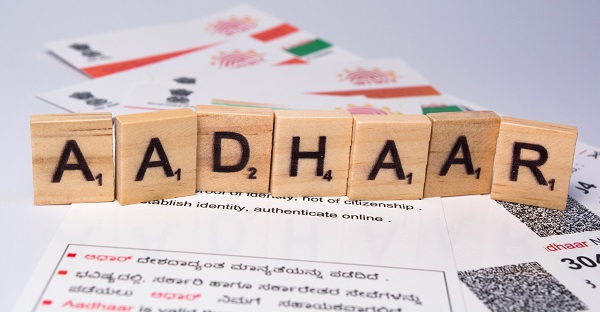 Steps to Generate Aadhaar Virtual ID
Aadhaar holders can generate their virtual ID easily by visiting the issuing body's official website. This 16-digit number can be generated through the following steps:
Step 1
Visit UIDAI's official website.
Step 2
On the home page, visit 'Aadhaar Services' and click on 'Virtual ID Generator' option.
Step 3
Up next, enter your 12-digit Aadhaar number in the empty space.
Step 4
Enter the captcha code in the relevant space.
Step 5
Click on 'Send OTP' or 'Enter TOTP' to receive the one time password on your registered mobile number.
Step 6
After entering the OTP, select 'Generate VID' or 'Retrieve VID' accordingly.
Upon completing these steps, you will get Aadhaar VID on your registered mobile number.
Benefits of Aadhaar Virtual ID
The Aadhaar VID brings several benefits for Aadhaar cardholders, including these:
The VID is a 2nd layer of security that ensures that the authentication agencies do not have your Aadhaar number. They only get access to your VID and receive a UID token.
It is impossible to derive your Aadhaar number from your VID.
You only have to provide access to specific information that is needed. This stops the misuse of essential details.
In addition, VID is revocable, which reduces the chances of duplication.
Crucial Points to Remember Regarding Aadhaar VID
Before you generate the VID, make sure to remember these points:
Only holders of an Aadhaar card can generate VID.
Aadhaar is a universal identity number. In this regard, having a virtual ID gives more security to your personal data.
You can generate VID only through the official UIDAI website.
Also Read – https://navi.com/blog/guide-to-apply-for-aadhar-card/
Final Word
With the Aadhaar virtual ID, you can ensure that your personal data stays safe and secure. Furthermore, the Aadhaar issuing authority has notified all authentication agencies to make the needed changes in their front-end applications to accept Aadhaar numbers as well as the VID.
Frequently Asked Questions
When does the VID expire?
The VID does not expire. You can generate the virtual ID once a day with no deadline attached to its usage. You will be able to use the same VID until you generate a new one. Once you get a new VID, you won't be able to use the older 16-digit ID.
Can I retrieve the current VID?
Yes, you can generate your VID in multiple ways. Aadhaar VID retrieval option is available on UID's website and the mAadhaar mobile application. However, note that the VID generation option is available on UIDAI's official portal only.
Can I use my VID at different places?
Yes, Aadhaar card holders with a VID can use it at numerous places. They can also generate a new VID for each use, if necessary. The choice of using this virtual ID lies solely upon the holder.
I have not yet linked my mobile with Aadhaar. Can I still get my VID?
It is compulsory to link your mobile number with Aadhaar to get all online facilities. So, you will have to first link your mobile number by visiting a nearby enrolment centre. After that, you can follow the necessary steps to generate your VID.
Do I have to provide consent for authentication?
Yes, your consent is compulsory for Aadhaar VID based authentication. The agency must inform you of the reason for authentication. Keep in mind that they can execute the process only after you provide your consent for the same.
Before you go…