Anyone residing in the country can apply for an Aadhaar card if they satisfy the verification process laid down by UIDAI (Unique Identification Authority of India).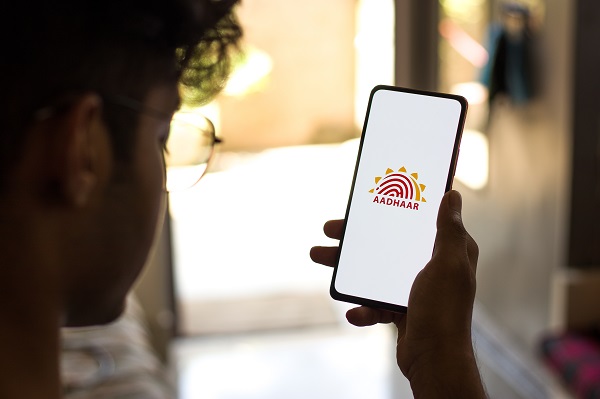 But can Non-Resident Indians (NRIs) get an Aadhaar card?
The answer is that NRIs and OCIs (Overseas Citizens of India) can apply for an Aadhaar card. They will need to have a valid Indian passport and stay in the country for 182 days or more in the past 12 months before the date of application.
If you are an NRI, follow the steps below to apply for an Aadhaar card.
Step 1
Find an Aadhaar Enrolment Centre
You can go to an Aadhaar Camp or an Aadhaar Enrolment Centre to apply for Aadhaar. To find such a centre near your location, follow these steps.
Visit the official website of UIDAI.
Select 'My Aadhaar' from the top menu on the home page.
Click on 'Locate an Enrolment Centre' under the 'Get Aadhaar' option.
You can locate an Aadhaar centre by entering the name of your state, PIN code or using the search box.
Step 2
Take all necessary documents
UIDAI accepts a wide range of documents as proof of identity and address. Common documents for proof of identity and address include voter ID card and PAN card. You can also use water, gas, electricity bills as proof of your residential address.
However, if you do not possess these documents, a certificate of identity issued by a gazetted officer/tehsildar also works as ID proof. Similarly, a certificate of address provided by MP/MLA/tehsildar/village panchayat head is an equally valid address proof.
Step 3
Provide all necessary details
When applying for an Aadhaar card, you will need to submit basic personal details such as name, address, date of birth etc. The Central Identities Data Repository (CIDR) requires these details to validate the submitted documents without offline verifications.
NRIs have to provide their email ID and ask the Aadhaar operator to enrol them as NRIs. They also have to furnish the following details correctly on their enrolment form:
Name
Gender
Full address
E-mail ID
Mobile number
Pre-enrolment ID
NPR Number
Aadhaar details of father/mother/husband/wife/guardian
Introducer's details (if applicable)
Signature/thumbprint
Step 4
Enter the biometric data
After you read and sign the declaration (which is different for NRIs), you must complete the biometric authentication process. This involves photographing your face and scans of both irises and all fingerprints.
An Aadhaar Enrolment Agency may choose to run a multi-factor authentication involving a combination of biometric authentication processes. They can also opt for an OTP-based authentication, where they will send a One Time Password to your registered mobile number.
Check all the details on the screen (both in English and your local language) before the operators submit it. They will then provide you with an authentication/enrollment slip. This has a 14-digit Enrolment ID and date and time stamp. You can use this number to track the status of your Aadhaar application from UIDAI's website.
Also read – Step By Step Guide On How To Download An Aadhaar Card Online
Documents Required to Enroll for an Aadhaar Card
Here is a brief list of documents allowed for verification purposes during Aadhaar enrolment:
ID proof
A valid Indian passport
Address proof
Voter ID card, ration card, passport, water/electricity/landline telephone bills, bank statement/passbook, driving license, property tax receipt, credit card statement.
Date of Birth proof
PAN card, birth certificate, passport, SSLC, marksheet from a government board/university, school ID card, caste and domicile certificate.
Proof of Relationship (for Hof-based introduction)
Marriage certificate, MGNREGA job card, pension card, passport.
Also read – What To Do If You Haven't Received Your Aadhaar Card?
Process of Aadhaar Enrolment for Children
Children below 5 years old
For children below 5 years of age, UIDAI provides a blue-coloured Aadhaar Card called the Baal Aadhaar. No biometric details are required for them to apply for this card.
One of their parents or a guardian has to authenticate on the child's behalf and give consent for enrolment by signing the form. To enrol your child for Aadhaar, you will require only their birth certificate or discharge slip. If the child happens to be an NRI, having an Indian passport is also mandatory.
Children between 5 to 18 years of age
Once children reach five years of age, they need to provide biometric data. Note that they will need to provide new biometric data again once they cross 15 years of age to keep their Aadhaar cards valid.
One of the parents or a guardian has to sign the enrolment form to give consent for enrolment. If the minor is an NRI, the child will need a valid Indian passport. If they are Indian, documents like birth certificates, school ID cards etc., will suffice.
Final Word
Many service providers such as banks, telecom providers and the Income Tax Department have regulations requiring Aadhaar verification. To avail such services, NRIs may want to follow the above procedures to enroll for Aadhaar cards for themselves and family members.
Frequently Asked Questions
Can spouses of an NRI apply for an Aadhaar card?
Yes, if the spouse is an NRI or resident Indian, they can enrol for an Aadhaar card. If your Indian passport has their name in it, they can use it as proof of address. NRI spouses must have a valid Indian passport for proof of identity.
I do not have any of the common documents for ID or address proof. Can I apply for an Aadhaar card?
Yes, if you do not have any of the common proofs, you can get a certificate of identity from a tehsildar/gazetted officer on letterhead. For address proof, you can get a certificate of address from an MLA, village panchayat head, MP, tehsildar, or gazetted Officer, on letterhead.
How does the HoF (Head of Family) based enrolment work?
If family members do not have valid documents for enrolment, they will still be able to enrol if their name is present in a family entitlement document. If a situation like this materialises, the HoF (Head of Family) can introduce other members with a proof of relationship document.
Do I need to link my bank account with Aadhaar?
If you have used other officially valid documents to link your bank account, you need not submit your Aadhaar. However, you will not be able to receive benefits/subsidies of any scheme under the Aadhaar Act 2016.
Can I use my e-Aadhaar for authentication?
Yes, the e-Aadhaar downloaded from UIDAI's website is as legally valid as the original document. All officials, agencies and departments are mandated to accept e-Aadhaar for verification purposes. If someone refuses to do so, you may register a complaint.
Before you go…
Disclaimer: Mutual Fund investments are subject to market risks, read all scheme-related documents carefully.
This article has been prepared on the basis of internal data, publicly available information and other sources believed to be reliable. The information contained in this article is for general purposes only and not a complete disclosure of every material fact. It should not be construed as investment advice to any party. The article does not warrant the completeness or accuracy of the information, and disclaims all liabilities, losses and damages arising out of the use of this information. Readers shall be fully liable/responsible for any decision taken on the basis of this article.