A Permanent Account Number (PAN) is a 10-digit identification code allotted for all taxpayers. Every resident Indian is required to have a PAN so that the Income Tax Department can keep track of their financial transactions. Non-resident Indians having taxable income in India also need a PAN card.
NRIs can apply for a PAN card online via NSDL (National Securities Depositories Limited) or UTIITSL's (UTI Infrastructure Technology and Services Limited) website. Now let us look into the details of NRI PAN cards, required documents and application process.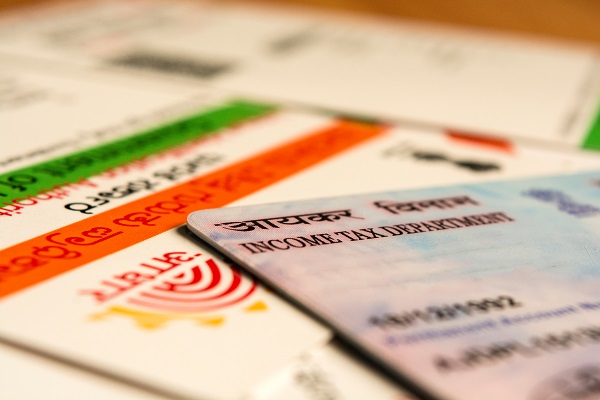 Are PAN Cards Mandatory for NRIs?
Anyone with a source of income in India needs to have a PAN card for income tax purposes. So, if you live abroad but earn income from property rent, share dividends or returns from a mutual fund, you need to file taxes. Even if you do not have a PAN card, it would still help to have a PAN card for investment purposes.
You need a PAN card under the following situations:
Any NRI with a taxable income in India should have a PAN card.
It is necessary for opening an NRO or NRE account.
Any NRI without a PAN card cannot do share trading through registered brokers in India.
It is also mandatory for purchasing real estate in the country.
It is compulsory to quote your PAN card for reasons, such as the following:
Opening a Demat account
Purchasing a motor vehicle (except two-wheelers)
Paying an amount over Rs. 50,000 towards mutual funds, bonds, debentures, life insurance premiums or deposits of cash in a single day.
Making a transaction of securities worth over Rs. 1,00,000 (except shares)
Sale or purchase of any immovable property for over Rs. 10,00,000.
Also read: List Of Financial Transactions That Require A PAN Card
Documents Required by NRIs for PAN Card
Besides proofs of identity, address and date of birth, NRI's have to provide the following additional documents for PAN card application:
All NRIs need a copy of their passport as proof of identity.
For proof of address, they can submit their copy of passport, bank account statement (in the country of residence) or NRE bank account statement.
Two recent passport size photographs
For PIO (Persons of Indian Origin) and OCI (Overseas Citizens of India), a copy of their PIO card/OCI card.
For minor applicants, proof of identity and the residential address of parents/guardians will be enough.
The following are the basic documents everyone must submit to apply for a PAN card.
Identity proof
Aadhaar card, passport, driving license, voter ID card, ration card, pensioner card, CGHS card, bank certificate on a letterhead etc.
Date of birth proof
Voter ID card, driving licence, passport, Aadhaar card, birth certificate, mark sheet from a recognised board, etc.
Proof of residential address
Aadhaar card, passport, Voter ID card, electricity bill, water bill, landline telephone bill, broadband connection bill, property registration document, latest property tax assessment order, etc.
An Overview of PAN Card Application Procedure
The Income Tax has authorised NSDL and UTIITSL to issue PAN cards. Applicants can visit the official websites to start the application process. NRIs with Indian citizenship should apply using Form 49A, while those with foreign citizenship, PIOs and OCIs need to use Form 49AA.
Applicants can apply at TIN Facilitation Centres and PAN Service Centres at various places in the country. They can submit the PAN application form along with necessary documents and prescribed fees at these centres. NRIs can also apply for PAN cards online via the NSDL and UTIITSL's official websites.
You will need to mandatorily provide Aadhaar numbers for the PAN application. Moreover, you will have to affix two coloured stamp sized photographs to the application form. Designation and code of assessing officers must also be furnished. 
How Can NRIs Apply for PAN Cards Online?
Follow the given steps to apply for new PAN cards via the official website of NSDL:
Step 1
Visit TIN NSDL's official website and click on 'Online PAN Application.'
Step 2
Select the correct details such as application type (Form 49A or Form 49AA), category (individual), title (Shri/Kumari/Smt). Then, enter your name, contact details and date of birth.
Step 3
After noting the temporary token number, choose the mode of submission of PAN application documents.
Step 4
Now, fill in the rest of the details, including your Aadhaar number, parents' details and if you require a physical PAN card.
Step 5
Enter details about your source of income, address and contact information.
Step 6
In the next two pages, you have to enter your AO (Assessing Officer) details, and upload scanned documents, respectively.
Step 7
After making payment, you will receive a One Time Password (OTP) on your Aadhaar-registered mobile number. Enter this and take a printout of the acknowledgement receipt.
Step 8
Sign this receipt and send it to NSDL's office within 15 days of the application date.
Things NRIs Need to Remember before Applying for a PAN Card
You can provide a foreign address for residential and office addresses if you do not have a residence in India. 
When filling up a paper form, remember to write in black ink and in block letters.
Make sure not to staple or pin photographs to the application form.
Do not make any corrections; avoid overwriting on the physical form.
Double-check the information provided in the form. Any misinformation would result in the rejection of your application.
The name and address on documents provided for proof must be consistent with the information provided in the application form.
When attaching your NRE bank account statement as address proof, ensure that it has at least two transactions in the previous six months. It also needs to be attested by the bank manager, Indian Embassy, consular office or high commission.
Also read: PAN Card Migration: What Is It And How To Do It?
Final Word
Non-resident Indians earning income from any source in India need to have a PAN card, regardless of their citizenship status. NRIs can apply for PAN cards online via NSDL or UTIITSL's websites. It takes around 15 days from the application date to receive the physical card.
Frequently Asked Questions
Q1. Where do I need to send the acknowledgement receipt for my PAN card application?
Ans: You will need to send the acknowledgement slip to the following address along with photographs and relevant documents:
NSDL e-Gov Infrastructure Limited (Income Tax PAN Service Unit)
4th Floor, Mantri Sterling
Model Colony, Survey No. 997, Plot No. 341, Pune- 411016
Near Deep Bungalow Chowk
Q2. How to send my PAN card application documents to the NSDL address?
Ans: You should send the acknowledgement receipt with two stamp-sized colour photographs (3.5 x 2.5 cm). It should also include copies of documents for proof of identity, DOB and address. Put these in an envelope and write 'Application for PAN' along with the acknowledgement number on top of it. 
Q3. What charges do NRIs have to pay for PAN card applications?
Ans: The PAN card fee for NRIs depends on their communication address. For dispatch of the PAN card anywhere in India, Rs. 93 is charged, excluding Goods and Services Tax (GST). For a foreign communication address, the fee is Rs. 864 excluding GST.
Q4. What additional documents do foreign citizens need to apply for a PAN card?
Ans: NRIs with foreign citizenship need to furnish the following additional documents:
PAN card details of the employer
Appointment letter copy that the Indian Office has issued
An authorised copy of the address certificate (from the Indian employer)
Q5. How to change the NRI status on my PAN card?
Ans: Note that there are no direct provisions to change citizenship status in your PAN card as it does not display this information. That said, you can still get this detail changed on NSDL's official website.
Before you go…
Looking for instant 🚀 personal loans 24*7 anywhere, anytime? Install the Navi app now!
Or, maybe you're looking to buy that house you've been eyeing 🏠 and you need a loan of up to Rs. 10 crores. Install the Navi app now and get your instant in-principle approval right away! Interest rates starting at 6.46% p.a.
How about an affordable health insurance policy 👨‍⚕️ starting at a monthly premium of just Rs. 241? Install the Navi app and get your policy in under 2 minutes
Instead, want to put your savings into action and kick-start your investment journey 💸 But don't have time to do research. Invest now with Navi Nifty 50 Index Fund, sit back, and earn from the top 50 companies.