Financial stability is something that everyone looks for. However, it may not always be possible to be in control of your expenses. That is where the concept of loans comes in. To broadly categorise, primarily there are two types of loans – secured and unsecured loans. While home loans and car loans are secured loans where the property or vehicle is pledged as collateral, personal loans are considered unsecured loans. This is because you usually don't need a guarantor or pledge collateral for personal loans.
So, what are the types of unsecured loans and their benefits? Let's dive in.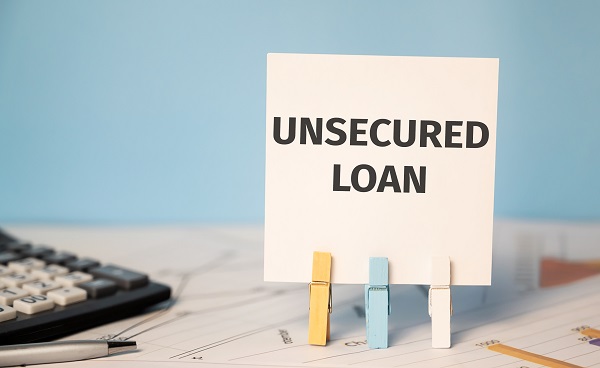 What is an Unsecured Loan?
To be precise, a loan that does not need any kind of collateral or security is an unsecured loan. The borrower's assets are not given the main priority here, instead, it is their creditworthiness that is at stake. Lenders usually check your credit score, monthly/annual income, repayment capacity and/or employment status for unsecured loans.
How do Unsecured Loans Work?
Lenders usually check your credit history when you apply for an unsecured loan. They do so to ensure if you have paid off your loans in due time in the past. This helps the lender to gauge you – whether you are a responsible borrower or not.
You need to have a decent credit score – 750 or above to avail of an unsecured loan. However, some lenders and banks could offer unsecured loans with low or without CIBIL score. For such loans, that is loan without CIBIL score, the interest rates could be in the higher bracket. Lenders could also check your repayment capacity before approving your loan application.
What are the Different Types of Unsecured Loans?
Personal loans: Probably the most common form of unsecured loans. You can get personal loans from any bank or financial institution.
Credit card loans: Credit cards are usually unsecured. So, if you are in need of urgent cash, you can get loans against your credit card. These are usually pre-approved loans and may come with a higher interest rate than personal loans. However, banks offer credit card loans to select credit cardholders depending on their payment history, credit score, and more.
Pension loans: Individuals who are retired and drawing a pension can apply for a pension loan. It provides you with funds during any medical emergency or any other unforeseen circumstances.
Consumer durable loans: Loans taken for buying any consumer-centric electronic goods are considered consumer durable loans. These loans are also unsecured loans.
Also Read: Two Wheeler Loans In India: Eligibility, Documents Needed & Benefits
What are the Features and Benefits of Unsecured Loans?
Some certain features and benefits make an unsecured loans extremely conducive:
No collateral or guarantor required
Flexible tenure and EMI options that could go up to 7 years
Quick processing and disbursal
Multi-purpose loans – you can use the loan to fund weddings, travel, etc.
Less stringent eligibility criteria compared to home loans
What are the Charges and Rate of Interest on Unsecured Loans?
Many factors need to be taken into consideration for determining the interest rate of an unsecured loan. These factors include your income, the obligation that you have every month, and the location if you are salaried or self-employed. The unsecured loan interest rate could start from 8% p.a., but it could sometimes go as high as 36% p.a.
What are the Documents Required for an Unsecured Loan?
To further reiterate the point that there is no security or collateral required for unsecured lending, there are no documents required related to it as well. Here is a list of the others –
A passport size photograph within six months
A Government Approved identity proof
Duly filled application form for a loan
Document confirming age
Bank account statement for the past six months
A document for address verification
Income Tax Return slip
A fee for the processing of cheque
However, you only need your PAN and Aadhaar card to apply for a personal loan with Navi.
Also Read:Marriage Loan In India: Get Low Cost EMI Wedding Loans in 2022
Difference between Secured and Unsecured Loans
The following are the differences between secured and unsecured loan:
| | | |
| --- | --- | --- |
| Parameters | Secured Loan | Unsecured Loan |
| Collateral | Requires collateral or guarantor | Doesn't require collateral or a guarantor |
| Interest Rate | Lower interest rate due to less risk | Higher interest rate due to more risk |
| Loan Amount | Higher loan amount | Lower loan amount |
| Interest Rate | Lower interest rate | Higher interest rate |
| Repayment Period | Higher repayment tenures up to 30 years | Lower repayment tenures up to 7 years |
How to Check Eligibility for Unsecured Loans?
There are some standard criteria to get unsecured loans, like being an Indian Citizen and above 21 years of age and necessary documents for all. However, the criteria might differ depending on your type of employment – salaried and self-employed.
The employment should either be in the public sector or a private one. If you reside in Delhi or Mumbai, the minimum salary should be Rs.25,000 per month. For all the other states, it could be Rs.10,000 per month or higher.
The statement for financial stability and a yearly income by the policies set by the lenders.
Also Read:How To Apply For Instant Cash Personal Loans In Bangalore?
How to Apply for an Unsecured Loan
The steps for applying for an unsecured loan is pretty simple. For instance, with Navi you just need to download the app, fill in your personal details, enter your PAN number to check loan eligibility, select loan amount and apply. It hardly takes a few minutes to apply for a personal loan with Navi. But generally, here's what you should do before applying for an unsecured loan.
Things to Consider before Applying for an Unsecured Loan
Compare lenders: Before you apply for a loan always make sure to compare different lenders to make an informed decision. Compare the interest rate, tenure or any other deals before applying.
Check your eligibility: Once you provide all the details like monthly income, preferred loan amount, company you are working for, the lender could offer you an amount you are eligible for. This could be less or more than the amount you are looking for. You can choose to calculate your eligibility with a loan eligibility calculator.
Provide correct information: Always provide correct information pertaining to your personal, income and employment details. Any incorrect information could lead to loan rejection, which in turn could adversely affect your credit score.
Check credit score: If you have a credit score above 750, you might fetch better deals on interest rate, loan amount, and tenure. Also, a good credit score could get you pre-approved offers. So, always check your credit score before applying for an unsecured loan.
Final Word
If you're in need of urgent cash, unsecured loans could be your go-to option. However, since it's an unsecured loan, loan default could call for higher penalties. So, maintain a healthy financial lifestyle and make timely payments to lead a stress-free life.
In case you're looking for a personal loan, try the Navi app. Navi offers personal loans up to Rs.20 lakh at attractive interest rates starting from 9.9% p.a. What's more – it's a completely paperless process. So, choose your desired loan amount and apply!
FAQs on Unsecured Loans
Q1. Can a self-employed person take an unsecured loan?
Ans: Yes, both salaried and self-employed individuals can apply for a personal loan. However, the documents required for a self-employed individual could differ from that of a salaried individual.
Q2. What is the maximum loan tenure offered on unsecured loans?
Ans: The maximum loan tenure is up to 7 years. With a Navi personal loan, it's up to 6 years or 72 months.
Q3. What are the purpose for which unsecured loans can be availed?
Ans: Unsecured loans could be utilised for multiple purposes. Be it funding your wedding, next travel destination, child's education, or shopping, you could use unsecured loans for literally anything.
Q4. Do I need to pay a processing fee for unsecured loans?
Ans: This entirety depends on the lender. Usually, lenders charge an upfront fee or processing fee during loan disbursal. The fee could vary from lender to lender. However, some lenders often roll out a zero processing fee offer from time to time.
Q5. How many days does a bank normally take to disburse an unsecured loan?
Ans: Traditional banks take 3-4 days to disburse an unsecured loan. However, with Navi, any eligible applicant can get a loan within minutes.
Before you go…