Are you in any emergency cash crisis and in a need of instant cash loan in 1 hour without documents?
With the massive advancement in the finance industry you can get an instant loan. With 1 hour loans available, you don't have to turn to anyone. If you have a good credit score and are eligible, you can get personal loans up to Rs.20 lakh at a competitive interest rate and flexible tenures. Now, let's understand what is instant cash loan, and how you can get a loan in 1 hour.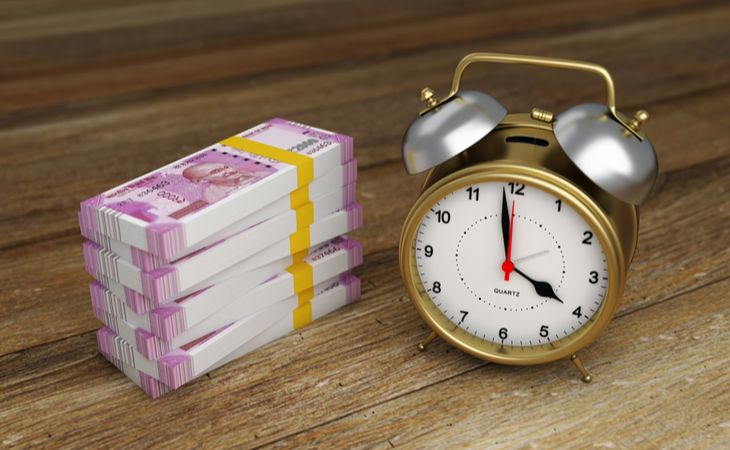 What Is an Instant Cash Loan?
An instant cash loan is a personal loan where the timeline between loan application and disbursal is minimal. These are usually app-based online loans wherein you just have to enter your personal details and upload a few documents like Aadhaar and PAN for KYC to apply.
The loan journey for instant cash loans is simple and hassle-free. Once you apply, the lender checks your eligibility. If you're eligible, the loan gets disbursed into your account almost instantly – between a few minutes and one hour.
Also Read: How To Apply For A Personal Loan On Low Salary
Navi Instant Cash Loan Interest Rates And Other Details
| | |
| --- | --- |
| Interest Rate | 9.9% p.a.* |
| Loan Amount | Up to Rs. 20 Lakh |
| Tenure | 6 Years |
*Note that the interest rate and other details are subject to change at the lender's discretion
Instant Cash Loan in 1 Hour: Features and Benefits
Minimal documentation
Paperless process
Instant loan disbursal
Attractive interest rates
Flexible repayment tenures
Use loan amount for any purpose
Instant Cash Loan Eligibility Criteria
| | |
| --- | --- |
| Nationality | Indian |
| Age | Above 18 Years |
| Type of Employment | Salaried or Self-employed |
| Income | Minimum: Rs 10,000 per month |
| Credit Score | 650 and above |
Documents Required for Instant Cash Loan in 1 Hour
| | Salaried | Self-employed |
| --- | --- | --- |
| Identity Proof | PAN, Aadhaar, driving license, Voter ID, etc. | PAN, Aadhaar, driving license, Voter ID, etc. |
| Address Proof | Aadhaar, driving license, ration card, etc. | Aadhaar, driving license, ration card, Registered office/business address proof, etc. |
| Income Proof | Last 3 months' salary slip | Last 6 months' bank account statements |
However, if you're applying for an instant cash loan through the Navi app, you just have to show your PAN and Aadhaar to complete your KYC. If your personal details are correct, the eligible amount could be disbursed within a few minutes directly into your account.
How to Apply for An Instant Cash Loan In 1 Hour at Navi?
Usually, you would have to submit the below-mentioned documents when you apply for an instant cash loan in 1 hour in India:
Download the Navi app from Google Play Store & App Store and register on the app providing your mobile number and entering the OTP sent to the number
Once you are a registered user, you can click on the 'Apply' tab
Enter your full name, age, marital status and PIN code
Provide the details of your occupation and the monthly income that you earn
Provide your PAN card number so that the application process is completed
Navi would give in-principle approval for a loan amount
To get the loan, choose the loan amount and tenure
Click your selfie, enter your Aadhaar card number and the full name of your parents
Provide the name of your bank and its IFSC code. Set up an Auto Debit Mandate to pay the EMIs automatically from your bank account
Navi would verify your details and then sanction the loan instantly
Also read: Apply for an instant Rs. 50,000 personal loan
Things to Remember before Availing Instant Cash Loan
Check your Credit Score

Always check your credit score before applying to avoid loan rejection. If your credit score is low, follow the best personal finance practices to improve your credit score.
Borrow the Amount you Need

You could be eligible for a loan amount that's more than you actually need. Try to stick to the amount you require. This will save you from unnecessary stress while paying EMIs
Short Tenure or Long Tenure Loans

A shorter tenure would mean quick closure of loans and less interest payment. However, the EMIs would be on the higher side. For long tenure loans, the EMIs are lower but you end up paying more as interest. So, choose whatever works for you based on your financial standing.
Final Word
Instant cash loans can aid your financial requirements during an emergency. You can use such loans to fund your wedding, travelling, pay medical bills, etc. However, make sure that you are providing all the correct details to the lender. Any sort of incorrect information could lead to loan rejection.
FAQs on Instant Cash Loans In 1 Hour
1. How to get an instant cash loan with a poor CIBIL score?

Ans: Your credit score reflects your creditworthiness. If your credit score is below 600, either your loan application would be rejected or you have to pay a heavy interest against your loan.
2. Can I prepay my loan?

Ans: Yes, you can certainly prepay your loan before the scheduled tenure. However, you need to check with your lender if you have to pay loan foreclosure charges. Usually, lenders don't charge prepayment fees for floating-rate loans.

3. How do I repay my cash loan?

Ans: You can repay your loan in easy EMIs or Equated Monthly Instalments. Use an online personal loan EMI calculator to check your repayment obligations. Also, to avoid any hassle, set up an auto-debit so that every month your EMI amount gets auto-debited from your account on the due date. However, ensure that you have sufficient balance in your account so as not to miss your monthly repayment obligations.
4. What happens if I miss EMI payments?

Ans: If you fail to pay your EMI multiple times, the lender might levy a penalty fee. Other than that, it could put a dent in your credit score as well. This could hamper your chances of getting any line of credit in the future.
5. Can I get an instant cash loan without documents?

Ans: You can get an instant cash loan with minimal documents. For instance, with Navi, you would need a PAN and Aadhaar Card to complete your loan application. You don't need to submit any other proof like bank statements, salary slips, etc., to get an instant cash loan from Navi.
Before you go…
Looking for instant 🚀 personal loans 24*7 anywhere, anytime? Get personal loans up to ₹20 lakh starting at 9.9% p.a. Install the Navi app now!
Disclaimer: This article has been prepared on the basis of internal data, publicly available information and other sources believed to be reliable. The information contained in this article is for general purposes only and not a complete disclosure of every material fact. It should not be construed as investment advice to any party. The article does not warrant the completeness or accuracy of the information, and disclaims all liabilities, losses and damages arising out of the use of this information. Readers shall be fully liable/responsible for any decision taken on the basis of this article.