A line of credit (LOC) or credit line is a pool of money that you can borrow from a financial institution as and when required. These credit lines offer flexible options for borrowers and make for a comfortable repayment experience. They are almost similar to credit cards but do not require you to carry a physical card.
The traditional lending system has strict limitations on the minimum amount withdrawn. Moreover, borrowers need to pay interest on the entire loan sanctioned, which prevents them from withdrawing funds frequently. A LOC addresses all of these problems.
Now let us take a deeper dive into this unique system of borrowing.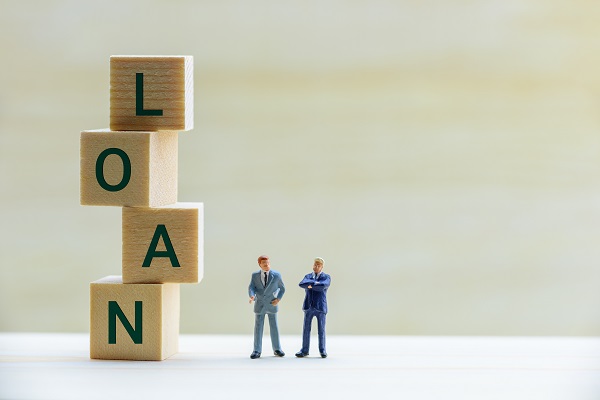 What Is a Line of Credit and How It Works?
A line of credit is a unique loan that allows borrowers to withdraw small to medium amounts as per their needs. Borrowers can take anywhere from Rs. 5,000 to Rs. 2,00,000 from their sanctioned loan and pay interest only on the withdrawn money over a specific time called the draw period.
The total money sanctioned depends on the borrower's repayment capacity, creditworthiness, income, etc. Therefore, lenders evaluate their credit score, repayment history and other risk factors to decide their willingness to grant a loan.
Unlike traditional loans, interest on a credit line does not start until the borrower uses it. However, they do not have an obligation to do so. Borrowers need to make regular minimum payments to cover the interest payments on the withdrawn amount rather than the total loan. They can also choose to repay part of their borrowings.
Once the draw period is over, borrowers can no longer withdraw more funds. At this point, they must pay the outstanding principal amount and the rest of the interest by a fixed date. When the entire loan is repaid, the whole credit line becomes available for usage once again.
For example, let's say Mr. Basu has taken a credit line of Rs. 5,00,000 and has withdrawn a total of Rs. 1,50,000 over the draw period. He has to pay interest on only Rs. 1,50,000 and the principal amount. After this, the whole credit line of Rs. 5 lakh becomes available again.
Also Read: Difference Between Credit Hard Enquiry And Soft Enquiry
Types of Line of Credit Loans
Unsecured line of credit: This is the most widely available option among line of credit loans, where borrowers do not need to pledge any collateral. As the lender has to take the risk of default, these loans come with higher interest rates.
Secured line of credit: In this type of LOC, financial institutions charge relatively low-interest rates. The limits of credit lines offered are lower than the value of the collateral. Borrowers can use assets such as a house, a car, certificate of deposits, etc. to secure a loan.
Revolving line of credit: In this case, borrowers get access to a certain amount of funds that they can borrow again once they repay the total amount. This makes it an excellent option for those looking for flexible credit to fund ongoing projects or their business's expenses.
Non-revolving line of credit: Like traditional loans, this LOC does not increase the credit after payment. You have to apply again for a non-revolving credit line after full repayment. Its main advantage is that it is less stringent with regard to credit score requirements.
Advantages of Using Line of Credit
You can borrow only the amount you require without having to pay interest on the entire credit line.
Borrowers can get flexible repayment options for the principal amount on LOC as long as they pay the interest and other fees.
Some financial institutions offer the option of secured LOC, which have lower interest rates.
LOCs can be approved for use over a long tenure of up to three years. During this time, customers can redraw their limits multiple times without incurring additional charges.
These are ideal for long-term projects with a wide range of unpredictable costs. Also, an LOC is useful to address short-term cash shortages.
The interest rates for LOC are usually lower than those offered by credit cards, payday loans or cash advances.
Borrowers can get access to a credit line in a few minutes, making it an ideal option for those who cannot get access to credit cards.
Line of Credit vs Personal Loans — Which One is Better?
Personal loans are unsecured loans that give you a fixed amount of funding that you can use for any purpose. These are offered in a lump-sum and thus, come with predictable interest and EMIs. Personal loans are best for large one-time expenses such as financing a high-value purchase, paying for a wedding, student loans or credit card debt.
Navi offers personal loans of up to Rs. 20 lakh for any need with interest rates starting at 9.9% p.a. You can download the Navi app and apply for a personal loan via a 100% paperless process.
On the other hand, a line of credit may be a secured or unsecured loan in nature with a credit line limit. You are liable to pay interest only on the funds withdrawn, and thus an LOC has a variable interest rate. Borrowers who are unsure about how much or when they need financing often choose this option. These carry higher interest rates than personal loans due to greater risks for the lender.
Also Read: How To Choose A Proper Personal Loan Tenure?
Final Word
Line of credit offers a flexible option for borrowers who are not exactly sure how much funds they require. Like credit cards, they offer a revolving credit line, where you can withdraw funds as needed and pay the accumulated interest on the unpaid balance. They are best for funding ongoing and unpredictable expenses.
Frequently Asked Questions
1. What are some of the disadvantages of using credit lines?
The following are some of the cons of using a line of credit:
Some loan providers charge annual fees or maintenance fees for LOC.
Their interest rates are usually higher than fixed-rate loans.
You need to have a high credit score to qualify.
It is a poor option for long-time monetary shortages
2. What is a business line of credit facility?
Business credit lines are availed by various companies to address their working capital requirements, payment of salaries, inventory requirements, etc. These are not as flexible as a personal LOC as spending is limited to business-related expenses.
3. How does a personal line of credit work?
A personal LOC is offered to individuals with a high credit score (above 700) and a good debt utilisation ratio. Individuals can use this credit facility to meet their urgent or long-term expenses. Borrowers can pledge collateral to get better loan terms.
Yes, since small startup businesses are prone to losses and emergencies, an LOC is a great choice for them. Moreover, estimating a final value for how much funds a business requires is next to impossible. By having a credit line sanctioned, a startup can get access to instant cash during cash flow crunches.
5. How do line of credit facilities compare to credit cards?
Credit lines offer more flexible options for repayment over longer tenures compared to credit cards. They also come with lower interest rates than credit cards, which can charge anywhere from 36-42% for not paying dues on time. However, an LOC does not offer the convenience of credit cards, such as flexible transaction or repayment features.
Before you go…