One of the most valuable benefits of using credit cards as a preferred mode of payment is the ability to earn and redeem reward points. Aside from ease of use and being able to repay at a later date, credit cards come with credit card reward points that offer you allied benefits such as co-branded deals, attractive discounts, shopping coupons, airport lounge access, cashback, the option of converting your spends into easy EMIs, amongst a host of other perks.
Reward points are widely regarded as one of the most appealing features of credit cards. Every time you swipe your credit card, a few reward points are added to your account. When you accumulate a certain number of reward points, you can redeem them in a number of different ways.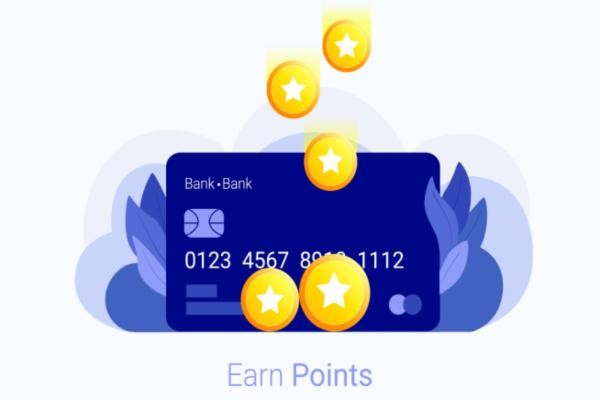 What are Credit Card Reward Points?
Reward points are types of incentives that customers receive when they use a credit card to make purchases. Credit cards typically have a fixed reward point earning ratio that varies depending on the type of credit card and the issuing bank. For example, a certain credit card company may have a reward policy of granting 1 point for an expense of every Rs.100.
There are accelerated reward points when you shop at partner merchants. Some banks differentiate reward points for specific categories based on the customer's card type. For example, a credit card company may have a policy that allows you to earn 2x reward points if you use their card with a certain merchant.
What are the Benefits Of Credit Card Reward Points?
Here are some of the benefits credit card reward points offer:
For Credit Card Companies:
Lucrative deals and rewards help lenders to increase their customer base.
The credit card company can earn more merchant fees the more a consumer uses a credit card.
For Credit Card Holders:
You can convert credit card reward points into cash coupons and adjust it in your outstanding credit card bill.
You get access to domestic and international airport lounges for free.
The reward points can be used to shop for merchandise and other items at a discounted rate.
You can use reward points to make discounted hotel, flight, and cab bookings.
You can get cashback and gift cards.
Also Read: Credit Card For Students: Features, Benefits, Eligibility And How To Apply
How Do You Earn Credit Card Reward Points?
There are many ways to earn reward points on your credit card. Different banks offer different ways in which you can earn reward points; below are some of the most common ways that banks offer reward points:
Welcome Rewards– Some banks offer welcome points to new credit cardholders.
High-value Purchases– Spending on high-value purchases such as jewelry, travel bookings, and vacations can fetch you higher reward points.
International Rewards– Some credit cards offer bonus points for using the card while traveling abroad.
Bonus Points– When you spend a certain amount on your credit card, you can earn bonus points.
Regular Rewards– You will receive a set number of reward points for every buck spent on your credit card.
Accelerated Rewards– There is a scope to earn extra points when you spend money on specific categories like shopping at partner merchants, dining at partner eateries, apart from other dining expenses, entertainment, etc.
Loyalty Points– Credit card companies also provide rewards for renewing your credit card. You can earn a substantial number of points for your credit card loyalty.
What Do You Get From Credit Card Reward Points?
When you spend money on monthly expenses or large purchases, you will earn 'points' on your purchases. A credit card rewards programme allows you to redeem your points in various ways, including flights (or travel), shopping, and cash back.
How To Redeem Credit Card Reward Points?
If you want to redeem your credit card reward points earned, here are a few ways to redeem your points:
1. Online Mode
Step 1: Log in to your Bank account using your user ID and password.
Step 2: Click on the Credit Card Option and view your credit card statement, reward summar and reward points balance.
Step 3: Redeem as per your points available and place your order accordingly with the merchandise's account.
Step 4: Your order will be delivered to the address you have provided while placing the order in approximately 10 business days.
2. Calling the Customer Care
You can contact your bank's customer care number and the representative will help you with the redemption process. You can choose your desired product and place the order.
Few banks partner with offlines stores too. You can walk-in to these stores and redeem your points.
Credit Card Reward Points vs Cash Back
It is critical that you understand how cashback and reward points in credit cards differ from each other.
Transactions: The main difference between cashback and reward points is that cashback offers are only available at partner outlets, whereas reward points are available on all transactions.
Validity: The other difference is the validity of cashback and reward points earned. Cashback has no expiration date because once credited to your account; you can use it whenever you want. Reward Points have a validity period of two to three years, depending on the bank, after which they expire.
Maximum Limit: Reward points have no maximum amount of reward points you can earn because the more transactions you make, the more reward points you will earn. At the same time, there is a maximum limit for earning cashback on specific offers and brands.
Types of Credit Card Rewards
Cashback: One of the most fundamental rewards is the credit card company's cashback to a customer. This is a type of discount that is credited into the card holder's account after they have made the purchase. Compare different credit cards for cashback offers and rewards to select one that meets your needs.
Credit Card Reward Points: Each transaction earns you a set number of reward points, which can later be redeemed for goods or services. Bonus rewards may be given to specific merchant categories or merchants to increase online or contactless spending at merchant outlets.
Credit Card Miles: Miles-based reward programmes are associated with airline co-brands and were targeted at affluent consumer segments who traveled frequently. Non-travel transactions would usually earn fewer miles.
Also Read: What is a Secured Credit Card & How To Apply For One?
How Do Credit Card Reward Points Work?
Each rewards programme operates differently, and the value of your rewards varies by programme.
Cashback: They are the simplest to use because you receive a percentage of your spending back if you spend a certain amount. The percentage of cashback earned varies depending on the bank. You can compare the best credit card for cashback offers and choose the one best suited for you.
Miles: If you enjoy traveling, this is an excellent option. When you use the card to make purchases, you earn air miles that can be used to book flights. You can use these air miles to buy plane tickets or get discounts on plane tickets. Banks and credit card issuers collaborate with travel booking portals or airlines to provide travel-related benefits to cardholders.
Credit card Reward Points: The point system appears to be the same across all credit card issuers. However, the allocation and value may differ depending on the card issued and the bank's rules.
Reward points cannot be redeemed all at once. To redeem, you must first accumulate a certain number of reward points. The accumulated reward points must be redeemed within a certain period. Most banks permit redemption within 2 to 3 years.
Final word
Credit card usage has increased significantly since it provides numerous benefits to users. A credit card can easily manage significant expenses and daily expenditures. Credit card reward points can help you reduce your monthly bill. Furthermore, the reward points can be redeemed for various attractive gifts from partnered stores.
Credit card rewards programmes have developed significantly, with a wide range of appealing offers. Consumers are advised to assess their spending patterns and choose a rewards programme best suited to their preferences to extract the most value.
FAQs on Credit Card Reward Points
Q1. How to transfer reward points from one credit card to another?
Ans: No, you cannot transfer reward points from one credit card to another.
Q2. How to Redeem Your Credit Card Reward Points?
Ans: You can redeem your reward points through internet banking, mobile app, rewards website, or customer care center.
Q3. Can I convert my reward points to cashback points?
Ans: Yes, if your credit card company allows it, you can convert your reward points to cashback. Some lenders have different terms and conditions for redeeming reward points.
Q4. What are the various ways to spend your Reward Points?
Ans: Banks provide you with numerous options for redeeming your reward points based on your needs. You can use your points to get vouchers or other rewards through the rewards catalog.
Q5. What are the factors affecting credit card rewards?
Ans: Factors influencing the total number of points you earn and their value are.
Type of credit card
co-branding
Where Do You Spend 
Big expenditure
Before you go…
This article has been prepared on the basis of internal data, publicly available information and other sources believed to be reliable. The information contained in this article is for general purposes only and not a complete disclosure of every material fact. It should not be construed as investment advice to any party. The article does not warrant the completeness or accuracy of the information, and disclaims all liabilities, losses and damages arising out of the use of this information. Readers shall be fully liable/responsible for any decision taken on the basis of this article.