The pre-pandemic period witnessed a steady rise in credit card issuance by 23% in 2020. Although there was a slight decline in credit card usage during 2020-21, it still remains one of the most preferred options for big-ticket purchases. Banks and financial institutions offer various types of credit cards targeting customers with different requirements or spending habits.
Can't decide which type of credit card you should apply for? Read on to learn about each of the types.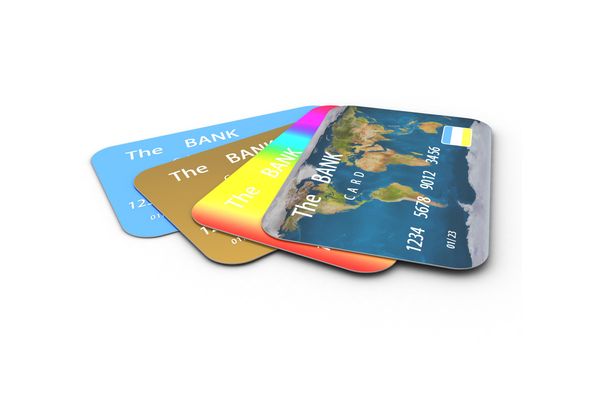 What Is A Credit Card?
Unlike debit cards, credit cards are credit facilities accessible by a card through which users can perform transactions. Credit cards have a credit limit which is set by the bank and depends on one's CIBIL score. The CIBIL score defines one's credit trustworthiness, a piece of information very crucial to banks before they extend credit facilities.
Credit cards contain some basic information like debit cards. These include the user's name, credit card number, expiry date, CVV code and signature. However, unlike debit cards, they have no link with the user's bank account and are instead linked to their credit limits.
Credit cards find applications in a wide variety of transactions. Apart from household expenses, appliances and medical bills, you can even perform big purchases like equipment and automobiles with this card.
Also Read: CIBIL Score Calculator And How To Check CIBIL Score Online
Types of Credit Cards
Credit cards differ in their choice of offerings and rewards. Therefore, it is crucial to select the ideal one that suits one's purpose, requirements and lifestyle. In addition, while some cards offer better rewards, others charge low-interest rates. The 3 main types of credit cards are listed below:
Reward cards
Such credit cards provide rewards on different purchases. The rewards generally come as cash backs or redeemable reward points. These cards often require a good credit ranking.
Some credit cards offer a fixed reward irrespective of the purchase amount. These cards often provide rewards up to 2% of the purchase amount.
There are credit cards that offer varying rewards for different purchases. For example, avid grocery spenders may earn more cash back and lower rewards for other purchases.
Different credit cards offer additional bonuses in different categories, rotating monthly or quarterly. As a result, users may have to unlock different bonus categories to obtain rewards.
Travel reward cards offer cash-back or other rewards in terms of travel-related purchases. In addition, co-branded cards offer specific rewards for specific brands and are redeemable everywhere.
Low-interest credit cards
When customers roll their debt to the next billing period, they might incur additional interest. Instead, if they pay them fully in time, they can avoid the effect of interest on their credits.
Low-interest cards allow users to save money by reducing interest amounts as these cards come with comparatively lower interest rates.
This type of credit card also comes with a lower annual fee as compared to other types of credit cards. Your annual fee might be waived off if you spend beyond a certain amount each year.
Usually applying for a credit card requires you to have a high credit score. However, if you have a poor score, you can opt for this type of credit card.
To apply for this card, you need to make a deposit of an equal amount of your credit limit which will act as a security for the card.
If you pay your credit card dues on time for a few months back to back, the bank might return the deposit.
Apart from these, there are also some other types of credit cards such as business credit cards, travel credit cards, balance transfer cards, etc.
Also Read: Latest Credit Card Interest Rates: How To Calculate & How does It Work?
Advantages Of Credit Cards
Credit cards help customers make purchases on credit payable to the issuer at a later date. Some benefits of using credit cards are as follows:
Convenience: One of the primary reasons for choosing credit cards is the ease of shopping and making purchases. It does not pose an unnecessary burden, and most issuers allow low-cost EMIs.
Cashless purchases: Credit cards facilitate cashless purchase options, especially for valuable goods. However, you have to make the payments at a later date.
Rewards and offers: Almost all credit cards come with reward points that are essentially cash backs or discount coupons. Travellers can also use these rewards to obtain discounts on travel tickets and accommodation.
Acceptance and withdrawals: Credit cards are accepted worldwide. One of the most common modes of payment, credit cards can make bookings and purchases easier and faster. They can also be used to make cash withdrawals in times of emergency.
Helps improve credit score: Individuals with no or poor credit history can improve their trustworthiness by frequent usage and paying back the amount within a stipulated time. In addition, a higher credit score increases the chances of securing loans in the future.
Also Read: What Are The Advantages And Disadvantages Of Credit Card
Final Word
October 2021 saw a giant leap in terms of credit card transactions in India, amounting to almost Rs. 1 trillion. Card payment networks like Rupay and VISA provide a secured network to facilitate such transactions. The many different types of credit cards can indeed aid Indians in establishing a cashless economy.
Before you apply for a credit card, find out which type of card would be suitable for you. Compare across banks and make a choice.
FAQs on Types of Credit Cards
Q1. How do I get a credit card provided that I don't have a credit score?
Ans: Users with no credit history can reach bank representatives to get a secured credit card. To perform transactions, they must deposit an amount which will determine their credit limit. Regular and timely payment of card bills can help in building a credit score.
Q2. Is it possible to withdraw cash using a credit card?
Ans: It is possible to withdraw cash from a credit card. However, you might have to pay a cash advance fee for every transaction which is anywhere between 2 to 3% of the amount you take out. You can contact your card provider to know more about this.
Q3. What are fuel credit cards?
Ans: There are specific credit cards that will help you reduce the overall expense of fuel. These are called fuel credit cards. You can avail fuel surcharge waivers at different petrol pumps across the country.
Q4. What is the eligibility to apply for a credit card? 
Ans: The eligibility requirement for applying for a credit card is as follows: 
– You need to have a regular source of income
– You should be an Indian citizen
– The CIBIL score has to be over 750
Before you go…
Mutual Fund investments are subject to market risks, read all scheme-related documents carefully.
This article has been prepared on the basis of internal data, publicly available information and other sources believed to be reliable. The information contained in this article is for general purposes only and not a complete disclosure of every material fact. It should not be construed as investment advice to any party. The article does not warrant the completeness or accuracy of the information, and disclaims all liabilities, losses and damages arising out of the use of this information. Readers shall be fully liable/responsible for any decision taken on the basis of this article.