You need to pay EMIs or Equated Monthly Instalments after taking a loan, such as a home or a personal loan. Unfortunately, we are so preoccupied with our private and professional relationships that remembering the EMI date can sometimes be challenging. Missing an EMI date may result in disciplinary action, and frequent late payments can harm your credit rating. This is where Electronic Clearing Service or ECS comes into the picture.
Borrowers in India can now use the Electronic Clearing Service (ECS) to avoid this inconvenience. But, first, let us explore this facility and how it operates.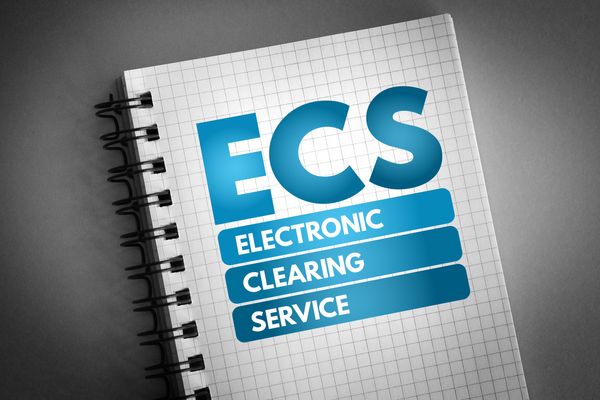 What is Electronic Clearing Service (ECS)?
The RBI established the Electronic Clearing Service to facilitate bulk funds transfers from one bank account to another. Loan providers utilise this facility to debit loan EMIs from the borrower's bank account on a set date.
This is accomplished using a clearinghouse. ECS debit in India is handled mostly by the National Automated Clearing House – NACH. The NACH is a part of the National Payments Corporation of India – NPCI.
What are the Types of ECS?
Electronic Clearing Service is classified into two types: ECS credit and ECS debit. Continue reading to find out what they are and how they differ from one another.
1. ECS Credit: When a bank makes credit to a bank account, such as to pay a salary or dividends. To credit multiple accounts, a single account is debited at regular intervals.
2. ECS Debit: When a single account is used to make payments such as EMI, loans, premiums, mutual funds, etc.
Electronic Clearing Service (ECS) are classified into three types based on their geographical location:
Local ECS: The RBI operates 81 local ECS centres throughout India.
Regional ECS: The RBI operates regional ECS at 9 locations across the country.
National ECS: It is a centralised version of ECS Credit run in Mumbai.
Also Read: Electronic Clearing Service (ECS) Mandate: Types, Benefits, and Charges
How Does ECS work?
When a customer applies for a loan, they must sign an Electronic Clearing Service payment mandate. This mandate authorises the clearinghouse to debit your month-to-month EMI from your bank account and credit it to their loan or lender's account on a predetermined date.
This authority will include specifics about your bank, regional office, Electronic Clearing Service debit date, and sum.
To enjoy the benefits of this system, a user must follow a few simple steps. To begin, notify the bank that you use. Second, a user provides a mandate that authorises the organisation to conduct future transactions. In most cases, the mandate includes specific information about the client's bank account and department.
The bank only monitors transactions and sends alerts when funds are added or withdrawn from the account. The latter could be a text message or an application notification.
On the other hand, a payment processing organisation must handle all the details. They include the amount debited or credited to the bank account, the transaction date, and other important payment information.
Electronic Clearing Service users can also make a few changes. For example, they may specify the amount that can be withdrawn from an account, the purpose of transactions, and the effective date for each.
ECS Charges That You Should Know About
The RBI has indicated that the sponsoring bank must pay the transaction fees. Destination departments have already been informed to provide free Electronic Clearing Service credit to beneficiaries. Therefore, one will not be charged any additional fees as a recipient.
What are the Advantages of ECS?
Electronic Clearing Service has advantages for both firms and people:
1. For Financial Institutions
Paperwork has been reduced significantly as a result of ECS.
Once the Electronic Clearing Service is activated, all banks need to do is match key details such as name and account number and then credit the amount.
The process is aborted if the customer's details do not match ted.
Every transaction is documented.
2. For Customers
The sum is transferred within 3-4 working days.
No no need to go to the vicinity bank branch and sign monthly cheques to authorise deductions.
Enhanced Security: The possibility of fraud is almost non-existent.
3. For Organisations and Institutions
Seamless Bulk Transfers: Because businesses and institutions make large payments to a large group of people, Electronic Clearing Service ensures that the transfer is completed on time.
Fewer Employees: The number of people needed for printing, shipping, and other tasks is whittled down.
How to Stop ECS?
If you want to stop Electronic Clearing Service debit from your bank account for whichever reason, you must first notify the financial institution. Next, a documented application in the format specified by the loan provider must be submitted. Once this is completed, they must notify their bank by submitting a formal request.
Apply to the bank/NBFC to stop ECS at least a few weeks before their EMI debit date so that the required changes can be implemented on time.
Also Read: Loan Moratorium In Banking: Explained
How to Avail of the ECS Mandate?
To set up an ECS in Banking mandate, contact your bank and complete the following steps:
The bank will give an ECS mandate form that must be completed. According to the form, customers have authorised the bank to make debit deductions or ECS credit.
The ECS mandate form will have all pertinent information such as bank account, name, etc. An ECS mandate form that has been signed serves as an official authorising document.
There is also the option to limit the amount debited from the account. Under no circumstances would an amount greater than the specified maximum be deducted.
After each transaction, the bank will send you an SMS with all of the transaction details.
What is the Difference between NACH and ECS?
NACH – The National Automated Clearing House is a clearing house run by the National Payment Corporation of India. While both NACH and Electronic Clearing Service are used for recurring payments, NACH is faster, more robust, and is used for larger transactions. Transactions in ECS take 3-4 working days, whereas NACH transactions are processed the same day. Many large organisations prefer NACH due to its enhanced security features, advanced dispute mechanisms, and speed; however, Electronic Clearing Service has a greater reach and relation.
Final Word
Electronic Clearing Service allows simultaneous transfer of funds from one account to multiple other accounts.
ECS can be used for any type of bulk payment, such as interest, pension, dividend, salary, or recurring monthly bills. In addition, using Electronic Clearing Service, payments for insurance premiums or mutual funds can also be auto-debited after a predetermined time frame.
FAQs on ECS
Q1. Can the beneficiary change the mandate under the Electronic Clearing Service Credit Scheme?
Ans: Yes. If any of the information in the mandate changes, the beneficiary must notify the User Institution so that the correct information can be incorporated into its documentation.
Q2. Is there a cap on Electronic Clearing Service Credit transactions?
Ans: No, there is no restriction on the number of transactions made.
Q3. What is an Electronic Clearing Account?
Ans: When one records a transaction they intend to pay electronically, it is posted to a temporary holding account. For example, a clearing account or a suspense account is a holding account. This account holds the payment until they are ready to build a billing file to upload to their bank for processing.
Q4. Is Electronic Clearing Service risk-free?
Ans: The Reserve Bank of India's (RBI) Electronic Clearing Service facility is a well-established, secure, and hassle-free system for receiving and paying the above sums. Through the RBI, this system connects your bankers to the bankers of your service providers or corporations where you have invested your money.
Before you go…
Disclaimer: Mutual Fund investments are subject to market risks, read all scheme-related documents carefully.
This article has been prepared on the basis of internal data, publicly available information and other sources believed to be reliable. The information contained in this article is for general purposes only and not a complete disclosure of every material fact. It should not be construed as investment advice to any party. The article does not warrant the completeness or accuracy of the information, and disclaims all liabilities, losses and damages arising out of the use of this information. Readers shall be fully liable/responsible for any decision taken on the basis of this article.