Business owners and professionals can claim various expenses as income tax deductions. These expenses include paying employee benefits, interest payment for loans, etc. Section 43B of the Income Tax Act states that you can deduct these expenses from your taxable income but only in the year of actual payment.
To find out more about this section, keep reading!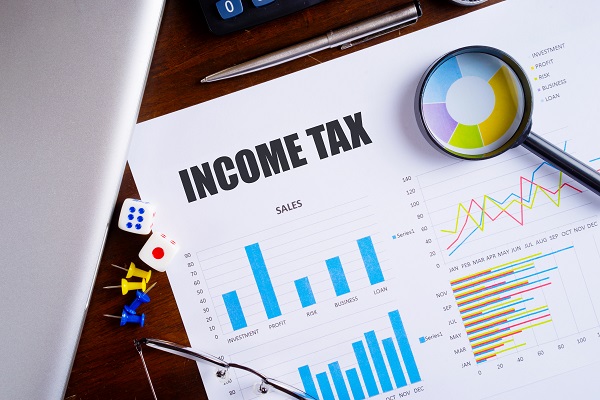 What Are the Provisions of Section 43B of the Income Tax Act?
Section 43B provides a list of expenses you can claim as deductions under the head 'profits and gains of business or profession.' However, you can claim these against your taxable income only in the year of actual payment. You cannot get the deductions in the year when you incurred the liability to pay such expenses under Section 43B.
Assesses can claim these deductions on payment and not accrual basis. He/she will be given time to pay these amounts before filing returns of income. When filing income tax returns, taxpayers need to show proof of payment to claim deductions in the same assessment year.
You can claim specific deductions u/s 43B regardless of the year when liability was incurred according to the accounting method employed.
Also Read – Income Tax Slabs And Rates
Applicability of Section 43B of IT Act
Let us look at the following example to see how Section 43B of the Income Tax Act works:
Mr Sharma is the owner of a professional advisory firm and has paid Provident Fund (PF) contributions due for his employees in July 2021. The amount is for March 2021. In such a case, he can claim this amount as an expense in the month of March 2021.
To get a deduction under Section 43B for the expense, he has to file an income tax return (ITR) in September 2021 for the year ending March 2021 by showing proof of payment. Had Mr Sharma paid this amount in November 2021, he could have claimed the amount as a deduction for FY 2021-22. He would have to furnish the proof of payment when filing ITR next year.
Types of Payment Qualified for Deduction under Section 43B
Tax payments
Business owners can get deductions for taxes, duties, cess or any other taxes they have paid to the government. GST, customs duty and interest on these taxes are also eligible for deduction.
Bonus/commission to employees
Employers can get tax deductions for any bonus or commission they have paid to employees. Such a sum should not be payable in ordinary circumstances as profits or dividends.
Contribution to employee welfare
This includes any contribution made by the employer towards any recognised employee's welfare fund such as provident fund, gratuity fund or superannuation fund.
Leave encashment
Leave encashment provided by the employer can also be deducted u/s 43B of the Income Tax Act.
Travel expense
Only the sum payable to Indian Railways for transport is deductible.
Borrowings or advances from banks
Business owners can get deductions for the interest they have paid for loans or advances to any scheduled commercial bank or cooperative bank. This excludes rural development banks, primary agricultural credit society or primary cooperative agricultural banks.
Borrowings from public institutions
This includes interest paid on any loan taken from state financial corporation, public financial institution or state investment corporation.
Clarification of the Points u/s 43B of the Income Tax Act
Deductions are applicable for the computation of taxable income of the previous year when the taxpayer actually made the payment. 
The above expenses are allowed as deductions even if the liability to pay such sum was incurred according to a different method of accounting. 
Nothing in Section 43B applies for sums paid by the taxpayer on or before the due date for furnishing tax returns under Section 139(1). 
If an employer avails deductions for tax expenses and PF contributions for the previous year when he was liable to pay the sum, he/she cannot claim such sum in the actual year of payment.
For loan borrowings, business owners can get tax deductions on any interest that they actually paid. Any interest converted into a loan or borrowing is excluded from Section 43B.
The sum payable for taxes refers to a sum which the taxpayer needed to pay in the previous year. It is possible that the taxpayer could not pay such taxes in the year of liability under the pertinent law.
Also Read: Deductions Under Section 80C Of Income Tax
Exceptions under Section 43B of the Income Tax Act
Taxpayers can deduct expenses under the accrual accounting system if they fulfil these conditions:
If he/she completes all payments applicable for deduction before the due date of filing ITR
The assessee maintains books of accounts under the mercantile accounting system
The assessee provided evidence of payments for income tax filing
Final Word
Section 43B of the Income Tax Act allows deductions of various expenses for businesses and professionals. One can claim these deductions only in the year of actual payment and not when they are liable.
Frequently Asked Questions
Q1. In what cases can you claim a deduction in a year of payment when it is an expenditure for a subsequent year? 
Ans: In case you make a payment covered u/s 43B in advance, you can claim it in the year that you paid the sum. For inadmissible items of expenditure, you can claim it in any year. However, you will have to make the payment for such items in the same year. 
Q2. What were the changes made to Clause b of Section 43B?
Ans: Previously, Clause b allowed deductions for an employer's contribution to employee benefit funds if he/she paid the amount before the due date of contribution. Now, employers can claim this only if they deposit the amount within the date of filing u/s 139. 
Q3. Why is an employee's contribution to PF considered as income for taxation purposes?
Ans: Assesses must add employees' contributions as income because they debit the employer's contribution to a profit and loss account. However, they do not add an employee's contribution to this account and treat it as liabilities. This is why an employee's contribution falls under business income u/s 2 (24). 
Q4. How does Section 43B apply to interest paid for a loan in case of a loan restructuring?
Ans: Previously, deductions were applicable on interest on loans if the assessee restructured the interest into a loan (a concept called Funded Interest Term Loan). To prevent this practice, the government amended Section 43B. Now, interest converted into a loan is not considered an 'actual payment'.
Q5. What types of incomes fall under profits and gains of business or profession?
Ans: Here are some of the incomes that Section 28 includes,
Profits and gains in last year
Compensations and other payments for persons managing a business
Income from trade, profession or other services
Cash assistance under GOI (Government of India)
Interest, salary, bonus or commissions that a partner of a firm receives
Before you go…
Looking for instant 🚀 personal loans 24*7 anywhere, anytime? Install the Navi app now!
Or, maybe you're looking to buy that house you've been eyeing 🏠 and you need a loan of up to Rs. 5 crores. Install the Navi app now and get your instant in-principle approval right away! Interest rates starting at 6.46% p.a.
How about an affordable health insurance policy 👨‍⚕️ starting at a monthly premium of just Rs. 241? Install the Navi app and get your policy in under 2 minutes
Instead, want to put your savings into action and kick-start your investment journey 💸 But don't have time to do research. Invest now with Navi Nifty 50 Index Fund, sit back, and earn from the top 50 companies.