Gross income denotes the total earnings without any deductions or tax adjustments. For salaried individuals, gross income is also known as Cost To Company (CTC). However, the take-home pay or in-hand salary would be different after tax and other deductions.
For instance, Raj's total income is Rs. 4,00,000, and he has paid Rs. 80,000 as Life Insurance premium. His total gross income will be Rs. 4,00,000, while his net income will be Rs. 3,20,000.
Here are all the details about gross income and how to calculate it. Read on!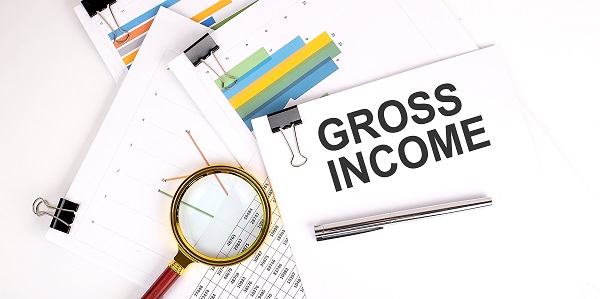 What is Gross Income?
Your gross income would be a total of all taxable receipts for the previous year. This will also consist of profits or losses that you carry forward from the previous year and any income after including other provisions.
However, your gross income will not consist of deductions under Section 80C and Section 80U.
What are the Categories of Gross Income?
As per Section 14 of the IT Act, a taxpayer's gross income can be classified as follows:
Salary income
Earnings from house property
Profits from profession and business
Other sources of income (usually from gambling and lottery)
Capital gains
Also Read: Monthly Income Plans: Meaning, Overview And Benefits
How to Calculate Gross Income?
If you are a salaried individual, your annual salary is your gross income, along with other sources of income like investments. However, if you run a business, the gross income is the revenue which your business earns from offering goods and services – the cost of the goods you sold (not including applicable taxes). Let's take an example to have a clear understanding.
Your business has received total revenue of Rs. 10 lakh. Here are the costs that your business has incurred:
Raw material purchase: Rs. 3 lakh
Labour charges: Rs. 3 lakh
Packing charges: Rs. 1.5 lakh
So, the cost of selling goods is Rs (3+3+1.5) lakh or Rs. 7.5 lakh.
Therefore, gross income would stand at Rs. 2.5 lakh (Rs. 10- 7.5 lakh)
Difference Between Net Income and Gross Income
As mentioned, gross income is the overall amount that you earn before removing any liabilities. The net income is obtained after removing all your liabilities from the gross income.
In the case of business, gross income is whatever a person earns, and net income is the business profit after removing all expenses. If you run a business, gross income is the total amount you earn before including the expenses you incur to earn the amount. For net income, you need to remove the expenses from gross income.
For instance, a company involved with selling pickles have total yearly revenue of Rs. 2 lakh. The cost of goods sold stands at Rs. 1 lakh. Here, Rs. 2 lakh is the gross income whole Rs. 1 lakh is net income. 
Also Read: How To Save Income Tax On Salary?
Final Word
Now that you have a clear idea about gross income, you can easily calculate your income tax and file income tax returns. It will also be essential for chalking out your monthly budget. However, you should note that your gross income is not the same as taxable income.
FAQs on Gross Income
Q1. What Is CTC?
Ans: CTC or cost to the company is a sum finalised by a company when an employee is recruited. It includes the basic salary, provident fund, gratuity, medical insurance and various allowances. Basically, it is an employee's overall salary package. It denotes the cumulative expenses by an employer during a year. 
Q2. What are the roles of Sections 17(3), 17(2) and 17(1) under Form 16?
Ans: The different components of income are specified under Form 16 in Sections 17(3), 17(2) and 17(1). Companies issue the form on or before May 31 of the upcoming year. Form-16 is a crucial document that helps to prepare the ITR. 
Section 17(1) comprises basic salary and different allowances. Section 17(2) mentions the perquisites of the employees, while Section 17(3) includes commissions, bonuses, etc. 
Q3. Are salary arrears taxable?
Ans: Yes, salary arrears are taxable for the employees. However, employees may file for a relief u/s 89 of the Income Tax Act, 1961 to reduce the tax burden in a financial year. A taxpayer needs to submit Form 10E to avail of the relief. 
Q4. What is an allowance?
Ans: An organisation offers specific benefits to its employees (based on their positions), known as allowances. These expenditures are an addition to an employee's basic salary. The Income Tax Department categorises allowances into partially exempt, exempt and taxable. 
Q5. What are the tax implications for leave encashment?
Ans: Tax is charged on leave encashment if an employee receives it at the time of service. A tax exemption is applicable for government employees who receive it during retirement. For non-government employees, the tax liability depends on the limits specified in the IT Act.
Before you go…
Looking for instant 🚀 personal loans 24*7 anywhere, anytime? Install the Navi app on Android or iOS now!
Or, maybe you're looking to buy that house you've been eyeing 🏠 and you need a loan of up to Rs. 10 crores. Install the Navi app on Android or iOS now and get instant in-principle approval right away! Interest rates starting at 6.46% p.a.
How about an affordable health insurance policy 👨‍⚕️ starting at a monthly premium of just Rs. 241? Install the Navi app on Android or iOS now and get your policy in under 2 minutes.
Instead, want to put your savings into action and kick-start your investment journey 💸 But don't have time to do research. Invest now with Navi Nifty 50 Index Fund, sit back, and earn from the top 50 companies.