Paying your income taxes on time is mandatory. Thankfully, now you can pay your oncome tax online. It is convenient, less time consuming and can be filed from the comfort of your home or office. Read on to know how to pay income tax online, documents required, and advantages.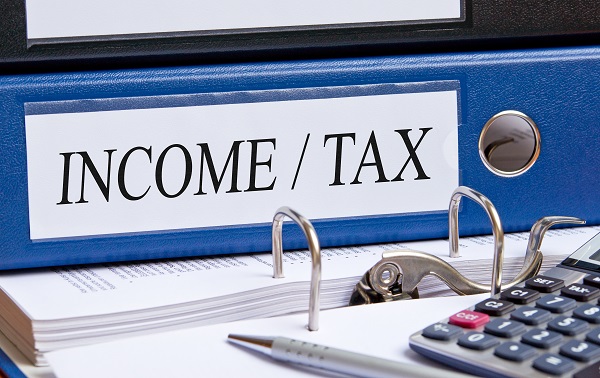 How To Pay Income Tax Online?
If you want to pay your taxes online, simply follow the steps mentioned below:
You need to visit the official Tin-NSDL website. The Tax Information Network (Tin) is the government portal for all things related to your taxes.
On the homepage of the Tin-NSDL site, click on the 'e-payment: Pay Taxes Online' option. This should redirect you to a different page.
Next, look for the 'Non-TDS/TCS' section, where you will find 'Challan No./ITNS 280.' Under it, click on 'Proceed' to go through to the next step.
On the following page, taxpayers have to choose from two options. If you are a business filing its yearly taxes, select '(0020) Corporation Tax.' Otherwise, pick '(0021) Income Tax (Other than Companies).'
After choosing your applicable option, provide all the necessary details.
Next comes choosing your preferred mode of payment. Presently, this portal allows taxpayers to complete income tax payments online using a debit/credit card or net banking. 
Complete CAPTCHA verification and proceed. The following page will display all your entered information. Check for inaccuracies and click on 'Submit to Bank.'
Once payment is complete, make sure to collect the income tax payment challan online. This challan includes crucial information, such as challan date, BSR number and the amount of tax you have borne.
That concludes the income tax payment online through NSDL. However, before proceeding with this payment, check whether you are eligible for the same.
Also Read – Income Tax Rebate Under Section 87A: Eligibility & Claim Process
Online Tax Payment: Eligibility Criteria
The following are the eligibility criteria for income tax payment online:
Resident Indians aged between 18 and 60 should possess an annual income of Rs.2.5 lakh or more.
Senior citizens (aged between 60 and 80 years) can pay taxes online if their annual income is more than Rs. 3 lakh. Super senior citizens (aged over 80 years) are eligible to pay taxes using the Tin-NSDL portal only when they have a yearly income of more than Rs. 5 lakh.
Any resident holding property or financial claim in an entity is also eligible for advance income tax payment online. Similarly, if you hold an account outside of India, you are eligible to pay taxes on it as well.
All companies operating on Indian soil can use this online facility too.
An assessee filing returns under Section 139 (4B) (ITR 7) is eligible.
If you own a firm under Section 44AB guidelines, you can clear taxes using online payment.
AOP, BOI, co-operative societies, local authorities and juridical persons are other parties who can utilise this online portal to pay their taxes.
Lastly, those who are claiming tax relief under Sections 90A, 90 and deductions under Section 91 can also pay income tax online.
Also Read – Professional Tax In India- Tax Slab Rates And Applicability
How Does the Online Tax Payment Process Work
Before jumping in to pay taxes online, you must learn about the different components at work when it comes to the collection of income tax. Here are some crucial elements in this process –
OLTAS
Online Tax Accounting System or OLTAS is the Indian Government's database, maintaining a record of taxes collected. It is essential to manage such collections and keep track of taxes deposited.
PAN
Permanent Account Number or PAN refers to a 10-digit alphanumeric code that is assigned to Indian taxpayers. Without a PAN card, income tax payment online or offline is virtually impossible.
TAN
Another 10-digit alphanumeric code unique to each taxpayer, the Tax Deduction/Collection Account Number is mandatory if you deduct taxes at source or if you collect taxes at source. TAN is a crucial part of online income tax payments.
Advantages Associated with Online Income Tax Payment
Now that you are aware of the online payment process, here's a look at why clearing your taxes online is beneficial:
Pay from anywhere and at any time
Taxpayers can utilise the portal for clearing their liabilities at any time they please. The facility is available 24×7.
Online tax payment is immediate. Therefore, even if you decide to file your returns at the last moment, you can do so without missing the deadline.
You can check whether your tax payment reached the concerned department or not. Acknowledgement is available in the form of a digital challan.
Pay on behalf of your business
If you own a business, you can use this online portal to clear your company's annual tax liabilities as well.
Important Documents for Income Tax Payment Online
Assessees will require the following documents to pay taxes online:
Bank statement and salary slips
Form 16
For 16A, 16B or 16C
PAN card
Aadhaar card
Deductions claimed under Section 80C all the way through Section 80U
Capital gains from mutual fund investments or property sale
Proof of investment in tax-saving instruments
Interest certificates from your post office or banks
Statement of home loan from your chosen financial lender
Also Read: Deductions Under Section 80C Of Income Tax: Eligible Investments And Expenses
Authorised Financial Institutions for Tax Payment Online
Here is a list of all the financial institutions that are authorised for online tax payment:
Final Word
The advent of income tax payments online has reduced the overall hassle of clearing taxes. Besides the convenience, payment through this portal is fast and reliable. Moreover, with roughly 1.46 crore Indians paying taxes yearly, this online procedure simplifies tracking and management for the Income Tax Department.
FAQs on Income Tax Payment Online
Q1. Is online tax payment mandatory in India?
Ans: No, taxpayers can also choose to pay their income taxes using an offline method. For this, they need to visit their nearest bank branch and fill up Challan form 280. After filling up this form, they have to submit it alongside the applicable tax amount at the bank.
Q2. How to find information regarding taxes paid in a financial year?
Ans: All information related to taxes that you pay is available in Form 26AS. This form acts as an annual tax statement for individuals and companies. To view this, simply visit the IT Department's e-filing website.
Q3. How to pay taxes online if your bank is not authorized to do so?
Ans: Not all banks are authorized to handle tax transactions. If your bank is one such institution, you can choose to clear payment from another individual's bank account. However, make sure that the PAN associated with such payment is yours.
Q4. What should you do if the status of the challan is unavailable in the Challan Status Enquiry section?
Ans: Usually, challan status is visible to taxpayers in the 'Challan Status Inquiry' section. However, it can take between 5-7 days to reflect any changes in your tax payment status. If no such change is visible even after payment, taxpayers should contact their authorized bank.
Q5. Is it possible to schedule an online tax payment for a later date?
Ans: Scheduling tax payment is possible using a net banking facility. You can choose the date while entering your net banking details. However, no such option is available when clearing your taxes using a credit or debit card.
Before you go…
Looking for instant 🚀 personal loans 24*7 anywhere, anytime? Install the Navi app on Android or iOS now!
Or, maybe you're looking to buy that house you've been eyeing 🏠 and you need a loan of up to Rs. 10 crores. Install the Navi app on Android or iOS now and get instant in-principle approval right away! Interest rates starting at 6.46% p.a.
How about an affordable health insurance policy 👨‍⚕️ starting at a monthly premium of just Rs. 241? Install the Navi app on Android or iOS now and get your policy in under 2 minutes.
Instead, want to put your savings into action and kick-start your investment journey 💸 But don't have time to do research. Invest now with Navi Nifty 50 Index Fund, sit back, and earn from the top 50 companies.