A declaration deed is a legal document which provides detailed information about a property. For example, it includes details like the type and size of land and a property's total area. This document also provides extensive information about a property's ownership, legal rights, value, etc.
If you are planning to buy a property, it is important to understand the purpose and importance of a declaration deed. This post provides all the details about a declaration deed – its format, what to do if it is lost and things to keep in mind before making a declaration deed. Read on!
What is a Declaration Deed?
A declaration deed is a legal document containing all the vital information about the property. Builder's name, construction area, type of land/building, total carpet area, amenities in the building, number of flats, etc. are all mentioned in this document. It is mandatory for the builder to execute a declaration deed.
What is the Purpose of Declaration Deed?
Here are some purposes of a declaration deed:
A declaration deed is necessary because it provides legal recognition to a piece of land or property.
It acts as proof of actual ownership of the property or land.
A declaration deed is crucial when a transfer of ownership occurs, such as when someone inherits, buys, or sells a property.
When someone owns many properties, a declaration deed makes it easy for him to organise and identify the value of each of his properties.
What is the Importance of Declaration Deed?
A declaration deed helps people make the right investment decisions.
Here's a list of reasons why a deed of declaration is important:
Legally recognising the rightful owner of a property eliminates any chance of dispute.
Legal recognition of boundaries and area of a property helps define a property's worth.
In-depth details about a property's size, type, location, and amenities help investors make an informed decision.
What Should One Incorporate into the Deed Declaration?
Lawyers advise people to tailor the declaration deed according to their situation and requirements. This is important because no two situations are similar. People can add sections and clauses to safeguard their economic interests.
However, every declaration deed should contain these details:
Consent of each person concerning the valuation of the property
Details of the amount contributed towards the deposit by each party
Details of how each person involved will pay off the mortgage
Amounts that each party involved would be paying for repayment and outgoings
Details of the proportion of the property that each party will own
Details of the property sale split among each party
Format of a Declaration Deed in India
Given below are different formats of declaration deeds.
Format of deed of declaration for HUF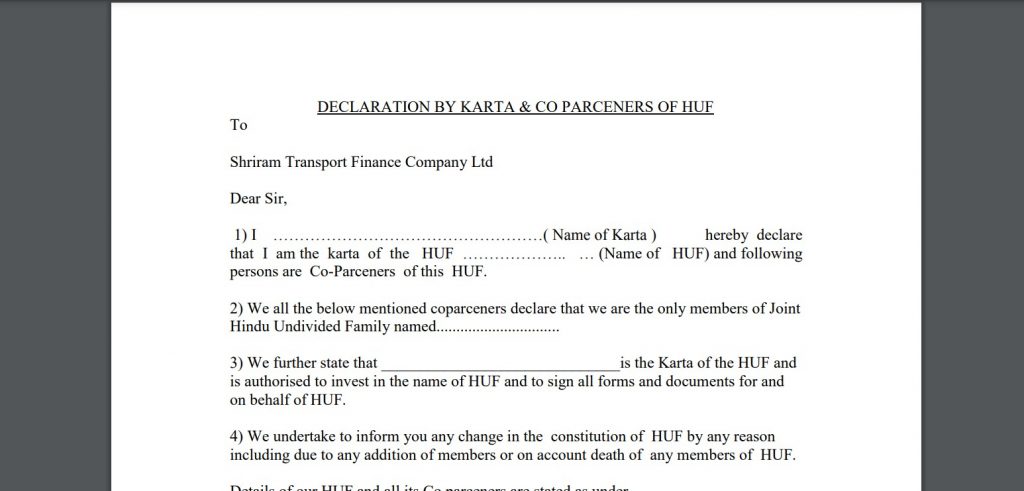 Deed of declaration for an Apartment in Maharashtra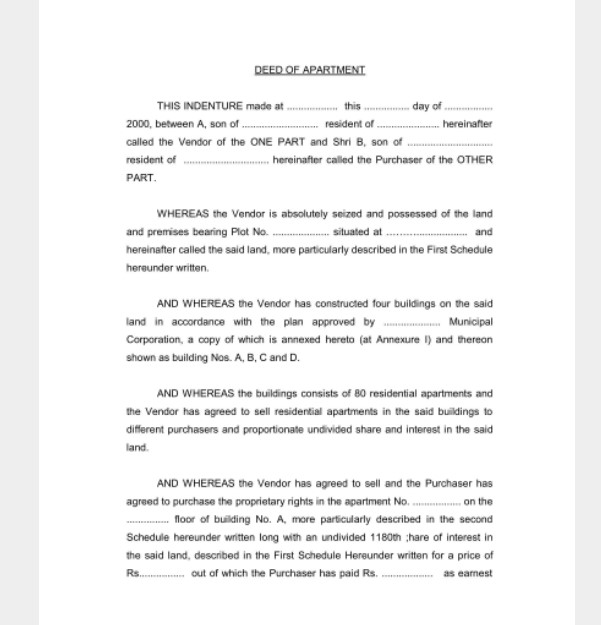 Also Read: What Is A Sale Deed: Benefits, Format, How to Register Online And Documents Needed
What to Do if Declaration Deed is Lost
Given below is a short guide that would be helpful for individuals who have misplaced their declaration deed:
Step 1: Try to find the original copy
If you cannot find the original deed of declaration, try to find a copy. Contact current and past trustees because they might have a copy. You can also contact banks, accounting and law firms and all the parties that may have dealt with it.
Step 2: Try to get hold of a duplicate copy
Go to the law firm that drafted the original declaration deed. They might provide you with a duplicate copy or a standard deed.
However, one should note that a standard declaration deed may not be received as a deed of trust. In such instances, a legal declaration has to be made by trustees. Furthermore, it needs to be mentioned clearly that this deed represents every term of the original copy.
Step 3: Appeal to the court to reconstruct the deed
You can consider appealing to the court to reconstruct the deed declaration irrespective of whether you have succeeded in procuring a version of the original deed. Please note that you need to provide evidence about the contents of the original declaration deed. The entire process is expensive.
If one produces a copy of the original deed, the court will direct that it should be accepted as terms of the trust.
Step 4: Regulate the deed as per law
Some trustees might withdraw from getting administered as per the Trustee Act. This might happen irrespective of whether appealing to the court is successful.
It enables trustees to have administrative powers with minimum obligations.
Also Read: Conveyance Deed: Importance, How To Get It, Documents Needed And Cancellation Process
Things to Remember before Making a Declaration Deed
Here's a list of the essential points you need to remember before creating a declaration deed.
Real estate investments are a huge financial commitment. So, before you make a deed of declaration, be entirely sure of your decision.
For instance, a legal document stating the actual ownership and other property details are necessary if you opt for shared ownership.
Take consent of all parties
Please note that every owner needs to be present when the declaration deed is put into effect and signed. The document might be considered false if everyone is not present during its execution.
Draw out the proportions minutely
You need to draw out the proportions with precision. This is because these legally stated proportions will be considered by law to distribute sale proceeds if the property gets sold.
More importantly, you should not forget to include the expenses involved while purchasing in the deed. For example, include the possible amounts that each party involved will have to pay if there is a loss of value and the owners decide to sell it.
Register the declaration deed
A declaration deed is registered at the Land Registry when a purchase occurs. This is important as it would help future purchasers be aware of someone else's interest in the property.
Also Read: What Is A Relinquishment Deed: Format, How To Register And Revoke It
Final Word
A declaration deed is an essential legal document that provides clarity to both buyers and sellers. It helps to resolve disputes as it clearly states ownership. Moreover, minute details about the property help investors make better decisions.
FAQs on Declaration Deed
Q1. When should you execute a declaration deed?
Ans: A declaration deed gets executed after a property has been built. It needs to provide detailed information about the type, size, boundaries, location, and amenities of the property. This legal document helps investors take informed decisions.
Q2. Is executing a declaration deed compulsory in India?
Ans: Yes, property owners need to execute a deed of declaration before they sell their property in India. It provides a detailed account of the property that they wish to sell.
Q3. Who executes the declaration deed in India?
Ans: In India, the builder of the property executes a deed of declaration. It states all the property details, including the total area and location. It is particularly helpful for defining the boundaries and sale of the property.
Q4. Can one amend a declaration deed?
Ans: Yes, a declaration deed can be amended if there are some arithmetical mistakes. For example, you can amend it if a critical omission takes place. Furthermore, one can amend the deed if it contains a clerical error.
Q5. What is the process of executing a declaration deed?
Ans: Here are the steps involved in the execution of a declaration deed:
First, a meeting takes place between all parties involved. 
Then a lawyer helps in the preparation of a draft of the deed, and a review takes place. 
After the review, the final version of the deed is prepared and signed in the presence of witnesses. 
Before you go…

Are you looking to buy that house you've been eyeing 🏠 and you need a loan of up to ₹5 crore. Install the Navi app now and get instant in-principle approval right away! Interest rates starting at 8.60% p.a.
Disclaimer: This article has been prepared on the basis of internal data, publicly available information and other sources believed to be reliable. The information contained in this article is for general purposes only and not a complete disclosure of every material fact. It should not be construed as investment advice to any party. The article does not warrant the completeness or accuracy of the information, and disclaims all liabilities, losses and damages arising out of the use of this information. Readers shall be fully liable/responsible for any decision taken on the basis of this article. 
Home Loan Knowledge Base