A conveyance deed is the legal proof of transfer of ownership with regard to a particular property (moveable or immovable). When the transfer of ownership of a property takes place, it is important to make it legally evident to avoid any dispute in the future. Transfer of ownership can happen in the form of gift, exchange, mortgage or lease.
If you want to own an immovable or movable property, you must have a conveyance deed in place. Here's why a conveyance deed is important, its type, how to get one, the documents required and the cancellation procedure. Read on!
What is a Conveyance Deed?
A conveyance deed is a legal document required at the time of transfer of ownership of immovable or movable property. This document is signed by the buyer and the seller; and declares the rightful ownership of the buyer. If you are planning to purchase a property, to validate your ownership, you must get a conveyance deed.
Elements of a Conveyance Deed
A conveyance deed has these details in it:
Particulars of both buyer and seller
Boundaries of the mentioned property
Other rights annexed to the property, if any, and their purpose
Delivery and receiving details, including the delivery method
Signature of seller, buyer and two witnesses
Previous ownership details (sequentially, in the case of multiple transfers of property)
Terms and conditions regarding full transfer of ownership
Power of Attorney, if any
Notary Seal
Importance of a Conveyance Deed
Both buyer and seller should consider checking the conveyance deed before any transaction takes place. Here's why:
First, it assures that a property is free from any legal hindrance.
Second, it is proof of transfer of title, ownership, and property rights.
Third, it is most likely to safeguard buyers from fraudulent activities and disputes in the future.
Format of a Conveyance Deed
Below is a deed of conveyance sample for a clear concept of how it works.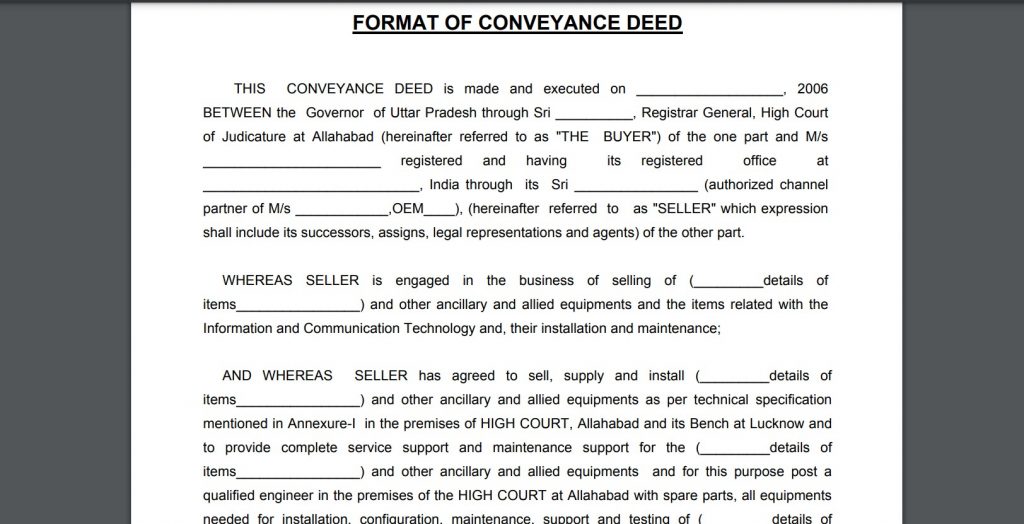 *Image Source: Allahabad High Court
How to Obtain a Conveyance Deed?
A conveyance deed is drafted using a non-judicial stamp paper. Registration is done at the local sub-registrar office. After registration, a buyer needs to pay stamp duty and registration charges to complete the registration process of the property. Stamp duty and registration fees vary from one state to another.
Also Read: How To File TDS on Sale of Property: Registration, Payment Process And Penalty
Types of Conveyance Deeds
Depending on the type and status of the property, there can be different types of conveyance deeds. They are discussed below:
Conveyance deed of freehold property: A buyer with the conveyance deed of freehold property enjoys full authority and rights of the property.
Conveyance deed of leasehold property: A buyer with a conveyance deed of leasehold property enjoys rights to the property, excluding rights of the land. This means the owner has the right to build a house or structure but no right over the land.
Conveyance deed subject to mortgage: In the case of a mortgaged property, the property owner cannot permanently reside in the property but can enjoy its premises and facilities from time to time.
Essential Documents for A Conveyance Deed
There are numerous documents one needs to submit to register a conveyance deed. A list of the required documents for a conveyance deed is given below.
Certificates include an architect's certificate, commencement certificate, occupancy certificate and completion certificate.
Mutation entries or property card
Certificate under Urban Land (Ceiling and Regulation) Act, 1976
Building plan as approved by the concerned authority
Details of previous owners
Proof of stamp duty and registration fees payment
Location plan
City survey plan from the revenue department
Layout plan of plot
Differences between Conveyance Deed and Sale Deed
| | |
| --- | --- |
| Conveyance Deed | Sale Deed |
| A conveyance deed is used for transferring ownership of property. | A sale deed is used to sell a property in exchange for consideration. |
| Transfer of property is only considered for a limited duration. | Transfer of property is considered permanent. |
| Consideration is not necessary. | Monetary or non-monetary consideration is mandatory. |
| Buyer doesn't hold the right to sell a property. | Buyer can use and sell the property. |
Sale deeds and conveyance deeds are often confused with each other because of their purposes. A conveyance deed can be used as a gift, lease or exchange method to transfer properties. A sale deed is required when a seller sells a property in exchange for consideration. So, any sale deed can be a conveyance deed, but a conveyance deed is not always a sale deed.
Things to Keep in Mind about Conveyance Deed
A conveyance deed has some legal provisions, and both the buyer and seller need to check them before the transfer of property.
One should pay off the mortgage before signing and handing over a conveyance deed. The buyer can also cross-check with the sub-registrar's office to be sure of the property's current status.
Other than the mortgage, the seller should also make sure that the property is free from any other legal hindrance.
A minimum of two witnesses should sign the deed.
Within four months of the property transfer, all legal documents regarding the property need to be submitted at the local sub-registrar's office for registration.
A conveyance deed should include the exact date of transfer.
How to Cancel a Conveyance Deed?
It is possible that a conveyance deed is eligible for cancellation after the transfer of the property has taken place. As per Section 31 to 33 of the Specific Relief Act, 1963, cancellation of a conveyance deed is only possible when and if an individual feels that the deed is voidable or can cause him/her harm if left unsettled.
If the deed followed all rules and regulations mentioned in the Indian Registration Act, 1908, then cancellation might occur with the mutual consent of both parties involved.
Also Read: Encumbrance Certificate: Definition, Types & Steps To Apply
Final Word
A conveyance deed is a legal proof that the previous owner has transferred all rights of the property to the current owner, but if needed, it can be challenged in a court of law. While buying a property, you must obtain a conveyance deed to avoid legal complications.
FAQs on Conveyance Deed
Q1. Do you require a conveyance deed for availing of a home loan?
Ans: A conveyance deed is one of the necessary documents you need to submit while applying for a home loan. If you do not own the deed and there is a legal dispute, you might lose the legal battle due to a lack of proof of authority.
Q2. Which documents do you need to apply for a deemed conveyance deed?
Ans: To apply for a deemed conveyance deed, one needs the following documents:
Copy of the agreement between owner and developer concerning the development of property 
Copy of building plan approved by the local authority
Land documents like municipality records, land revenue etc.
Q3. What should you do if the conveyance deed is lost?
Ans: If you lose the conveyance deed due to negligence or any other reason, you should take the following legal steps:
First, you should file a police complaint and keep a copy of the FIR as proof. 
You can also get a copy of the deed from the sub-registrar's office where you initially registered the deed.
You can also get an affidavit, including all details and the FIR number and get the same notarized.
Q4. Who facilitates the preparation of a conveyance deed?
Ans: A conveyance deed is a legal document for which the government intervenes to check if the transaction is legal and collects revenue from the stamp duty paid. The assistance of a lawyer and real estate agent is also important as they know all legal procedures. 
Before you go…

Are you looking to buy that house you've been eyeing 🏠 and you need a loan of up to ₹5 crore. Install the Navi app now and get instant in-principle approval right away! Interest rates starting at 8.74% p.a.
Disclaimer: This article has been prepared on the basis of internal data, publicly available information and other sources believed to be reliable. The information contained in this article is for general purposes only and not a complete disclosure of every material fact. It should not be construed as investment advice to any party. The article does not warrant the completeness or accuracy of the information, and disclaims all liabilities, losses and damages arising out of the use of this information. Readers shall be fully liable/responsible for any decision taken on the basis of this article. 
Home Loan Knowledge Base