A property may have more than one heir. In case one of the property owners want to give up their share or rights to the inherited property, they must sign a relinquishment deed. Such a deed is applicable to joint Hindu properties in India. It ensures that the other co-owners have complete legal rights to the property.
If one of the co-owners of an inherited property wants to give up their rights to the property, before getting into it, understand the legalities and how to revoke a relinquishment deed. Read on!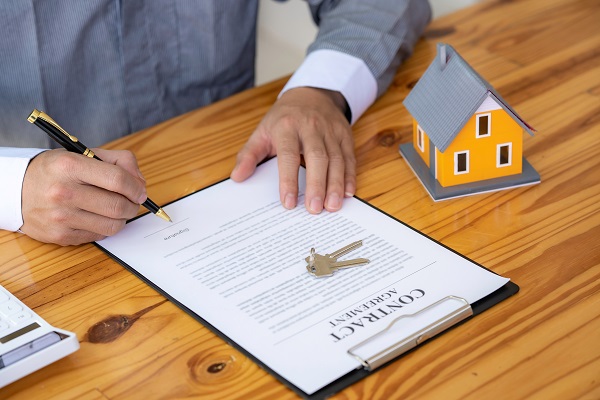 Relinquishment Deed: Meaning and Usage
A relinquishment deed is a document through which a co-owner releases his/her share for another heir in parental property. In simple terms, when a co-owner of an inherited property gives away his/her interests, title and rights to the other property co-owners, this deed comes into existence.
In contrast to gift deeds, transfer deeds and sale deeds, relinquishment/release deeds are implemented between the legal heirs of a property. It is not mandatory for a releasee to pay a consideration for acquiring the releasor's rights. Furthermore, this deed is not legally valid until it is registered.
Let's have a better understanding through the following example:
Suppose three daughters, namely Mita, Gita and Rita, inherit a huge property in Bangalore after the demise of Mr. Rajiv Mehta, their father. He has not kept any will for this property. Gita and Mita work in Chennai and Hyderabad, respectively. So, it is difficult for them to manage their ancestral property.
They decide to transfer their shares to Rita, who stays in Bangalore. Furthermore, they create a relinquishment deed without consideration. This deed requires to be registered for formalising the procedure.
Even if Mita and Gita take any consideration for transferring their rights, they will have to draft a similar deed to make it legally valid.   
Key Elements of a Relinquishment Deed 
Here are the vital elements of release deeds for your ready reference:
Quick procedure: One can make and register a release deed within a few days through an inexpensive procedure.  
Registration is a must: According to Section 17 of the Registration Act of 1908, it is compulsory to register the transfer of shares in an immovable asset. The registration gets executed in the sub-registrar's office under whose jurisdiction the inherited property is located.  
Signature is mandatory: All the concerned parties should put their signatures on the deed of relinquishment in the presence of two witnesses (minimum). 
A third person is not eligible for a release deed: Relinquishment of rights in immovable property cannot be processed in favour of an individual who isn't a co-owner. When a property co-owner releases his/her shares in favour of a third person, it will be considered a gift. 
Unalterable: Such a deed cannot be altered even if it doesn't involve any consideration. 
Consideration: A release deed can be executed with or without paying any consideration. 
Format of a Relinquishment Deed 
Refer to the following relinquishment deed format for immovable property to ensure a hassle-free transaction: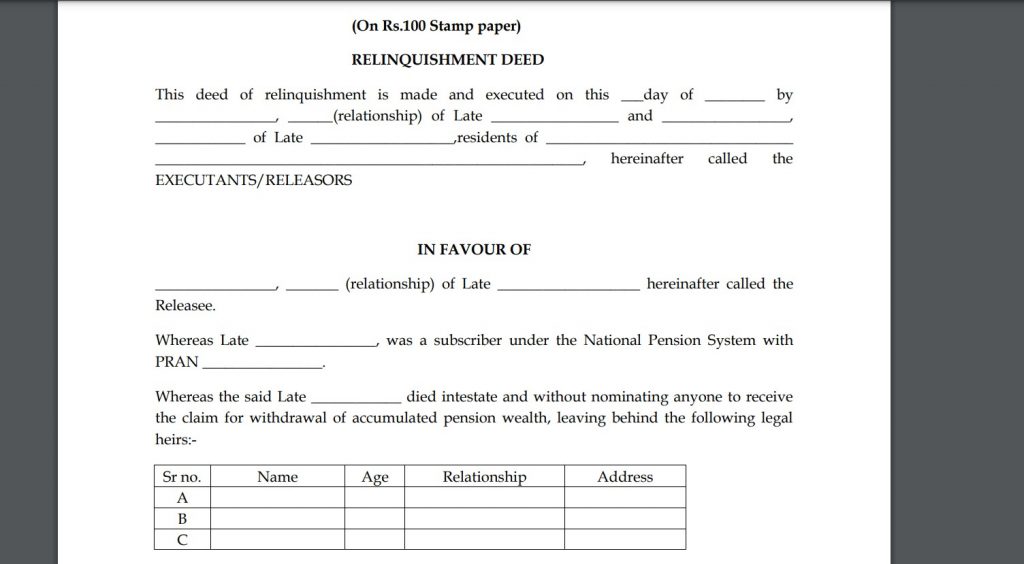 *Image Source: NSDL
How to Register a Relinquishment Deed 
Follow the easy steps below to register a relinquishment deed:
Step 1: On a 100 rupees stamp paper, draft the content of the release deed. Ensure that all your details are correct. There should be no spelling or typing mistakes in this draft. Use simple language in the deed so that the nature of the transaction is clear to the parties involved.
Step 2: Go to the office of the sub-registrar in the concerned jurisdiction. Two witnesses must accompany the parties in question. All of them should carry photocopies and the original documents related to their address and identity proofs. Besides, keep the passport-sized photographs handy.
Step 3: A fee of Rs. 100 to Rs. 250 will be applicable as a registration charge.
Step 4: This registered release deed will be available within one week, provided the executive is satisfied with the content of the release deed. One can collect it from the office of the sub-registrar. 
Difference between Gift Deed and Relinquishment Deed 
Through a gift deed, an owner can transfer his/her property to another individual. However, it differs from a relinquishment deed in the following ways:
| | |
| --- | --- |
| Gift Deed | Relinquishment Deed |
| It is a deed through which individual gifts his/her property rights to any individual.  | It is a deed through which a co-owner releases his/her property rights for the other co-owners only. |
| The concerned property may not be inherited parental property.  | The property has to be an inherited parental property. |
| Gift deeds do not involve any consideration. | Release deeds may or may not involve compensation. |
Provisions for Revocation of a Relinquishment Deed 
An owner who has released his/her property share may revoke a relinquishment deed based on the following grounds:
If there has been a misinterpretation of his/her intention in the document
When someone has influenced or forced him/her to sign the deed
In case of a fraudulent act to deceive him/her
All the parties who have signed the document should cooperate during the cancellation process. The aggrieved party can approach the court if a beneficiary denies cancelling the deal.
As per the provisions of the Limitation Act, a release deed can be revoked within 3 years starting from the day on which the deal was made. 
Final Word 
Since a relinquishment deed allows the co-owners to give up their property rights for any other co-owner of the parental property, it should be systematically registered and executed. One may consult a lawyer to draft the deed properly. However, individuals who understand the legal terminology and methodology can prepare the deed on their own.      
FAQs on Relinquishment Deed
Q1. Should all the parties visit the office of the sub-registrar for relinquishment deed registration?
Ans: A situation may arise when co-owners cannot visit the office of the sub-registrar due to any disability or terminal illness. In this case, they may place an application before the office of the sub-registrar to finish the registration procedure at home. A registering officer can visit the house of such an individual as per Section 31 of the Registration Act.
Q2. How is a relinquishment deed different from a release deed?
Ans: One can use these terms interchangeably as they mean the same. Co-owners of an inherited property can release their shares in the property through relinquishment of rights. The deed prepared for this purpose is called a release/relinquishment deed.  
Q3. Can a minor be a beneficiary under a release deed?
Ans: Yes, a co-owner can transfer his/her legal rights or shares in an inherited parental property to a minor by way of a release deed. In this case, provisions of the Indian Contract Act, 1872 will be applicable.
Q4. Is there a stamp duty on the relinquishment deed?
Ans: Yes, there are stamp duty charges for registering a relinquishment deed. However, such charges are higher for a gift deed registration. According to Section 17(1)(b) of the Registration Act of 1908, it is mandatory to register a document through which a right is transferred or created with respect to a property. 
Q5. Does a relinquishment deed only include inherited property?
Ans: An inherited property is only eligible for a relinquishment deed. It includes an ancestral property on which an individual has a birthright according to Hindu Succession Law. 
Before you go…
Looking for instant 🚀 personal loans 24*7 anywhere, anytime? Install the Navi app on Android or iOS now!
Or, maybe you're looking to buy that house you've been eyeing 🏠 and you need a loan of up to Rs. 10 crores. Install the Navi app on Android or iOS now and get instant in-principle approval right away! Interest rates starting at 6.71% p.a.
How about an affordable health insurance policy 👨‍⚕️ starting at a monthly premium of just Rs. 241? Install the Navi app on Android or iOS now and get your policy in under 2 minutes.
Instead, want to put your savings into action and kick-start your investment journey 💸 But don't have time to do research. Invest now with Navi Nifty 50 Index Fund, sit back, and earn from the top 50 companies.