RERA Haryana is a regulatory body that oversees and promotes the real estate sector in this state. Similar to any other Real Estate Regulatory Authority board across India, RERA Haryana ensures transparency in the real estate sector and protects buyers against unethical practices. RERA Act Haryana is implemented across two branches – HRERA Panchkula and HRERA Gurugram.
Read on to learn more about RERA Haryana fees and charges, how to register online, documents required and contact details.
Latest RERA Haryana Developments (April 2022)
On 27th April, 2022, the Real Estate Regulatory Authority (RERA) in Haryana has ruled that registered and unregistered properties sold by promoters on the basis of super area would be considered fraudulent. Properties must be sold on the basis of carpet area only. Conveyance deeds must also be on the basis of carpet area. Promoters and agents violating these directions would face penal proceedings. Also, strict action will be taken against agents who have registered but do not have a license. Agents cannot charge more than 1% as commission, split between buyers and sellers.
RERA Haryana – Fees and Charges
Listed below are various fees and charges for Haryana Real Estate Regulatory Authority:
1. Renewal/ Registration fees applicable for real estate agents:
| | | |
| --- | --- | --- |
| Type of Agent | Renewal Fee | Registration Fee |
| Individual | Rs. 5000 | Rs. 25,000 |
| Other than Individual | Rs. 50,000 | Rs. 2,50,000 |
2. Fee for complaint filing:
| | |
| --- | --- |
| Type of Complaint | Fee |
| Filing an appeal before the Appellate Tribunal | Rs. 1000 |
| Filing complaint before the Authority | Rs. 1000 |
| Per Annexure | Rs. 10 |
| Additional Affidavit | Rs. 20 |
3. Registration fees for promoters:
| | | |
| --- | --- | --- |
| Category | Medium/Low Potential | Hyper/High Potential I & II |
| Cyber Park/ Commercial | Rs.10 per square meter | Rs.20 per square meter |
| Industrial/ Residential | Rs.5 per square meter | Rs.10 per square meter |
A Step By Step Guide To Register On RERA Haryana Online
Follow these steps to register on RERA Haryana online:
Visit RERA Haryana Official Website

Click on RERA Haryana.

Sign-Up

Select RERA Panchkula/ RERA Gurugram/ Appellate Tribunal listed on the top. Navigate to the 'Project Registration' drop-down menu and select 'Signup to register a project'. You will be redirected to another page.

Enter the Project Details

Fill in all required basic information related to the project, then save and continue. You will get redirected to an 'Applicant Details' page.

Enter Your Details

Click on the applicant details icon, select the appropriate applicant type, enter all necessary fields and then save and continue.

Fill Up Form A

On the next page, fill up Form A and pay the requisite fee according to the rules of RERA. After completing this registration procedure, you may opt to preview your filled-up form.

Click on Submit

Submit the filled-up online form after previewing the details entered. Following that, you will receive a system-generated temporary project ID which you must save for future reference.
After completion of all these steps, you have to take 4 print-outs of the HRERA registration form –3 of these have to be submitted to the authority along with hard copies of several documents. After successfully submitting all necessary documents, a receipt will get generated, the project will be live, and further procedures will continue.
Also Read: A Quick Guide To Stamp Duty And Property Registration Charges In Haryana
What Are The Documents Required To Register Through RERA Haryana?
Listed below are various documents that are necessary for RERA Haryana registration:
1. As a Promoter
Demarcation plan
Zoning plan
Cash flow statement of the proposed project
Non-default certificate from a CA
Certificate from a CA that certifies that the provided applicant details in Form REP-I-CX are correct according to the books of Accounts/Balance Sheet of the individual
Copy of the approved zoning plan (applicable for commercial sites or group housing)
Complete set of the last approved building plans
Copy of license and schedule of the land
Service plans that show services on the layout plan
Documents related to the entry of license and collaboration agreement in the revenue record
Latest layout plan (applicable for a plotted colony)
2. As a Real Estate Agent
Name, contact details, address, and photographs of the concerned real estate agent (in case of an individual), for other entities, it must include the name, contact details, a photograph and address of directors, partners, etc.
Brief information of the enterprise that includes name, registered address, and type of enterprise (partnership, company, proprietorship, society etc.)
Particulars of registration comprising the memorandum of association, articles of association, etc.
Copy of the proof of address related to the place of business
Copy of the real estate agent's PAN card
Also Read: How Are Property Stamp Duty And Registration Charges Calculated?
How To Register A Complaint in RERA Haryana?
If you have a complaint against the builder, project or an agent, follow these steps to register a complaint online:
Step 1: Visit RERA Haryana website.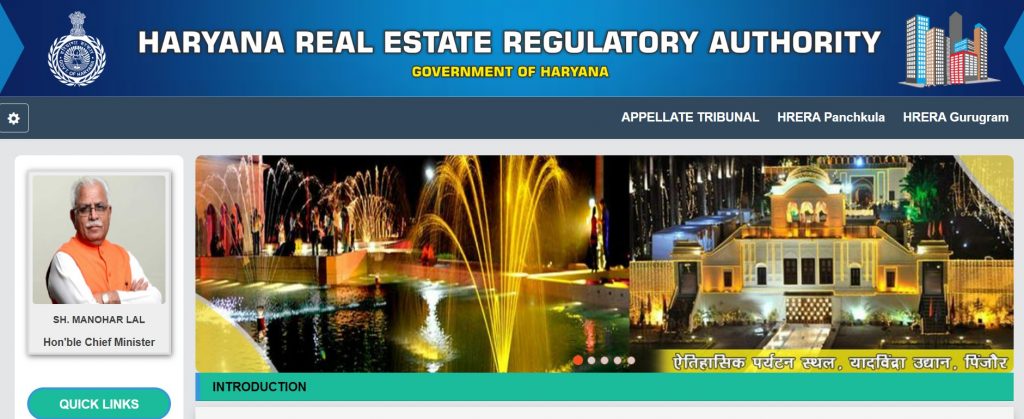 Step 2: Select RERA Panchkula/ RERA Gurugram/ Appellate Tribunal listed on the top.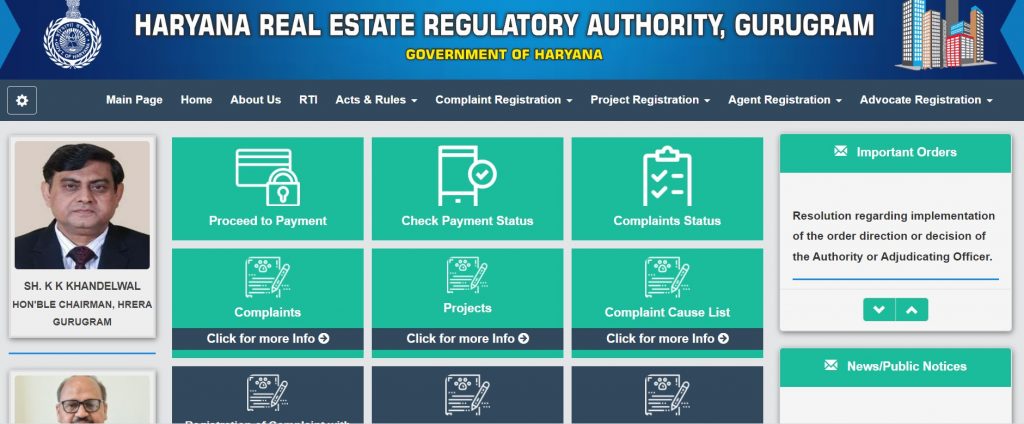 Step 3: Click on 'Registration of Complaint with HRERA Authority'.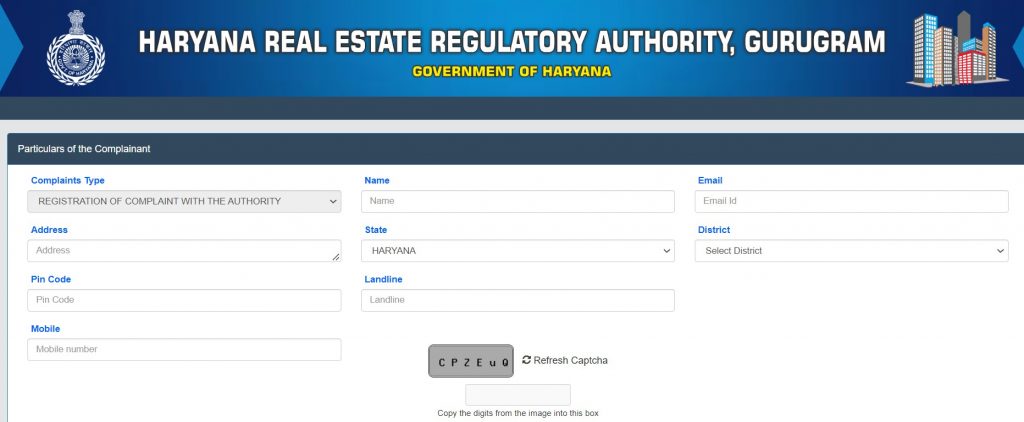 Step 4: Fill the form and submit it.
Step 5: Make the payment on the website.
Step 6: Print the acknowledgement page.
Step 7: Take the printout of Performa B from the HRERA portal. Make 5 copies.
Step 8: Attach HRERA Certificate with the complaint.
Step 9: Send by post three copies of the HRERA Complaint Registration Form, Annexure, Demand Draft of the fee paid, complaint details and self-declared signed certificate.
Office Address of RERA Haryana
1. HRERA Panchkula
Office address: Haryana Real Estate Regulatory Authority, Mini Secretariat, New Office Block, 2nd & 3rd Floor Sector-1, Panchkula, 134114, India
Contact details:

For Complaints Help: +91 9888554148
For Technical Help: +91 9888554124
For General Enquiry Help: +91 172-2584232,2585232

Email: [email protected]
2. HRERA Gurugram
Office address: Haryana Real Estate Regulatory Authority, New PWD Rest House, Civil Lines, Gurugram, Haryana
Contact: +91 124-2971103
Email: [email protected]
How to Check Complaint Status on HRERA Portal?
To check the status of complaint status on HRERA portal, go to the HRERA website. Click on 'Search Complaint' under the section 'Complaint Registration'. Enter the complaint number, case appeal authority, case year and captcha. Press search and you will get the status of the complaint.
How to Search for Registered Projects?
Step 1: Visit the RERA Haryana home page.
Step 2: Select the project authority – RERA Panchkula/ RERA Gurgaon/ Haryana Real Estate Apellate Tribunal.
Step 3: Click on 'Project Registration'. Sign-in if you have an user account.
Step 4: Enter Project Number and Project Year.
Step 5: Enter Captcha and submit.
How To Check an Agent on RERA Haryana Portal?
To safeguard yourself from fraudulent activities, you can check the list of registered agents on the RERA Haryana website. You can get the name, registration certificate, etc. Follow these steps to check a listed agent:
Step 1: Go to the official website of RERA Haryana.
Step 2: Click on 'Registered Agents'.
Step 3: Scroll through the list or use 'Search' to search for your agent.
Final Word
Thus all concerned individuals (promoter, home buyer or real estate agent) should keep these above-mentioned details related to RERA Haryana in mind. They must also note that HRERA extends a provision to file complaints with the authority for a range of issues.
RERA in Your City
FAQs
Q1. Is it safe to purchase a building that is not registered with RERA Haryana?
Ans: No, it is not safe to purchase such an unregistered building. This is because the buyers may face financial consequences and can even be misguided. They won't be able to receive any assistance or seek grievance redressal in case of any issue.
Q2. What is the fee required for Haryana RERA registration?
Ans: The charges for RERA registration in Haryana can depend on the type of application. For instance, the registration fee amounts to Rs.25000 for an individual real estate agent. You can check the official site of HRERA for any clarification on charges and fees.
Q3. How can individuals file a Haryana RERA complaint?
Ans: To file a complaint with HRERA Gurugram or HRERA Panchkula, individuals need to visit the web portal of RERA Haryana and click on 'complaint registration'. Following that, they can file a Haryana RERA complaint online either with adjudicating authority or real estate authority.
Q4. What is the fee for filing a complaint with HRERA?
Ans: The fee for filing a RERA Haryana complaint with the authority is Rs.1000 per complaint. Additionally, an extra Rs.10 per annexure will be levied on that. Also, the fee for filing a complaint with the appellate tribunal amounts to Rs.1000.
Q5. How can individuals check whether a project is registered with RERA Haryana?
Ans: Individuals can check whether or not a project is registered with RERA Haryana by visiting the HRERA web portal. On the RERA Haryana website, they need to select the project registration option, choose 'search projects' and then fill in all necessary details.
Before you go…

Are you looking to buy that house you've been eyeing 🏠 and you need a loan of up to ₹5 crore. Install the Navi app now and get instant in-principle approval right away! Interest rates starting at 8.60% p.a.
Disclaimer: This article has been prepared on the basis of internal data, publicly available information and other sources believed to be reliable. The information contained in this article is for general purposes only and not a complete disclosure of every material fact. It should not be construed as investment advice to any party. The article does not warrant the completeness or accuracy of the information, and disclaims all liabilities, losses and damages arising out of the use of this information. Readers shall be fully liable/responsible for any decision taken on the basis of this article. 
Home Loan Knowledge Base