The Pradhan Mantri Awas Yojana (PMAY) is a central government initiative aiming to boost home buying in India. Launched on 25 June 2015, the scheme intends to achieve 'Housing for All', providing pucca houses to beneficiaries by 2022. In addition, a Credit Linked Subsidy Scheme (CLSS) under PMAY provides interest subsidies on loans taken for the purchase, renovation, construction or improvement of a home. The beneficiaries of this scheme can use a PMAY subsidy calculator to know how much subsidy amount they can get.
This article takes you through every detail of the PMAY subsidy calculator, how it works, how to use it, how to check subsidy status and more. Read on!
How Does the PMAY Subsidy Calculator Work?
The PMAY subsidy calculator is an online financial tool that estimates the interest subsidy that you can get on loans taken to buy affordable houses. Having a simplified interface, allows anyone to select the right PMAY category and estimate overall interest savings.
You will need to enter the following details on the PMAY subsidy calculator.
Yearly family income
Loan repayment period
Loan amount
The carpet area of the house with an active home loan
Whether you already bought a pucca house in India
Based on these factors, you can know your subsidy category and how much interest subsidy you may be eligible for. You can also use a housing loan eligibility calculator alongside this tool to figure out how much savings you can make from PMAY.
Steps to Use PMAY Subsidy Calculator
The following steps will help one use the PMAY subsidy calculator efficiently:
Step 1: Visit PMAY CLSS Awas or CLAP portal.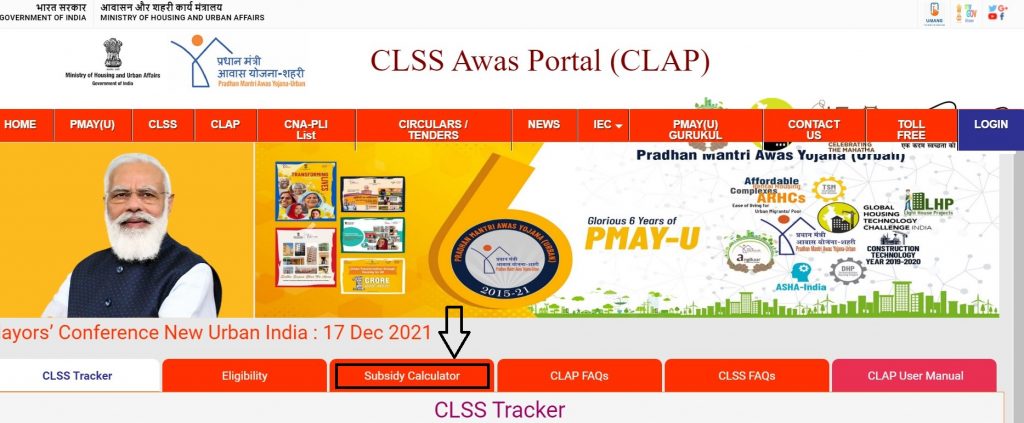 Step 2: Click on 'Subsidy Calculator'.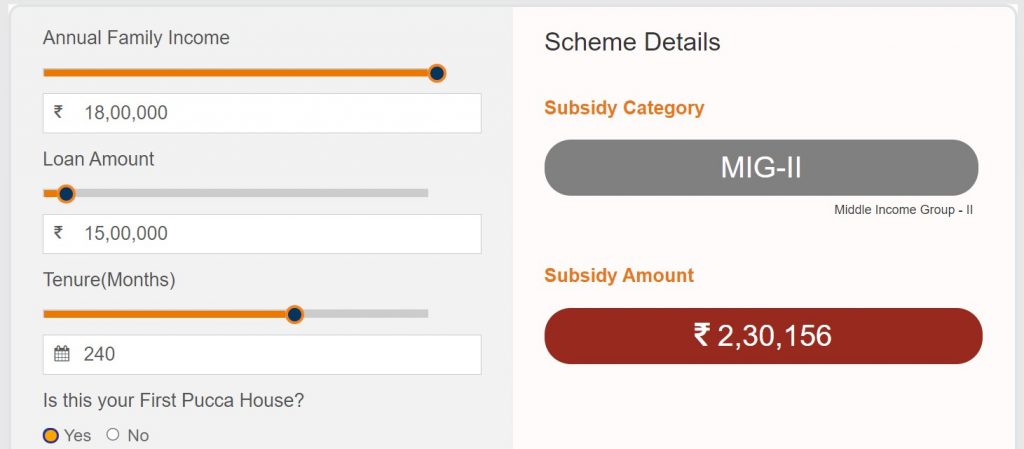 Step 3: Enter the total family income. The calculator will automatically segregate the beneficiary into one of the targeted groups.
Step 4: After this one must enter the loan amount.
Step 5: The next step entails entering the loan duration.
After filling in all the details the subsidy amount will be displayed on the screen.
Steps to Claim PMAY Subsidy
One can claim a PMAY subsidy by following these steps:
Step 1: Once the loan is sanctioned, he should submit all the details regarding the property to NHB or National Housing Bank. They will conduct all necessary verification and checks as mandated.
Step 2: After the NHB is completely satisfied with the authenticity of the claim, it will approve the subsidy amount.
Step 3: After receiving the approval from NHB, the home loan lender will receive the subsidy amount.
Step 4: Lastly after all formalities are completed the lender will transfer the subsidy amount to the beneficiary's home loan account and adjust the loan amount accordingly.
Steps to Check PMAY Subsidy Status
Here are steps that one should follow to track their PMAY status:
Step 1: Visit the official portal of PMAY
Step 2: After this, the beneficiary must go to the Citizen Assessment section.
Step 3: Next, under this section, one must select the track assessment order option.
Step 4: On selecting the option, the beneficiary will be redirected to another page named track application status.
Step5: Under this section, one can check their subsidy status using their assessment ID or by entering their name, father's name and age.
How Can You Get Interest Subsidy from PMAY?
Follow the given steps to apply for an interest subsidy under PMAY.
Check your home loan eligibility and apply for a home loan from a listed financial institution.
They will review your application and send it to the Central Nodal Agency if you are eligible.
Upon verification, the agency will send the interest subsidy directly to the lender.
As the lender credits this amount to your account, your total loan amount will be lowered.
Now, you can start paying the reduced EMIs, which will vary on the interest subsidy.
Factors Affecting PMAY Subsidy
Here are the factors which affect the subsidy amount in PMAY given below:
Annual family income
The annual family income plays an important role in the final subsidy amount. The higher the family income the lower the subsidy amount will be under the PMAY scheme. The highest subsidy amount will be given to EWS or LIG households and the lowest subsidy given to MIG II households.
Loan amount
Again, the loan amount is also a crucial factor in deciding on the PMAY subsidy. The higher the loan amount the higher will be the subsidy and vice versa.
Tenure
The loan tenure plays an important role in deciding the subsidy amount. The longer the loan tenure the higher the subsidy amount will be and vice versa. It is subject to a maximum loan tenure of 240 months or 20 years.
Apart from all these the carpet area or type of house is also taken into account while deciding the subsidy value.
Features of Pradhan Mantri Awas Yojana (PMAY)
The scheme aims to address housing shortages among EWS/LIG categories, including slum dwellers, by building a pucca house for every urban household by 2022.
It works on a demand-based approach where states and union territories assess housing shortages in local regions.
This scheme considers geographical and economic conditions, infrastructure and land availability to suit the needs of beneficiaries.
All houses made under PMAY have basic amenities like water supply, kitchen, toilet and electricity.
It provides preference to senior citizens, differently able persons, minorities, single women, SCs, STs, OBCs, transgender and other vulnerable members of society.
PMAY promotes women's empowerment by providing its benefits in the name of a female homeowner or in a joint name.
It provides a sense of security, dignity and pride to beneficiaries.
How to Check PMAY Eligibility
One can check eligibility for enrolling under the PMAY scheme by following these steps:
Step 1: One must ensure that no one in his/her family owns a house or else they would not be able to apply for the scheme.
Step 2: Individuals must compute their family income and make sure that it is below Rs.18 lakh per annum for them to be eligible to take advantage of this scheme.
Step 3: The house for which assistance will be provided under PMAY must be completed within 3 years of taking the loan. So, they should look for those dwellings which are completed within a time frame.
Step 4: Lastly one must ensure that neither he nor his family members have received any assistance under any housing scheme.
Documents Needed to Enrol in PMAY Scheme
Here is a list of documents required to enrol in PMAY:
EWS income certificate
PAN card
Aadhar card
Voter card
Category certificate (SC/ST/OBC)
Income proof like salary slips or income certificate
MNREGA number
Latest ITR or Assessment order
Allotment letter of property or sale agreement or title deed if it is a pre-owned property
Affidavit on the part of beneficiary stating that he or his family member does not have a house in any part of India
Final Word
The PMAY eligibility calculator tells you if you can apply for the central government housing scheme. It tells you the interest subsidy amount and what category you can apply for. With it, you can plan your finances in advance to avoid financial stress in the future.
FAQs
Q1. How Can I apply for the PMAY scheme?
Ans: You can apply for PM Awas Yojana via the official PMAY portal. Simply login/register on the portal using your Aadhaar number and fill out the application form. 
Q2. Can I take benefits from PMAY for a resale flat?
Ans: No. PMAY subsidies are only available for the purchase or construction of a new home or improvement of an existing home.
Q3. How much carpet area can you get under the scheme?
Ans: People in EWS can get a subsidy for a carpet area of 30 square meters, while for LIG, it is 60 sq mt. MIG-I applicants can get up to 160 sq mt covered, and people in MIG-II can get up to 200 sq mt covered.
Q4. What are the components of the PMAY scheme?
Ans: There are four main components of the PMAY:
ISSR (In-situ Slum Redevelopment
CLSS (Credit Linked Subsidy Scheme)
AHP (Affordable Housing in Partnership)
BLC-N/E (Beneficiary-led Individual House Construction/Enhancement)
Q5. Can I apply for more than one component of this scheme?
Ans: No. Beneficiaries can apply for only one component of PMAY.
Q6.How can I check my name on the PMAY (Urban) beneficiary list?
Ans:  One can check their names on the PMAY (Urban)list following these steps: Step 1: Visit the official website of PMAY. 
Step 2: Go to the search beneficiary list option from the menu bar. 
Step 3: After this one must click the search the name option.
Step 4: The beneficiary must enter their name and click the search option.
After submitting the name, one can get access to the beneficiary list where they can look for
Before you go…

Are you looking to buy that house you've been eyeing 🏠 and you need a loan of up to ₹5 crore. Install the Navi app now and get instant in-principle approval right away! Interest rates starting at 8.60% p.a.
Disclaimer: This article has been prepared on the basis of internal data, publicly available information and other sources believed to be reliable. The information contained in this article is for general purposes only and not a complete disclosure of every material fact. It should not be construed as investment advice to any party. The article does not warrant the completeness or accuracy of the information, and disclaims all liabilities, losses and damages arising out of the use of this information. Readers shall be fully liable/responsible for any decision taken on the basis of this article. 
Home Loan Knowledge Base