The Pradhan Mantri Awas Yojana (PMAY) is a central government initiative aiming to boost home buying in India. Launched on 25 June 2015, the scheme intends to achieve 'Housing for All', providing pucca houses to beneficiaries by 2022.
In addition, a Credit Linked Subsidy Scheme (CLSS) under PMAY provides interest subsidies on loans taken for purchase, renovation, construction or improvement of a home. This reduces the financial burden of home loans for the economically challenged portion of the country's population.
Beneficiaries of this scheme can use a PMAY eligibility calculator to know how much subsidy amount they can get. It also provides a quick and efficient calculation of the total number of payable EMIs based on one's annual income.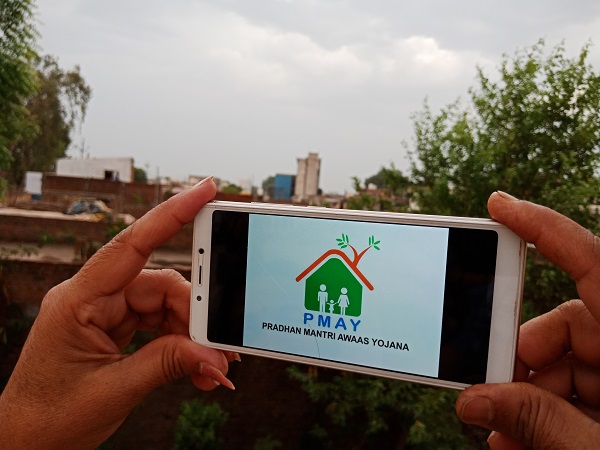 How Does the PMAY Eligibility Calculator Work?
The PMAY calculator is an online financial tool that estimates the interest subsidy that you can get on loans taken to buy affordable houses. Having a simplified interface, it allows anyone to select the right PMAY category and estimate overall interest savings.
You will need to enter the following details on the PMAY eligibility calculator.
Yearly family income
Loan repayment period
Loan amount
The carpet area of the house with an active home loan
Whether you already bought a pucca house in India
Based on these factors, you can know your subsidy category and how much interest subsidy you may be eligible for. You can also use a housing loan eligibility calculator alongside this tool to figure out how much savings you can make from PMAY.
Who Can Apply for Pradhan Mantri Awas Yojana?
The PMAY scheme aims to provide affordable housing to eligible beneficiaries. All applicants are classed into the following groups based on their need for financial assistance.
Economically Weaker Section (EWS)
Applicants with an annual household income of less than Rs. 3 lakhs fall under the EWS category. However, they will have to furnish relevant proof of their income to claim benefits from PMAY.
Lower Income Group (LIG)
This includes those who have an annual household income ranging from Rs. 3 to 6 lakhs. People belonging to LIG and EWS can get a 6.5% subsidy on the home loan interest rate to a maximum of Rs. 2.67 lakhs.
Medium Income Group-I (MIG-I)
People having an annual household income between Rs. 6 to 12 lakhs fall under this category. They can get a home loan interest subsidy at 4% p.a up to a maximum of Rs. 2.35 lakhs.
Medium Income Group-II (MIG-II)
If the annual income of one's household is between Rs. 12 to 18 lakhs, they fall in the MIG-II category. These people can get home loan interest subsidies at 4% up to Rs. 2.3 lakhs.
Minorities
People from minority groups like SC, ST and OBC can apply for PMAY.
Women
Women who belong to EWS/LIG categories are also eligible for benefits under PMAY.
Also read: Home Loans For Women
Eligibility Criteria for PMAY
A beneficiary family (husband, wife, unmarried sons and daughters) must not own a pucca house.
Shouldn't have availed assistance under any central government housing scheme.
An adult member with an income can be treated as a separate household for PMAY, provided they do not own a pucca house.
For married couples, only one member can receive a home loan interest subsidy.
A household with a combined annual income above Rs. 18 lakhs cannot apply for this scheme.
Construction of the home must be completed within 36 months of loan disbursal.
Beneficiaries cannot get the benefits of PMAY for an already-built house.
Features of Pradhan Mantri Awas Yojana
The scheme aims to address housing shortages among EWS/LIG categories, including slum dwellers, by building a pucca house for every urban household by 2022.
It works on a demand-based approach where states and union territories assess housing shortages in local regions.
This scheme considers geographical and economic conditions, infrastructure and land availability to suit the needs of beneficiaries.
All houses made under PMAY have basic amenities like water supply, kitchen, toilet and electricity.
It provides preference to senior citizens, differently able persons, minorities, single women, SCs, STs, OBCs, transgender and other vulnerable members of society.
PMAY promotes women empowerment by providing its benefits in the name of a female homeowner or in a joint name.
It provides a sense of security, dignity and pride to beneficiaries.
How Can You Get Interest Subsidy from PMAY?
Follow the given steps to apply for an interest subsidy under PMAY.
Check your home loan eligibility and apply for a home loan from a listed financial institution.
They will review your application and send it to the Central Nodal Agency if you are eligible.
Upon verification, the agency will send the interest subsidy directly to the lender.
As the lender credits this amount to your account, your total loan amount will be lowered.
Now, you can start paying the reduced EMIs, which will vary on the interest subsidy.
Also read: Home Loan Eligibility For The Salaried
Final Word
The PMAY eligibility calculator tells you if you can apply for the central government housing scheme. It tells you the interest subsidy amount and what category you can apply for. With it, you can plan your finances in advance to avoid financial stress in the future.
Frequently Asked Questions
Q1. How Can I apply for the PMAY scheme?
Ans: You can apply for PM Awas Yojana via the official PMAY portal. Simply login/register on the portal using your Aadhaar number and fill out the application form. 
Q2. Can I take benefits from PMAY for a resale flat?
Ans: No. PMAY subsidies are only available for the purchase or construction of a new home or improvement of an existing home.
Q3. How much carpet area can you get under the scheme?
Ans: People in EWS can get a subsidy for a carpet area of 30 square meters, while for LIG, it is 60 sq mt. MIG-I applicants can get up to 160 sq mt covered, and people in MIG-II can get up to 200 sq mt covered.
Q4. What are the components of the PMAY scheme?
Ans: There are four main components of the PMAY:
ISSR (In-situ Slum Redevelopment
CLSS (Credit Linked Subsidy Scheme)
AHP (Affordable Housing in Partnership)
BLC-N/E (Beneficiary-led Individual House Construction/Enhancement)
Q5. Can I apply for more than one component of this scheme?
Ans: No. Beneficiaries can apply for only one component of PMAY.
Before you go…
Looking for instant  personal loans 24*7 anywhere, anytime? Install the Navi app now!
Or, maybe you're looking to buy that house you've been eyeing  and you need a loan of up to Rs. 5 crores. Install the Navi app now and get your instant in-principle approval right away! Interest rates starting at 6.40% p.a.
How about an affordable health insurance policy  starting at a monthly premium of just Rs. 241? Install the Navi app and get your policy in under 2 minutes
Instead, want to put your savings into action and kick-start your investment journey  But don't have time to do research. Invest now with Navi Nifty 50 Index Fund, sit back, and earn from the top 50 companies.