An EC (Encumbrance Certificate) s a crucial document that proves the ownership of a property. It is required during buying or selling of a property. The government of Andhra Pradesh is responsible for issuing an EC in AP. An EC holds all details – financial and legal transactions made in a specific period. Owners can apply for an EC in AP online through IGRS ( Inspector-General of Revenue and Stamps) or the MeeSeva portal. Read on to know how to apply for online EC AP through IGRS and MeeSeva, the fees and charges, and how to search EC online and verify it.
What is an Encumbrance Certificate (EC)?
An Encumbrance Certificate (EC) is a document that validates a property title when anyone buys a property. It confirms that the property is free from monetary and legal dues. In other words, an Encumbrance Certificate acts as proof of complete ownership. The registration process can be easily completed online. The following section provides a step-by-step guide to the Encumbrance Certificate application in AP.
How to Apply for Encumbrance Certificate in AP through IGRS Online
Follow these below steps to apply for the Encumbrance Certificate in AP through IGRS
Visit AP Registration and Stamps Department website

Visit the official website of the Andhra Pradesh Registration and Stamps Department. 

Click on 'Encumbrance Certificate'

Scroll down and click on Encumbrance Certificate. A new page will be displayed. 

Register

Register yourself and fill in details; then click on submit. 

Fill in Personal Details

Provide name, phone number, email ID, user ID, Aadhaar ID, password, and address. 

Get Credentials

The applicant will receive user credentials on his/her registered phone number. 

Get OTP

Upon entering your user ID and password, you will get an OTP on your registered mobile number. 

Enter CAPTCHA

Enter OTP, and CAPTCHA code, and click on submit. 

Log In

Log in using your credentials.

Click 'Online Services'

Go to the home page, and under 'Online Services', choose encumbrance certificate. 

Enter Details

Enter document number, registration year, and SRO name or code. 

Proceed Further

Once details of the mentioned property appear, click on 'Next'. 

Download Certificate

Choose the unsigned certificate from the options, and select 'Print' to download. 

Final Step

If you wish to download the signed certificate, an OTP will be sent to the registered mobile number after choosing the 'Signed' option. Once verification is complete, you can download the signed EC. 
How to Apply for Encumbrance Certificate in Andhra Pradesh via MeeSeva Portal Online
You can apply for an encumbrance certificate through the MeeSeva franchise by using the online portal or by visiting a MeeSeva centre.
Step 1: Visit the MeeSeva portal.
Step 2: Click on 'Meeseva Online Portal'.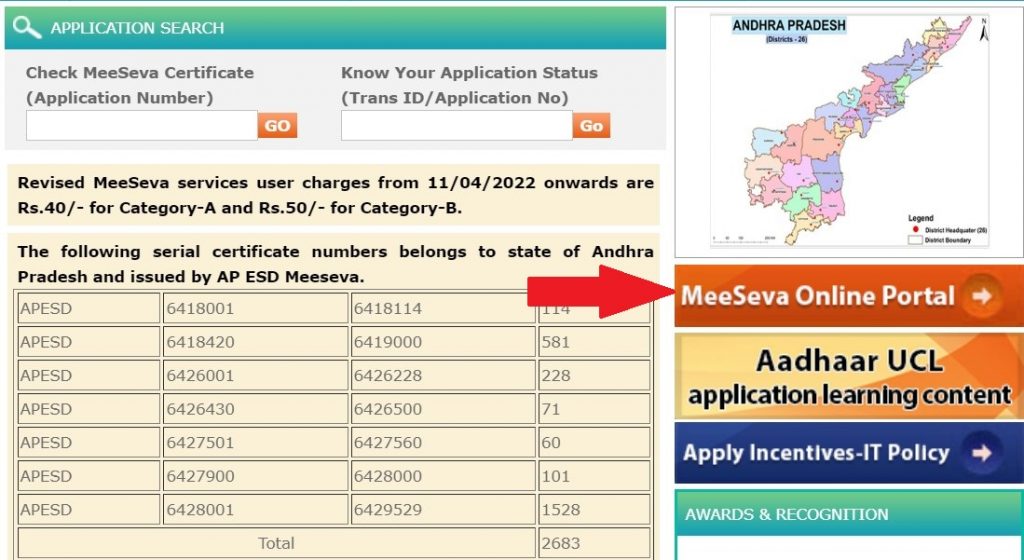 Step 3: You will be taken to a new page. Click on 'New Registration'.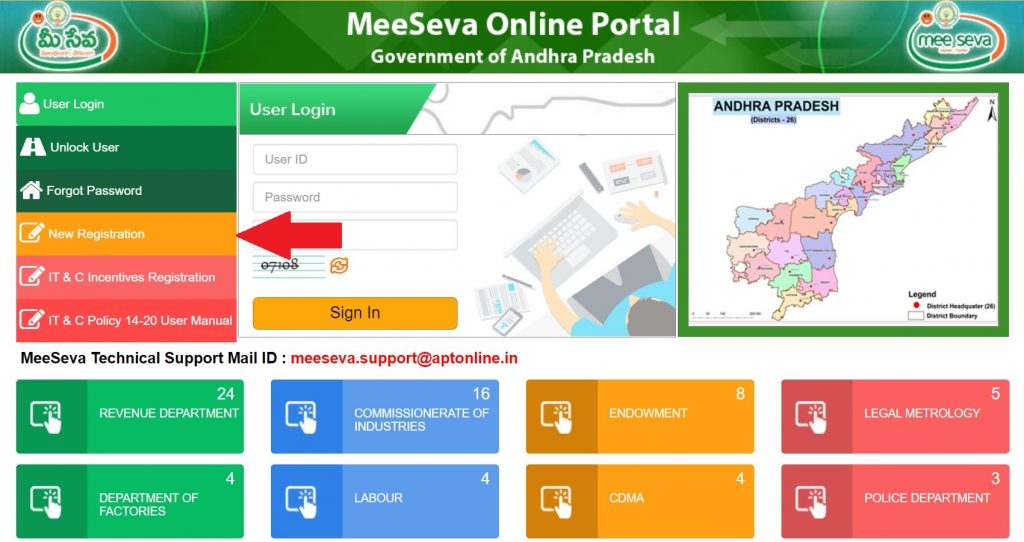 Step 4: Fill out the Registration Form and click on 'Submit'. OTP will be sent to your mobile.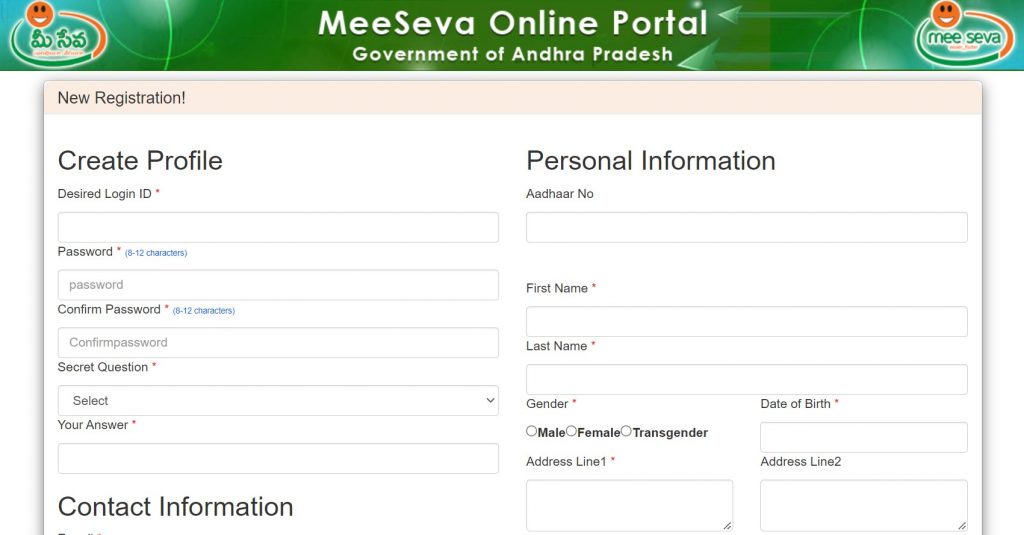 Step 5: Enter the OTP and click on 'Confirm'.
Step 6: Click on the activation link sent to your e-mail ID.
Step 7: Go to the MeeSeva portal again and enter your User ID and password.
Step 8: Fill out the application form for EC in AP.
Step 9: Pay the application fee. You will receive notifications as the concerned authority goes through the application. An SMS will be sent upon confirmation of the application.
Steps to Apply for Encumbrance Certificate in AP via MeeSeva Offline
Step 1: Submit the application form with details such as details of the document, registration year, registered SRO, and delivery mode.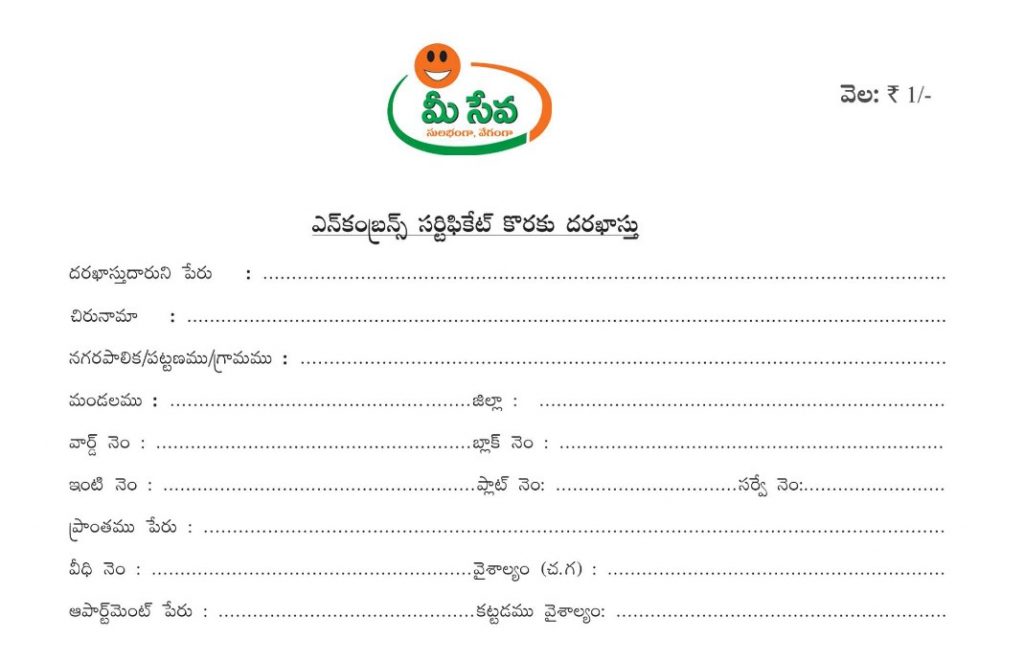 Step 2: Pay the application fee to the operator.
Step 3: The application will be processed online via the AP registration department.
Step 4: After successful verification, the certificate request will be accepted and a confirmation message will be sent to your registered mobile number.
How to Verify an Encumbrance Certificate in AP?
To verify an Encumbrance Certificate in AP, go to the official website.
Click on 'Service'.
Enter the memo or document number.
Submit the request for verification.
Encumbrance Certificate in AP Details
An encumbrance certificate in Andhra Pradesh provided online will have these details.
Details of property, including the name of the owner
Transaction details of property in chronological order
A thorough description of the property as mentioned in the sale deed
If the land is bought with credit, then details regarding the mortgage will be mentioned in the EC
In case of a released deed, details will be available if a partner released his/her share from the mutually purchased property
If the deed was gifted, details of the same would be available in the certificate
Applicable Charges for EC in Andhra Pradesh
A certain amount of fees is applicable for issuing and performing encumbrance searches in AP. For the first 30 years, it is fixed at Rs. 200, and for more than that, it will be Rs. 500.
Processing Time for Online EC Application in Andhra Pradesh
It takes only one day for processing the application of an EC, and one can download an encumbrance certificate in AP online.
How to Search for an Encumbrance Certificate (EC) in AP Online?
To search for an encumbrance certificate, follow the given steps:
Step 1: Go to IGRS official website. Scroll down to the 'Ease of Doing Business' section.
Step 2: Click on 'EC Search'.
Step 3: Use your user ID and password to log in.
Step 4: 'Search for Encumbrance' page will open.
Step 5: Now, choose the search criteria.
Step 6: There will be three options available for search:
Year of registration
Document number or memo number
None
Step 7: Enter the CAPTCHA code shown and submit.
Search eEC in AP with Document Number Online
If an applicant has chosen document number as search criteria, then in the next step, enter the registration year along with the registered SRO. Then, enter CAPTCHA code and press 'Submit'. Details of the property in question will be shown.
Search eEC in AP with Memo Number Online
If you choose to search with a memo number, you will have to provide the registration year and registered SRO. Submit after entering the CAPTCHA code. After that, details of the inquired property will be available.
Search eEC in AP with None Option Online
When you select the 'None' option, you will be redirected to a new page. Provide details like:
Name
District
Building details
Site or agriculture land details
Building or site boundary details
SRO
After entering these details, enter captcha and submit. The eEC certificate will be displayed.
Why is an Encumbrance Certificate in AP Important?
The authoritative government statement for property sale or purchase is solid evidence that it is safe to make transactions on that property. It gives buyers assurance and helps sellers maintain a clear reputation.
Here are some reasons why the issuance of EC for a land or house in AP is crucial:
An encumbrance certificate must be presented to obtain a loan from a financial institution or bank as proof that the property is not under debt or mortgage.
This instrument is necessary for withdrawing PF while purchasing a house or land.
This evidence of ownership will be necessary for property transfer.
If property tax isn't paid for 3 years, the certificate needs to be delivered to the Village/Panchayat Officer for the purpose of updating land tax records.
Final Word
IGRS or Inspector-General of Revenue and Stamps is responsible for collecting and imposing property-related taxes in the state. One should remember that the online encumbrance certificate in AP is available for transactions only after 01.01.1983. For enquiry about an EC before the mentioned date, one has to visit the Sub-Registrar Office.
FAQs
Q 1. How long does it take to receive an EC in Andhra Pradesh?
Ans. Typically, individuals can receive their encumbrance certificate within 20 days. Note that the duration does not exceed 30 days.
Q 2.
How to check the Encumbrance Certificate in AP?
Ans. One needs to visit the official website of the Andhra Pradesh Registration and Stamp Department. Register as a user if you already haven't, and you will be able to check the encumbrance certificate.
Q 3. Does one require an EC for a home loan?
Ans. An EC is required for selling and buying property and availing out of a home loan. The document is authoritative evidence that the mentioned property is free from any monetary or legal burden.
Q 4. How can one find an SRO?
Ans. One has to visit the official website of the Registration and Stamp Department of AP. On the Home page, one has to click on 'Sub-Registrar Office'. Then upon selecting the district and village, the nearest SRO will be shown. 
Before you go…

Are you looking to buy that house you've been eyeing 🏠 and you need a loan of up to ₹5 crore. Install the Navi app now and get instant in-principle approval right away! Interest rates starting at 8.60% p.a.
Disclaimer: This article has been prepared on the basis of internal data, publicly available information and other sources believed to be reliable. The information contained in this article is for general purposes only and not a complete disclosure of every material fact. It should not be construed as investment advice to any party. The article does not warrant the completeness or accuracy of the information, and disclaims all liabilities, losses and damages arising out of the use of this information. Readers shall be fully liable/responsible for any decision taken on the basis of this article. 
Home Loan Knowledge Base