Gold mutual funds invest in gold as an asset class with the aim to benefit from its domestic prices. In India, these mutual funds invest in units of a gold ETF (Exchange-Traded Fund). You will enjoy the benefits that are similar to investing in the physical form of this precious metal without the hassle of storing it securely.
This post takes you through the top 10 gold funds of 2022, the benefits of investing in gold funds, taxation, and things to keep in mind before investing. Read on!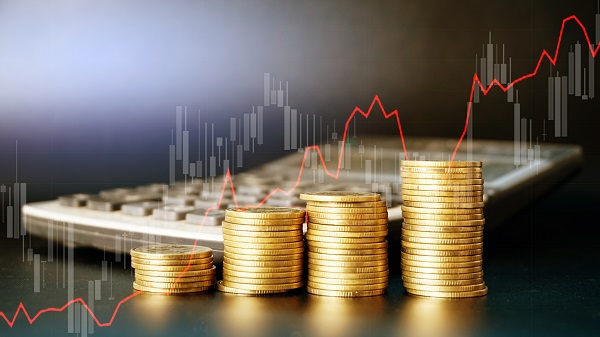 Top 10 Gold Funds in India
| | | |
| --- | --- | --- |
| S No. | Name of the Gold Fund | 5-Year Annualised Returns |
| 1. | Invesco India Gold Fund- Direct Plan (Growth) | 12.48% |
| 2. | SBI Gold Fund- Direct Plan (Growth) | 12.15% |
| 3. | HDFC Gold Fund- Direct Plan | 12.11% |
| 4. | Kotak Gold Fund- Direct Plan (Growth) | 11.95% |
| 5. | Axis Gold Fund- Direct Plan (Growth) | 11.89% |
| 6. | Nippon India Gold Savings Fund- Direct Plan (Growth) | 11.72% |
| 7. | Quantum Gold Savings Fund- Direct Plan | 11.55% |
| 8. | IDBI Gold Fund- Direct Plan (Growth) | 11.40% |
| 9. | ICICI Prudential Regular Gold Savings Fund (FoF)- Direct Plan (Growth) | 11.15% |
| 10. | Aditya Birla Sun Life Gold Fund- Direct Plan (Growth) | 11.12% |
How Gold Mutual Funds Work?
Gold funds invest in various forms of gold, including the physical commodity and stocks of gold mining companies. In India, such open-ended funds invest indirectly in the physical form of the metal through gold ETFs. These are exchange-traded funds investing in a range of gold-based securities.
The fund manager of these funds is responsible for making investment decisions as per its financial objectives. Its returns closely reflect the performance of gold ETFs, which is influenced by the prices of this commodity in the market.
The aim of this mutual fund is capital appreciation with the increase in the price of gold. They are ideal for investors looking for exposure to this commodity. Investing in these funds allows you the same benefits as holding physical gold while offering the benefits of professional money management.
As buying gold is popular in India, whether for festivals, marriage or wealth creation, there is always demand for the commodity. Gold mutual funds offer the benefits of wealth creation along with a lower minimum investment amount and liquidity.
Benefits of Investing in Gold Mutual Funds
Protection Against Market Downturns: The movement of gold and stock markets are inversely proportional. When the equity markets fall, investors turn to this commodity as a safe haven. As a result, gold prices increase. This makes gold funds best for protection against market downturns.
Hedge Against Inflation: Inflation refers to the increase in prices of goods and services for a certain period. Gold acts as a hedge against inflation as its value rises with an increase in inflation.
Higher Liquidity: Gold mutual funds have higher liquidity than physical gold. You can sell gold mutual funds only to jewellers at a discount to market rates. Gold funds are also more liquid compared to gold ETFs for which you have to wait for a buyer.
Valuable Asset: Gold has retained its high value over many years. Though it does not offer very high returns, gold is a stable investment offering moderate returns in long periods.
Also Read: Everything About Gold Funds: Benefits, Risks Involved and More
Taxability of Gold Mutual Funds
Capital gains from the redemption of gold mutual funds are subject to the same taxes as gold jewellery. If you sell your fund units before three years, short-term capital gains (STCG) tax will be applicable. For a longer holding period, long-term capital gains (LTCG) tax will apply to it.
In the case of STCG, the capital gains will be added to the investor's gross income and taxed as per his/her applicable income tax slab rates. For LTCG, they are taxed at a flat 20% rate with a 4% cess and indexation benefits.
Who Can Invest in Gold Mutual Funds?
Conservative investors may want to invest in these funds as they are generally insulated from market fluctuations.
Investors looking to diversify their investment portfolio may prefer these funds.
These are suitable for investors who want exposure to gold without the hassles of storing precious metal.
Things to Consider before Investing in Gold Mutual Funds
Before investing in a gold fund, you may want to look at the following factors:
Returns: The returns from gold funds are pegged to the value of gold, which can rise or fall on any given day. Moreover, these funds generally tend not to deliver exceptional returns. It does offer higher returns during periods of insecurity in the market.
Risk Appetite: Gold funds offer stable returns and help to diversify the overall risks of a portfolio. However, returns are not guaranteed and are subject to market fluctuations. Investors must look at their risk appetite before investing in such mutual funds.
Past Performance: Before selecting the best gold funds, you may want to take a look at the fund's past performance. Check if it has provided higher returns than the physical commodity and compare it to the performance of other funds.
Expense Ratio: This is an annual fee charged as a percentage of a fund's NAV (Net Asset Value) by the fund house for operating and managing a mutual fund. To pick the best gold funds, you may want to look for the lowest expense ratio as it would allow you to earn higher returns.
Direct/Regular Plan: AMCs (Asset Management Companies) offer direct plans while intermediaries and distributors such as banks, NBFCs and financial advisors offer regular plans. Direct plans come with the benefit of a lower expense ratio as they carry no commissions or brokerage fees.
Final Word
Gold mutual funds are a relatively new method of investing without having to physically hold precious metals. Higher liquidity, protection against market downturns, etc. are important benefits of investing in gold mutual funds. It is also a great way to diversify your investment portfolio. Before investing, make sure to check its past performance, expense ratio and state of the market, etc.
*Mutual Fund investments are subject to market risks, read all scheme-related documents carefully.
FAQs on Best Gold Funds in India
What are the different types of gold funds?
Gold fund of funds (FoF): These invest in various gold ETF funds.
Gold mining funds: Such gold funds invest in stocks of gold mining companies.
Gold ETFs: These are exchange-traded funds that track the domestic price of physical gold (in bullion).
How can you invest in gold ETFs?
Gold ETFs are listed in the cash segment of NSE and BSE, just like any company share. Each unit of a gold ETF represents one gram of pure gold and is backed by physical gold. When you sell a unit of gold ETF, you will receive the cash equivalent and not the physical gold.
When do investors tend to invest in gold funds?
The commodity gold usually displays seasonal behaviour, delivering higher returns during bear market phases and lower returns in bull markets. Thus, many investors allocate a higher portion to these funds during market downturns. Conversely, they shift their investment to equities as the market recovers.
Why do gold funds work better for a larger portfolio?
Gold funds offer relatively low returns compared to other asset classes when the market performs well. That is why these are not ideal for a small or medium-sized portfolio. Conversely, for a large-sized portfolio, it is easy to allocate a small amount as a risk-cover.
What type of gold-related investment is tax-free?
Reserve Bank of India's Sovereign Gold Bonds (SGB) offer tax-free returns provided that you remain invested for eight years. These offer a 2.5% interest p.a over the actual price of gold. Capital gains taxes and TDS are not applicable when redeeming the bonds after maturity.
Before you go…