There are two types of capital gains tax as per provisions of the IT Act, 1961. One is short term capital gains (STCG), and the other is long term capital gains (LTCG). LTCG tax is the tax that the government levies on the profit earned by selling off capital assets like shares or house property that has been in possession for a long duration.
To learn more about LTCG and how they are taxed, read on!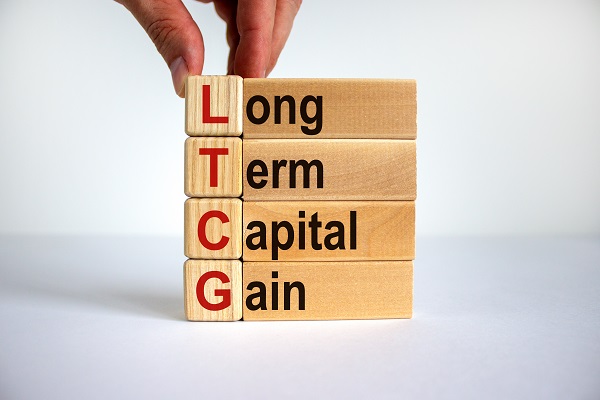 What Falls under Long Term Capital Gains?
Long term capital gains refer to profits earned by persons when they sell any capital asset after holding it for a period of 1 year/2 years/3 years. So, one can earn LTCG from the following capital assets:
The amount you earn by selling off a property held by you for over 24 months is your long term capital gain. Before March 31 2017, one had to hold an immovable capital asset (house property, building, and land) for a period of more than 36 months to earn long term capital gains.
If an investor sells equity shares after holding them for more than 12 months, the realised gains are referred to as long term capital gains. However, the equity shares must be listed on the stock exchange.
If your investment in an equity-oriented mutual fund scheme is over one year old and now you plan to transfer it, the return you gain from its sale will be your LTCG. However, the government also provides an exemption of Rs. 1 lakh in a year. So, if your amount exceeds this limit, LTCG is taxable at the rate of 10% without any indexation benefit. 
On the other hand, in the case of debt-oriented funds, LTCG tax of 20% is applicable on the realised returns post indexation benefit.
Besides listed stocks and equity-oriented mutual fund units, the following are considered long term capital assets if the holding period is over 1 year:
Debentures, bonds, and other financial securities listed on stock exchanges
UTI units, no matter if they are quoted or unquoted
Zero-coupon bonds
This table represents the minimum holding period to earn LTCG from different capital assets:
| | |
| --- | --- |
| Asset type | LTCG duration |
| Immovable assets like real estate | > 2 years |
| Moveable assets like gold | > 3 years |
| Listed securities | > 1 years |
| Debt-based mutual fund units | > 3 years |
| Equity-based mutual fund units | > 1 year |
How to Calculate Tax on Long Term Capital Gains?
After earning long-term capital gains, one must find the applicable tax rate to calculate the tax liability. The computation process is effortless when you have found the correct LTCG tax rate.
However, for this purpose, you may need three things, i.e., the cost inflation index, your selling price and the initial cost at which you made your investment. Remember, for finding the inflation index, you can refer to a government publication that informs about changes in asset price according to inflation. 
Also Read: Section 112A Of Income Tax Act: Applicability And LTCG Calculation
Formula to apply:
First, calculate the indexed cost of acquisition, which is Purchase price x (CII of the year of purchase / CII of the year of sale)
Next, calculate the actual gain, which is your Sale price – Indexed cost of acquisition.
Ways of Saving Tax on LTCG
If you want to save tax on your long term capital gains, you can consider the following tips:
Invest in residential property
One of the best ways to save tax on your long term capital gains is investing in residential property. You will be able to claim tax exemption under Sections 54 and 54F.
Section 54 says that an HUF and individual will get an exemption on their long term capital gains if they construct or buy a new residential property. However, the only condition is that the person must either purchase it one year before or two years after selling off the previous property. Also, if the assessee plans to construct a new residential property, the construction must be complete within three years after the sale.
On the other hand, Section 54F says that if an individual or HUF uses the amount to buy or construct a house after selling their capital asset (excluding residential property), their total gain will get exempted.
By investing the entire amount gained in bonds issued by REC and NHAI, one can save their tax by availing exemption under Section 54EC. The list of bonds that one can buy is provided on the official site of the Income Tax Department of India.
Invest in Capital Gains Account Scheme
Another way of saving tax is to avail the Capital Gains Account Scheme. Under this scheme, investors enjoy exemption without purchasing a residential property. However, one can withdraw the amount from this account to purchase plots and houses. 
If the withdrawal has taken place for any other purpose, one should use it before three years. In case one doesn't utilise the amount within three years, their total profit will be subject to long term capital gains tax as per the applicable rates. 
Also Read: Taxation In Mutual Funds
Final Word
This write-up covers everything one needs to know about long term capital gain tax. Hence, individuals who wish to know about the exemptions on LTCG, and the computation of the taxes applicable, can go through the above sections. 
FAQs on Long Term Capital Gains Tax
Q1. Is there any long term capital gain tax if a person incurs a loss?
Ans: No, in such a case, assessees do not have to pay any tax, and they can set off the loss amount with the cost of investment they made before. However, they must file their ITR to gain this benefit.
Q2. Do we get an exemption by investing in a property outside India with the LTCG?
Ans: No, the exemption is only available if one uses their long term capital gains to buy or build a property in India. Also, the construction must get finished within three years of selling the previous property.
Q3. Why do we take the indexed cost of acquisition in tax calculation?
Ans: While calculating tax, we only take the indexed cost of acquisition. This is because the values get adjusted against the changes in inflation over the years during which a person holds a capital asset. So, for example, if an asset is held from 2001 to 2003, it will consider two years of inflation. 
Q4. What is the tax exemption limit for different persons?
Ans: The tax exemption limits are as follows:
1. For resident Indians aged 80 years or above: Earnings up to Rs. 5,00,000 are tax-exempt
2. Resident Indians aged 60-79 years: Earnings of up to Rs. 300,000 are exempted from tax
3. Individuals aged below 60 years: No tax is applicable on an income of up to Rs. 2,50,000 
4. HUF: Exemption is available if the annual income of an HUF is not more than Rs. 2,50,000.
5. NRIs: Earnings of up to Rs. 2,50,000 are tax-exempt 
Before you go…