Large-cap funds or bluechip funds invest in stocks of the largest, most renowned and established companies on the Indian stock market. These companies are financially sound and have been delivering profits for investors for a long time. Bluechip funds are one of the safest equity investments and have a strong record of paying dividends. If you are looking for stable and long-term returns, check out this list of the 10 best bluechip funds in India to invest in this year. Read on!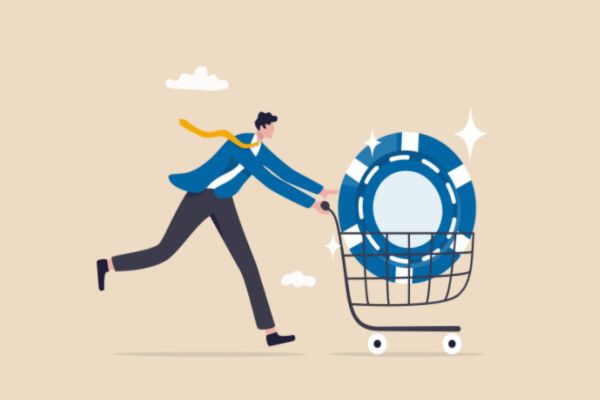 10 Best-Performing Bluechip Funds in India (2022)
The following are the best bluechip funds according to their 5-year performance. The data given here is valid as of June 3, 2022.
| | | |
| --- | --- | --- |
| S No. | Name of the Blue Chip Fund | 5-Year Annualised Returns |
| 1. | Canara Robeco Bluechip Equity Fund- Direct Plan-Growth | 14.48% |
| 2. | Axis Bluechip Fund- Direct Plan-Growth | 14.27% |
| 3. | Mirae Asset Large Cap Fund- Direct Plan-Growth | 12.87% |
| 4. | Edelweiss Large Cap Fund- Direct Plan-Growth | 12.75% |
| 5. | ICICI Prudential Bluechip Fund- Direct Plan-Growth | 12.58% |
| 6. | Kotak Bluechip Fund- Direct Plan-Growth | 12.38% |
| 7. | UTI Mastershare Unit Scheme- Direct Plan-Growth | 12.22% |
| 8. | Baroda BNP Paribas Large Cap Fund- Direct Plan-Growth | 12.18% |
| 9. | Invesco India Large Cap Fund- Direct Plan-Growth | 12.05% |
| 10. | Nippon India Large Cap Fund- Direct Plan-Growth | 11.70% |
What are Bluechip Funds?
The bluechip fund is an equity mutual fund that invests in stocks of large-cap companies. Also known as large-cap funds, these invest in stocks of top 100 Indian companies as per their market capitalisation. According to SEBI (Securities and Exchange Board of India) guidelines, these equity schemes must invest at least 80% of their assets in these companies.
These companies are prestigious, well-established, have a large market share and are expected to grow even further. All these qualities make their stocks the safest and most reliable. Blue-chip stocks are known for delivering consistent returns over the long term. In addition, they tend to offer regular dividend income for shareholders.
Bluechip stocks are more stable and less volatile than mid-cap or small-cap stocks. Though they offer fewer profits in a bull market compared to smaller companies, they also do not show many losses in bear markets. As a result, many investors purchase blue-chip funds to add stability to their portfolios.
Benefits of Investing in Bluechip Funds in India
The following are some of the benefits of investing in the best bluechip funds:
Helps Build a Decent Corpus: As an investor, you will want to build a decent corpus for the future. Bluechip funds help you grow your wealth slowly but consistently, and they can survive market headwinds. This makes it easy to achieve your financial goals.
Offers financial stability: By accumulating a large corpus, these schemes help to improve your financial stability. The best bluechip funds deliver stable returns in different market phases, which can provide you with a regular income.
Proven track record: Blue chip companies are well-established brand names, which makes sure that your investment keeps growing. These companies have proven track records of strong corporate governance and commitment for many decades.
Relatively low risk: While not offering the highest potential returns, bluechip funds carry fewer risks than many other equity investments. By investing in them, you can improve the quality and reduce the risks of your portfolio.
High liquidity: Due to their stability and creditworthiness, bluechip stocks are among the most frequently traded stocks on the market. As a result, you can easily redeem the fund units whenever you need cash.
Also Read: 10 Best Large Cap Mutual Funds To Invest Your Money [Updated 2022]
Who Should Invest in Blue Chip Funds?
The best bluechip funds are known for offering excellent returns over the long term. So, you must stay invested for a long duration (at least 5 years) for high returns. Although bluechip funds carry less risk than many other equity investments, you need to have a high-risk appetite to invest in them.
Many experts recommend these funds to first-time investors as it adds to their portfolio. If you are a young investor, you can also take an aggressive approach and invest a substantial part of your portfolio in these funds. It will help you grow your wealth at a steady pace and fulfil your long term financial goals.
Also Read: Best SIP Mutual Funds To Invest In 2022: Which Plan Is Best For You?
Final Word
Bluechip funds deliver consistent and solid returns to investors over a long period. Moreover, they carry low volatility and risks despite paying such good profits. Investors must check and compare the valuations, risk factors, exit load and expense ratio before investing in a bluechip fund.
FAQs on Best Bluechip Funds in India
Q1. What is the meaning of the term 'bluechip'?
Ans: The term 'bluechip' comes from the game of poker, where blue-coloured chips have the highest denomination. Blue-chip companies are well-established companies with a track record of stable growth and dividend offerings. Many of these companies have a competitive edge in their specific industry.
Q2. Should bluechip funds be the only part of your portfolio?
Ans: No, while blue-chip funds should be a part of any portfolio, you will want to invest in other mutual funds. Having a diversified portfolio will add alpha to your investments and mitigate risks. You can invest in mid-cap and small-cap funds to accelerate the growth of your wealth. Alternatively, you can invest in debt funds to reduce risks further.
Q3. What are large-cap, mid-cap and small-cap stocks?
Ans: Large-cap stocks belong to the top 100 companies in India based on their market capitalisation. Meanwhile, mid-cap stocks belong to companies ranked from 101st to 250th in their market cap. Small-cap stocks belong to smaller companies ranked from 251st onwards.
Q4. How are bluechip funds taxed in India?
Ans: Capital gains from blue-chip funds are taxed like any other equity-oriented funds. Short term capital gains (STCG) are taxed at 15% for a holding period of up to a year. Otherwise, long term capital gains (LTCG) taxes are applicable at a 10% rate on gains above Rs.1 lakh.
Q5. Are there any bluechip index funds?
Ans: Yes, index funds are a classic example of bluechip funds in India. These are passive funds that aim to replicate the performance of the top Indian companies. Index funds are passively managed. This results in much lower costs compared to actively managed funds.
Before you go…
Want to put your savings into action and kick-start your investment journey 💸 But don't have time to do research? Invest now with Navi Nifty 50 Index Fund, sit back, and earn from the top 50 companies.
Disclaimer: Mutual Fund investments are subject to market risks, read all scheme-related documents carefully.
This article has been prepared on the basis of internal data, publicly available information and other sources believed to be reliable. The information contained in this article is for general purposes only and not a complete disclosure of every material fact. It should not be construed as investment advice to any party. The article does not warrant the completeness or accuracy of the information and disclaims all liabilities, losses and damages arising out of the use of this information. Readers shall be fully liable/responsible for any decision taken on the basis of this article.