International mutual funds invest in companies that are not listed on India's stock exchange. These are ideal for investors wishing to invest in foreign markets. International mutual funds are open-ended funds that primarily invest in equity and equity-related instruments of top-performing international companies.
If you want to diversify your investment portfolio and invest in international mutual funds, here's a list of top-performing international mutual funds you can invest in 2022. Read on!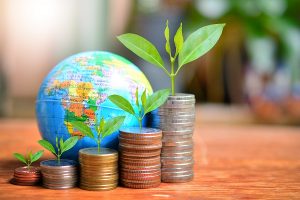 Top 10 International Mutual Funds for 2022
| | | |
| --- | --- | --- |
| S No. | Name of the Mutual Funds | 5-Year Annualised Returns |
| 1. | DSP World Mining Fund- Direct-Growth | 20.75% |
| 2. | Franklin India Feeder Franklin US Opportunities Fund- Direct-Growth | 17.80% |
| 3. | PGIM India Global Equity Opportunities Fund- Direct-Growth | 16.96% |
| 4. | ICICI Prudential US Bluechip Equity Fund- Direct-Growth | 16.78% |
| 5. | Edelweiss Greater China Equity Off-shore Fund- Direct-Growth | 15.53% |
| 6. | DSP US Flexible Equity Fund- Direct-Growth | 15.24% |
| 7. | ICICI Prudential Thematic Advantage Fund (FoF)- Direct-Growth | 15.01% |
| 8. | Kotak Multi Asset Allocator Fund of Fund- Dynamic- Direct-Growth | 14.22% |
| 9. | SBI Gold Fund- Direct-Growth | 11.92% |
| 10. | Aditya Birla Sun Life Global Emerging Opportunities Fund- Direct-Growth | 11.27% |
There are other options such as the Navi NASDAQ 100 Fund of Fund and the Navi US Total Stock Market Fund of Fund that individuals can consider investing in to achieve their financial goals. Visit Navi Mutual Fund to explore the different options offered by Navi.
*Mutual Fund investments are subject to market risks, read all scheme-related documents carefully.
How Do International Mutual Funds Work?
Also called overseas funds or foreign funds, the international mutual funds invest primarily in equity shares of companies in the international market. These funds invest across various sectors and industries to capitalise on the growth of these foreign companies. Investors who do not have the resources can invest in the world's largest companies through such funds.
Fund managers of international funds collect money in rupees and invest in companies listed on foreign stock exchanges. They can directly purchase foreign stocks and build an international fund portfolio. Otherwise, they invest in a pre-existing global fund consisting of stocks of foreign companies.
In this case, the international funds are FoF (fund of funds) investing in international ETFs (Exchange-Traded Funds) and indices. Such mutual funds act as a feeder fund, collecting money from domestic investors and investing the same in its parent fund with help from international sponsors/partners.
Types of International Funds
Global Market Funds:

These funds allow investors from any country, including their home country to invest. These funds invest in companies worldwide across various asset classes for better diversification.

Regional Funds:

These are country-specific funds that invest in companies of a specific country or region. For example, a regional fund can invest in US stocks or top European companies only.

Country Funds:

A country fund invests in stocks of a specific country, for example, the US or China. This makes it easy for fund managers to study and analyse the particular market in a better way.

Thematic International Funds:

Such funds follow a theme-based investment approach investing in the overseas stocks of a specific theme/sector. For example, an international mutual fund with an infrastructure theme will invest in shares of foreign steel, cement and power companies.

International commodity funds:

These work well for investors looking to invest in a particular precious commodity. International mineral funds and gold funds are examples of this type of mutual fund.
Also Read: Commodity Mutual Funds in India: Types, Benefits & How To Invest
Who Should Invest in International Mutual Funds?
For anyone looking to invest in global market leaders to have a share of their profits

Equity investors with a well-diversified portfolio comprising Indian stocks can diversify their investments further with international funds

These funds are suitable for investors with a strong knowledge about international markets

Those who want to leverage opportunities in different markets

For long-term investors who are looking to accumulate a large corpus over time
Benefits of Investing in International Mutual Funds
The following are some of the benefits of investing in international funds:
Geographical Diversification:

By diversifying your investments globally, you get the benefits of markets not correlated to India. When the Indian economy is struggling, you can get better returns from foreign markets.

Investing in Top-Performing Companies:

Some of the global market leaders, such as Google, Microsoft, Apple, Facebook and Amazon, etc., are located on foreign stock exchanges. If you want to invest in these brands, international funds can be a suitable option.

Currency Diversification:

When investing in international funds, you get exposure to foreign currency by investing in rupees. Any appreciation in the value of the foreign currency against the rupee would increase your returns.

Reduce Risk and Volatility:

Exposure to different economies lets you capitalise on gains while balancing risk. It also reduces the overall volatility of your portfolio as losses from one region are covered by gains from others.
Things to Consider before Investing in International Mutual Funds
Investment Risks:

Investing in global markets can carry unpredictable risks. Political turmoil, economic downturns and changes in policies can take a toll on your investment. Hence, investors may want to check their risk appetite before considering such investments.

Financial Goals:

Different international funds have their unique strategies for constructing a portfolio. Some funds may invest in Indian and foreign equity, while others may invest in a particular theme or sector. Investors may want to check if the asset allocation is in line with their financial goals.

Expense Ratio:

All Asset Management Companies (AMCs) charge a fee called

expense ratio

to cover their administrative and operating expenses. When choosing an international mutual fund, it is vital that you check its expense ratio and compare it with the expense ratio of other funds in the same category. This is because the expense ratio has an impact on the returns you earn.

Role of the Fund Manager:

The fund manager needs to have in-depth knowledge and expertise about the global markets for these mutual fund schemes. Hence, it is important for investors to check their experience in managing similar funds and their performance before choosing a fund.
Also Read: Who Are Mutual Fund Advisors & Why Do You Need One
Taxation of International Funds
Although international mutual funds invest primarily in stocks, they are an anomaly when it comes to taxation. Returns from these investments are taxed as non-equity funds.
For a holding period of less than three years, short-term capital gains (STCG) are added to your gross income and taxed as per the income tax slab. For a holding period of over 3 years, long-term capital gains (LTCG) tax is applicable at a 20% rate after indexation.
Final Word
International mutual funds give a wide range of choices for Indian investors to invest in various global companies. Investors can use them to benefit from booming markets in other countries. Choose from the above list of 10 top-performing international mutual funds and diversify your portfolio internationally and ensure minimum losses during periods of recession in the domestic markets.
*Mutual Fund investments are subject to market risks, read all scheme-related documents carefully.
FAQs on International Mutual Funds
How does the price of rupee affect investments in international funds?


When you invest in international funds, you get exposure to a foreign currency through rupees. For example, if you invest in US markets, your investment in INR will be converted into USD. If the value of rupees depreciates against the dollar, your returns from the investment will increase.

What should be my investment horizon for international funds?


The investment horizon of an individual is completely dependent upon his/her financial goals. That said, one might want to have a long term investment horizon to protect their finances from the volatility of equity markets. Furthermore, staying invested for the long term allows you to benefit from the power of compounding.

What are the benefits of investing in US-related funds?
The US economy has a lower correlation with Indian markets compared to other emerging economies. This results in better diversification when investing in US markets. Moreover, many investors continue to focus on the US as it has delivered strong performance since the global financial crisis.
How is the NAV of an international fund calculated?

Net Asset Value (NAV) is the per-unit market value of all assets held by a mutual fund scheme. To calculate this, you have to add the market value of all securities and subtract all liabilities and expenses. Then, you need to divide the figure by the total number of outstanding units.

What can I do to reduce the risks of my international fund investment?


Here are some tips to follow for investing in international funds:
Have thorough knowledge of the market

Do your research regarding the credit risk, default risk, and fund allocation

Read the offer documents carefully

Choose a country with strong legal systems and stable markets
Before you go…