Home loan eligibility parameters vary from lender to lender. However, the salary of a borrower remains a constant parameter among lenders to evaluate creditworthiness. So, if you are constantly wondering 'how much home loan can I get on my salary', you need to evaluate a lender's eligibility criteria thoroughly.
In this regard, individuals can download the Navi app and check their eligibility for a home loan by providing a few basic details.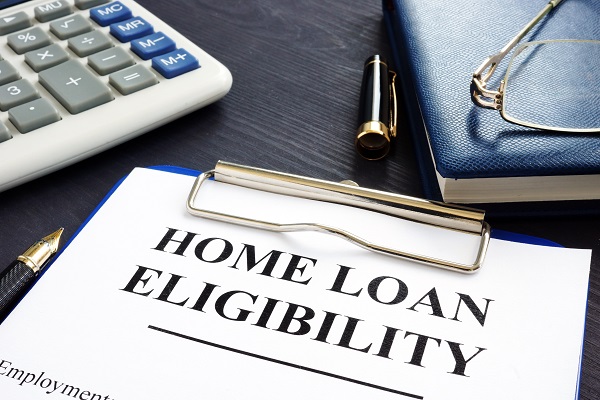 Home Loan Eligibility Requirements
Home loan eligibility criteria involve satisfying certain parameters pertaining to age, income, employability status, property value, etc.
Both self-employed and salaried individuals can avail of a home loan if they meet the criteria mentioned above.
You should refer to the table below to determine their eligibility before proceeding to apply:
Salaried individuals
Stable source of income
Should have minimum 3 years of work experience
Must be an Indian citizen
The applicant should be over 18 years old
Self-employed individuals
Continued business for the last 5 years
Must be an Indian citizen
The candidate must be continuing business with the current enterprise/company
Also read: Documents Required For Home Loans
Features and Benefits of Home Loan
Tax benefits
Borrowers can claim IT deductions on interest and principal repayments under Section 80C, 24(b), 80EE, and 80EEA of the Income Tax Act, 1961.
Stringent checks on property documents
Since the lending institution conducts thorough checks on property documents, borrowers can stay assured of the veracity of the property. However, it's still advised that you do a thorough check from your side as well. This eliminates the chances of scams.
Lower interest rate
Since home loans are secured loans, the interest rates are comparatively lower than unsecured loans, such as personal loans. For instance, interest rates for Navi Home Loans start at 6.46% p.a. Moreover, borrowers can also avail of a top-up loan on the existing home loan to curb cash crunches.
Long tenure for repayment
Home loans come with a longer repayment period that can go up to 30 years. Flexibility in repayment tenure lowers the financial burden on borrowers.
Option for balance transfer
Borrowers can transfer the loan from one lender to another to enjoy lower interest rates, better terms of service, and such. Opting for a home loan balance transfer from Navi lets you enjoy reduced interest rates of up to 5%. Download the Navi app and check for yourself.
Home Loan Eligibility as Per Salary Bracket
Before approving a home loan application, lenders usually consider various factors such as salary, credit score, age, etc. Most lenders offer on average a loan amount that is 60 times a borrower's salary. 
However, an important point to keep in mind for borrowers wondering 'how much home loan can I get on Rs. 40,000 salary' is that lenders do not consider an applicant's in-hand salary when determining the loan amount. They exclude medical and travel expenses when accessing one's income.
For example, on a Rs. 20,000 salary, you can get a home loan of close to Rs.10 lakhs against a repayment tenure of 20 years.
Similarly, if you receive a higher paycheck each month and are wondering 'how much home loan can I get on Rs. 50,000 salary, then the answer would be an amount close to Rs.30 lakhs. You can use an online home loan eligibility calculator to check your loan eligibility. 
For a clear understanding, you can refer to the table below:
| | |
| --- | --- |
| Monthly Income (in Rupees) | Home Loan Amount (in Rupees) |
| 25000 | 1,373,026 |
| 30000 | 1,709,806 |
| 40000 | 2,383,366 |
| 70000 | 5,220,146 |
How is Home Loan Eligibility Calculated?
The easiest way to determine eligibility for housing finance is through an eligibility calculator.
Potential borrowers need to visit the website of their preferred lender, navigate to the eligibility calculator, and enter the following details:
Net monthly salary
Tenure for loan repayment
Sources of monthly income
Any existing loans and EMIs
With an online loan eligibility calculator, you can enter the above-mentioned information and check how much loan amount you can borrow.
Factors Affecting Home Loan Eligibility
Some of the key factors affecting your eligibility are mentioned below:
Credit score
Applicants who have a CIBIL or credit score of 750+ are considered creditworthy by lenders. Such applicants can avail of housing finance on favourable terms.
FOIR
FOIR refers to fixed obligations to income ratio. Lenders are more likely to offer favourable terms to applicants with a low FOIR. This is because a low FOIR indicates high disposable income, which increases the borrower's chances to repay the loan amount in due time.
Applicant's age
The applicant's age dictates the tenure of the loan. Younger people have a longer service period, thus loan tenure will be longer for them. A longer tenure ensures smaller EMIs, hence making the loan more affordable. The age of the applicant is considered an important aspect while using the home loan eligibility calculator. However, for long-term loans, you usually end up paying more as interest.
Also read: Types Of Home Loan Options Available In India
How Can Individuals Increase Their Home Loan Eligibility with Low Salary?
Opt for a joint home loan
If one applies for a home loan with an earning co-applicant, then the eligibility to avail of a higher loan amount improves significantly. Also, some lenders offer special rates for women borrowers.  
Clear any existing loans
If you have an existing loan, try to clear it before opting for housing finance. This is because lenders assess an individual's repayment capacity by calculating their debt-to-income ratio.
Improve CIBIL score
Lending institutions prefer individuals who possess a CIBIL score of 750 or above. So, to increase home loan eligibility, you should strive toward improving your CIBIL score. 
Mention additional income sources
Additional income sources assure the lender about an individual's repayment capacity. Hence, borrowers should always mention other sources of income to the lender, if any.
How to Apply for a Home Loan from Navi?
Step 1
Applicants need to download the Navi app and register using their mobile number to proceed.
Step 2
In the next step, enter the property details such as the location of the property, its type, and address.
Step 3
Next, individuals will need to check their eligibility by providing PAN, age, name, marital status, and whether there is a co-applicant or not.
After completing the steps mentioned above, individuals will get instant approval for the loan amount they are eligible to avail of.
Apart from the benefit of instant approval, Navi also provides a high-value loan amount at low-interest rates starting from 6.46% p.a. Individuals can download the Navi app and check out the offers and benefits.
Final Word
Availing of a home loan is a lot easier now with lending institutions adopting digitalisation. With NBFCs taking the digital route, you can gauge how much home loan they will be eligible to borrow against their monthly income. 
Frequently Asked Questions
Q1. What is the moratorium period for a home loan?
Ans: Moratorium denotes a specific period where borrowers do not have to repay any loan amount. In simple terms, this is the waiting period before the borrower starts paying the EMIs.
Q2. What is home loan prepayment?
Ans: Home loan prepayment is a facility wherein borrowers fully or partially repay the loan amount before completion of the loan tenure. However, home loan prepayment is subject to various rules that a borrower must know beforehand.
Q3. How will my EMIs be calculated?
Ans: Lenders calculate EMIs by considering the loan amount, tenure, and interest rate of the home loan. The EMI may change if the interest rate changes or if you make part-payment against your loan. 
Q4. What is a home loan balance transfer?
Ans: A home loan balance transfer is a facility provided to borrowers to transfer the current home loan balance to a new lender. This provides the borrowers with better deals and an affordable loan option. 
Before you go…
Looking for instant  personal loans 24*7 anywhere, anytime? Install the Navi app now!
Or, maybe you're looking to buy that house you've been eyeing  and you need a loan of up to Rs. 5 crores. Install the Navi app now and get your instant in-principle approval right away! Interest rates starting at 6.46% p.a.
How about an affordable health insurance policy  starting at a monthly premium of just Rs. 241? Install the Navi app and get your policy in under 2 minutes
Instead, want to put your savings into action and kick-start your investment journey  But don't have time to do research. Invest now with Navi Nifty 50 Index Fund, sit back, and earn from the top 50 companies.