In health insurance policies, deductible refers to the amount of money an insured person will need to spend before his/her insurance policy takes over. On the other hand, the out-of-pocket maximum refers to the ceiling on the deductible amount payable in a year.
Hence, an insured person must pay 100% of his/her own healthcare cost until the expenses cross a certain deductible. The insurer will continue paying a portion of these medical bills till it reaches a certain out-of-pocket maximum. Then, they will cover 100% of the policyholder's medical expenses for the remaining policy year.
Here's a detailed look at out of pocket versus deductible expenses.
Also Read: https://navi.com/blog/tpa-in-health-insurance/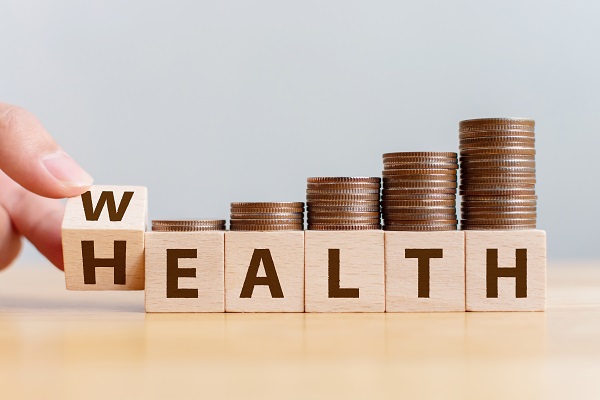 What Is Deductible In Health Insurance
Deductible in health insurance is the out-of-pocket medical expenses one has to pay to make up to the deductible amount before making a claim. In other words, the insurer will cover the claim only when it is over the deductible amount.
Let us say that you have an insurance policy with Rs. 25,000 deductible, and make a claim of Rs. 1,00,000 for medical bills. In this case, you have to pay Rs. 25,000 out of your pocket, while the insurer will take care of a certain portion of the rest.
Most insurance plans, including individual and group health insurance policies, come with a deductible. However, some plans like HMO (Health Maintenance Organisation) come with very low or no deductible. Generally, plans with lower deductibles come with higher premiums, while those with lower premiums carry a higher deductible.
Insurance companies introduced deductibles to limit the number of policyholders filing small or unnecessary claims. As a part of this cost that has to be borne by the insured, claimants become more responsible and make only genuine claims.
What Is Out Of Pocket Maximum And How Does It Work?
An out-of-pocket maximum is a cap or limit on the amount of money one has to pay for medical expenses covered by his/her insurance plan. After medical expenses cross this limit, the insurer will pay 100% of all covered costs throughout the plan year.
Co-pays, co-insurance and out-of-pocket money spent towards the deductible also count towards the out-of-pocket maximum. However, this varies between different policies, and in some, you may need to get expenses like diagnostic exams authorised in advance. Otherwise, an insurer can deny these charges resulting in the payments not counting towards the threshold limit.
If the insurance in the above example had an out-of-pocket maximum of Rs. 75,000, it would have covered part of the total expenses. This would include co-insurance of Rs. 50,000 after you paid the Rs. 25,000 deductible out-of-pocket and until it crossed the Rs. 75,000 limit. After that, all medical expenses covered by this policy would be completely free.
Out Of Pocket Maximum vs Deductible
At first, your payment of medical bills goes towards the deductible. Then, you get cost-sharing benefits depending on the policy terms till your spending reaches the out-of-pocket maximum.
Plans with higher premiums usually come with a lower deductible and out-of-pocket maximum. Lower deductibles offer cost-sharing benefits of insurance plans sooner, while low out-of-pocket max provides increased protection from major complications.
On the other hand, high deductibles can be a decent choice for individuals with good health but need cover from significant hospital bills. Having a higher out-of-pocket max comes with the advantage of a lower premium but comes with the biggest risks for significant healthcare.
Also Read: https://navi.com/blog/irda-claim-settlement-guidelines/
What Expenses Count Towards Deductibles?
Expenses that count and do not count for meeting the deductible will vary from plan to plan. The following expenses qualify for deductibles:
Prescription drugs usually count towards the prescription benefit deductible.
In-network services also count towards the deductible.
Depending on the policy, copayments or coinsurance can qualify.
Costs incurred upon hospitalisation.
Amount spent on doctors' fees, surgery, lab tests and medical devices.
Preventive care services like annual check-ups do not count towards meeting the deductible if the health plan partially/full covers it. Services received from outside network providers, monthly premiums and treatments/medications outside policy cover are also excluded
What Expenses Count Towards Out of Pocket Maximum?
All medical expenses that go towards the deductible also count towards the out-of-pocket maximum. This includes copayments and coinsurance as well as costs of lab tests, scans, medical devices, surgery fees, etc. After crossing the deductible, any essential medical care will also count towards the out-of-pocket max.
For health plans covering only in-network expenses, any out-of-pocket expenses for covered benefits will go towards the limit. On the other hand, plans covering health services outside the network often have a different out-of-pocket maximum for in-network and out of network services.
However, the following expenses do not count towards the out-of-pocket maximum:
Treatments and medications not covered by a policy.
Monthly premiums.
Healthcare services billed in a different year.
Diagnostic tests or specialist visits made without prior authorisation.
Treatments not covered by the insurance.
How Can You Benefit from the Out of Pocket Maximum of Your Health Plan?
Follow the given tips to make the most of the out-of-pocket maximum of your health plan:
If you have pre-existing medical conditions and may need expensive treatments, choose a plan with low out-of-pocket max.
Get prior authorisation for MRIs, blood tests, X-rays etc., to ensure your insurer cannot deny any of the expenses. 
Use the free preventive care services and annual check-ups to deal with health problems before they get out of hand.
Plan your medical expenses (e.g. scheduled surgery or imaging procedure) in advance whenever possible.
Take the services from your insurer's network whenever possible, as only in-network services count towards the deductible.
Know the terms and conditions of your plan well and avoid medications and treatments that the policy does not cover.
Final Word
Plans with deductibles and out of pocket maximum generally have low-cost premiums and offer financial coverage beyond the limits. If you need routine medical care, you may want such plans to safeguard yourself from sudden and high expenses. 
However, if you are generally healthy and take annual health check-ups, your yearly costs may not even meet the deductible. In such cases, you might want to choose Navi's health insurance policies for comprehensive health benefits and an easy claims process. Download the Navi app from Google Play Store for cashless treatment facilities from 10,000+ hospitals in India.
Frequently Asked Questions
Q1. Is the out-of-pocket maximum always higher than a deductible?
Ans: Yes.  For the same policy, the deductible is the first threshold for cost-sharing benefits. After your total medical expenses cross the out-of-pocket maximum, your health insurance policy will cover 100% of included health services. 
Q 2. Why choose a health plan with a deductible and out-of-pocket maximum?
Ans: Young people without any known health problems can choose these policies for low-cost premiums. People with medical problems can choose plans with low deductibles and out-of-pocket maximum for more savings on medical bills.
Q3. What is a co-insurance and co-payment in a health insurance policy?
Ans: Co-insurance refers to the percentage of covered medical services that you pay after your annual expenses have already crossed the deductible. Co-payment is a fixed amount that you have to pay when receiving healthcare services.
Q4. What is a family out-of-pocket maximum?
Ans: In family health insurance policies, the out-of-pocket expenses for an individual above the deductible go towards the family out-of-pocket maximum. This makes it easier to cross the threshold limit, which results in the plan covering 100% of everyone's medical bills.
Q5. What is the difference between compulsory and voluntary deductible?
Ans: In health insurance plans with a voluntary deductible, you can choose a deductible amount you are comfortable with. In the case of compulsory deductible, the insurance company sets up this amount as per its own rules. 
Before You Go
Looking for instant  personal loans 24*7 anywhere, anytime? Install the Navi app now!
Or, maybe you're looking to buy that house you've been eyeing  and you need a loan of up to Rs. 5 crores. Install the Navi app now and get your instant in-principle approval right away! Interest rates starting at 6.40% p.a.
How about an affordable health insurance policy  starting at a monthly premium of just Rs. 241? Install the Navi app and get your policy in under 2 minutes
Instead, want to put your savings into action and kick-start your investment journey  But don't have time to do research. Invest now with Navi Nifty 50 Index Fund, sit back, and earn from the top 50 companies.