A family floater insurance plan is a tailor-made health insurance policy that covers the healthcare expenses of the policyholder's entire family. By obtaining this policy, an individual can do away with the hassle of maintaining multiple health insurance policies.
Following is a look at everything about the benefits, exclusions, eligibility, claim process and the best floater health insurance plans in India.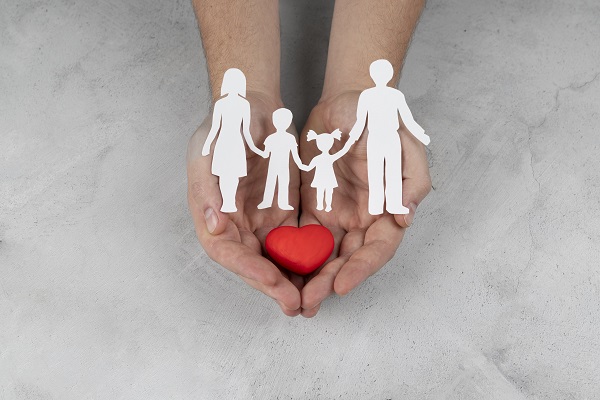 Best Family Floater Health Insurance Plans in India
The best family health insurance plans entail maximum floater sum insured, lifelong renewability, and other features that make them desirable among the masses. Here is a list of the best floater plans available in India:
Care Health Plan
Oriental Happy Family Floater Mediclaim Plan
Star Family Health Optima Plan
Navi Health Insurance Policy
United India Family Medicare Policy
National Insurance National Mediclaim Policy
Bajaj Allianz Health Guard Family Floater Plan
SBI General Retail Health Insurance
New India Family Floater Mediclaim Policy
HDFC ERGO Optima Restore Family
The aforementioned plans offer both individual and floater cover and comprise unique features that vary from one another.
Benefits of Purchasing Family Floater Health Plans
Floater cover in health insurance allows policyholders to cover themselves and family members under one policy, offering easy management. To that cause, let's look at some other benefits of possessing a floater plan. 
Affordable
As a member can get health insurance cover for him/herself and the entire family by opting for a single plan, it is an affordable option over buying several individual insurance plans.
Add-on benefits
Such plans are profitable options when it comes to add-on benefits such as maternity covers.
Tax benefits
Under Section 80D of the Income Tax Act, 1961, policyholders of floater plans can avail of tax benefits. 
Easy addition of members
Policyholders can add members like immediate family, spouse, new-borns etc., in their family floater plan.
Higher sum insured
These health insurance plans have a higher sum insured than an individual plan.
Also Read – https://navi.com/blog/health-insurance-for-parents/
Points to Consider before Buying a Floater Health Insurance Plan
Look out for the following pointers before planning to invest in a floater health insurance policy:
Renewability age
Several insurance providers offer a maximum upper age cap on a floater plan. However, as per the Insurance Regulatory and Development Authority (IRDA), most insurers provide lifelong renewability.
Sub-limits
It is advisable not to get carried away with the sum insured of a plan because there may be sub-limits of sub-categories. For instance, a certain family floater plan may come with a sum insured of Rs. 6 lakh, but there might sub-limit on medication for Rs. 60,000 or Rs. 80,000 for pre and post hospitalisation. Hence, it is important to check the sub-limits before selecting a plan.
Policy term
The policy term for a certain health insurance plan varies across insurance providers. Therefore, policyholders must check the details before purchasing a plan.
Reinstatement benefit
One might wonder what happens when the assigned sum insured gets exhausted before the end of the policy term. In such a scenario, the reinstatement benefit will kick in and refill the sum insured amount before the term ends. Thus, one must look for this feature in a plan before buying it.
Value-added features
Like other health plans, floater health insurance policies have several add-ons for a policyholder's convenience. It is vital to check these add-on covers before choosing a plan.
Exclusions under Family Floater Health Insurance Plans
Floater health insurance offers a number of inclusions considering a policyholder's benefits. However, there are some exclusions under this policy. They are as follows:
Sexually transmitted diseases
Fertility treatments
Expenses arising due to routine medical check-ups
Treatment expenses concerning gender change surgery
Expenses incurred from artificial life support
Plastic surgery, aesthetic treatment costs
Costs of treatment for mental illness, psychological disorder, etc.
OPD treatment expenses
Treatment of injury caused due to breach of law
Illness treatment due to substance abuse
Self-inflicted injury
Eligibility Parameters to Avail a Floater Health Plan
Here are the eligibility criteria members must meet before proceeding to purchase a health insurance plan:
Age
In this type of plan, the eldest member of the family will become a policyholder. He or she should be between 18 to 65 years of age to avail of this insurance. 
Dependent children's age
A dependent child of a minimum of 90 days and a maximum of 25 years can avail of coverage under this scheme. 
Medical check-ups
The number of medical tests a policyholder needs to undergo depends on the insurance providers.
Renewability
Mostly, all insurers offer lifelong renewability on a family floater plan. Members need to renew the plan yearly to keep receiving the advantages.
Claim Process of Floater Health Insurance
Policyholders can raise cashless and reimbursement claims on their medical treatment expenses under a floater plan.
Cashless Claim
Here are the steps to follow to file a cashless claim:
Step 1
Visit the insurance desk of the network hospital.
Step 2
Submit an ID card.
Step 3
You should fill up a pre-authorised form and submit it.
Step 4
The Third Party Authority (TPA) will verify the documents and approve cashless claims.
Step 5
Some insurers assign a field executive to ensure hassle-free claim procedures. 
Reimbursement Claims
For reimbursement claims, follow the given steps:
Step 1
Once discharged, a policyholder must clear the hospital bill and collect the original documents.
Step 2
After obtaining a reimbursement claim form, one should fill it up and submit it to the insurer's claims team or the TPA. He/she must also attach original copies of hospital bills, reports, and other required documents.
Step 3
Once the TPA or the insurer validates and clears the claim, a policyholder will receive the reimbursement.
Insurance providers like Navi offer cashless claims in under 20 minutes if you apply for insurance via their app. Download the Navi App to buy a plan to secure your family from any kind of medical emergencies.
Also Read – https://navi.com/blog/medical-insurance-for-family/
How to Choose an Appropriate Health Insurance Policy?
To choose the right health insurance policy, follow the tips below:
Choose maximum coverage that meets the medical needs of each family member. It is ideal to compare plans based on costs and benefits. 
Settle for family floater plans rather than individual ones as the former comes with a series of benefits at an affordable rate. 
Select a plan that offers lifelong renewability. 
It is desirable to choose an insurance provider that comes with a wide grid of network hospitals. This will enable you to get treatment at any time and place you want. 
You must look for an insurer with a high claim settlement ratio. Therefore, you will need to conduct proper research before choosing an insurance provider and health insurance policy. 
Why Choose Family Floater Health Insurance from Navi?
Navi Health Insurance comes with a range of benefits that make it ideal among insurance providers. Some of the reasons why you should choose Navi for a floater plan are as follows:
Navi Health Insurance Policy covers 20+ health benefits.
Sum insured between Rs. 2 lakh to Rs. 1 crore for individuals and families.
10,000+ network hospitals in more than 400 locations in India.
97% claim settlement ratio.
Cashless claims within 20 minutes.
Final Word
You can conclude from the above sections that family floater health plans are much more lucrative than individual plans. Obtain a family floater insurance policy to ascertain the wellbeing of your entire family at an affordable premium payment.
Frequently Asked Questions
Q1. What are the documents required to buy family floater health insurance?
Ans: You need to furnish the following list of documents during the insurance purchase:
KYC documents
Age proof 
Photograph 
Medical reports
Q2. Who is covered under family floater insurance?
Ans: A policyholder, his/her spouse, dependent children till 25 years, senior parents, and in some scenarios, parents-in-law are included in this policy. 
Q3. What is the minimum waiting period for floater health insurance?
Ans: The waiting period varies across insurers. However, a minimum of 30 days waiting period is common for any plan.
Before you go…
Looking for instant 🚀 personal loans 24*7 anywhere, anytime? Install the Navi app now!
Or, maybe you're looking to buy that house you've been eyeing 🏠 and you need a loan of up to Rs. 5 crores. Install the Navi app now and get your instant in-principle approval right away! Interest rates starting at 6.40% p.a.
How about an affordable health insurance policy 👨‍⚕️ starting at a monthly premium of just Rs. 241? Install the Navi app and get your policy in under 2 minutes
Instead, want to put your savings into action and kick-start your investment journey 💸 But don't have time to do research. Invest now with Navi Nifty 50 Index Fund, sit back, and earn from the top 50 companies.
Image credits – FreePik