Of the financial regulations and policies brought about during the Coronavirus-led pandemic, 'moratorium' struck a chord with the general masses and became the year's financial buzzword. A loan moratorium is a temporary suspension of loan repayment. It is a period wherein you are entitled to get a break on your loan repayment.
The concept of a moratorium has existed in the banking sector for decades. During the moratorium period, you can stop paying Equated Monthly Installments or EMIs for a certain time, as specified by the policymaking authorities.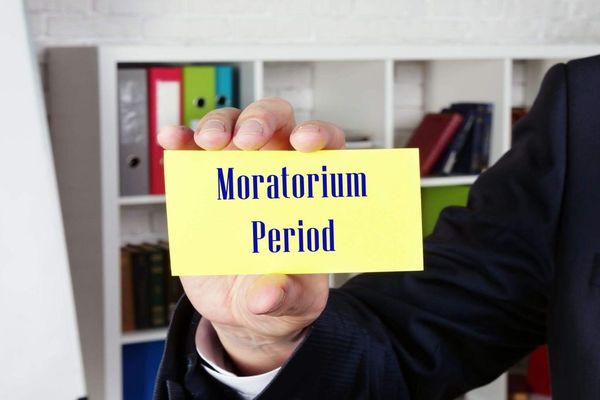 What is a Moratorium and How Does It Work?
A moratorium is a temporary halt of business or a suspension of some law or regulation. Moratoriums are often imposed on an activity such as a debt collection process.
For instance, incase of natural disasters like an earthquake or flood, an emergency moratorium on some financial activities may be granted by a government.
In genreral, a moratorium removes a financial hardship and is lifted when normalcy returns.
For example, if a company is facing a financial hardship, it can place a moratorium on certain business activities at lower costs.
What is a Moratorium Period?
A Moratorium on loan is a specified period during which the borrower is not obligated to make EMI payments of their loans as mandated by the Reserve Bank of India. The moratorium period in loan postpones repayment and gives the borrower a grace period during which they can choose to not make EMI payments for a loan. Apart from the Moratorium on Loan, which was recently provided as a relief post the COVID-19 pandemic, it has been widely used for some types of credits such as education loan to borrowers who require a certain grace period before they can start repaying the loan.
The important thing to remember here is that the interest rate on the EMIs missed will continue to accumulate and will have to be repaid when the moratorium is lifted. Thus, the moratorium period will allow you to skip the repayment of the principal amount and not that of the interest. Also, a moratorium facilitates the borrower to not pay the dues for the pre-decided period without being termed a defaulter.
Generally, missing an EMI while repaying a loan can lead to a dip in your credit score. However, with a moratorium period, borrowers can temporarily stop repaying their loans without lasting impact on their ability to borrow in the future. Note that use of the moratorium will still reflect in the CIBIL report and other credit reports, but banks generally do not consider it as a mark upon the creditworthiness of the individual or entity.
Example of a Moratorium Period
Let us try and understand the concept of the moratorium period with a simple example.
Assume that Mr. Ram was given a home loan of Rs 20 lakh by HDFC bank in January 2020. Mr. Ram agrees to repay the loan in 24 EMIs spanning over 24 months, with the first EMI to be paid in the following month in February 2020 and subsequent payments at the beginning of each following month.
However, in April 2020, the spread of COVID-19 led to a nationwide lockdown in the country while economic activity came to a standstill. In light of this, the Reserve Bank of India (RBI) announced a moratorium on EMI payments from April 2020 to July 2020 without any penalty being imposed on the borrowers. As a result, Mr. Ram could defer his EMI payments until July 2020 and start repaying the loan from August 2020. Here, the 'Moratorium period on loan' provided by RBI was four months.
Also Read: Personal Loan For Education: Features, Benefits, Eligibility And Application Procedure
Eligibility for a Loan Moratorium Period
When the COVID-19 hit us, the RBI stated that choosing the moratorium was voluntary, and anyone with an outstanding loan with EMIs due between March 1, 2020 and August 31, 2020 would be eligible to avail of the moratorium.
Similarly, whenever the RBI or banks announce a moratorium, they carefully lay down specific guidelines and eligibility criteria, mentioning the details about who is eligible to avail moratorium. These eligibility criteria are dynamic and change whenever a moratorium is announced due to economic distress.
The RBI may impose a moratorium and borrowers may become eligible for a moratorium in cases of natural disasters, economic catastrophes, wars, and even terrorist attacks. However, it is important to note that a moratorium is not an obligation of the banks or a right of a customer. It is purely the lender's discretion whether to offer a moratorium or not.
RBI Guidelines on Moratorium Period
Since the RBI's guidelines on moratoriums are dynamic to the circumstances they are announced in, let us look at the norms announced March 2020 to understand the general guidelines:
The Reserve Bank of India (RBI) announced a three-month moratorium on loan repayments by individuals and businesses as a relief measure for those affected by the coronavirus outbreak. This was then extended to August 31, 2020.
Under the moratorium, borrowers did not have to make any payments towards their term loans for three months, beginning 1 March 2020.
The RBI also advised banks to provide a grace period of 60 days for the repayment of all types of loans, including credit cards.
The decision was aimed at providing relief to those who may face difficulties in repaying their loans due to the outbreak.
It was also expected to help ease the burden on the banking sector.
The RBI also asked banks to offer a restructuring of loans for those who were unable to repay their loans due to loss of job or business or life or other factors led by the Coronavirus outbreak.
This involved extending the loan tenure or reducing the interest rate.
Benefits of the Moratorium Period in a Loan
Here are some of the key advantages a borrower is entitled to when they choose to accept the moratorium.
A better repayment strategy- A Moratorium on Loan can assist a borrower in developing a stress-free repayment schedule. It can also assist them in accumulating funds from various sources and beginning repayment in a systematic manner rather than diluting assets to repay the loan.
Helps during financial crises- The COVID-19 outbreak has served as a sobering reminder of the global economic consequences of a pandemic. Thousands of people have had their savings wiped out owing to job losses, pay cuts, and passing away of family members. As a result, many people faced a cash crunch apart from the emotional tax of losing a loved one. In such a circumstance, a moratorium on loan proved beneficial since it helped millions of people wade off an impending financial crisis.
No negative impact on credit score- One of the most essential advantages of a loan moratorium is that it has no negative impact on your credit score. Simply put, non-payment of loans in regular installments has no negative influence on a borrower's credit score during the moratorium period. As a result, a moratorium has no bearing on your borrowing capacity.
Disadvantages of the Moratorium Period in a Loan
Loan tenure increased:- Moratorium on loan automatically increases the tenure of the loan. It might affect your long-term financial goals and dent your investment plans.
No interest waiver:- One of the most significant disadvantages of a loan moratorium is that repayment is not waived but just deferred. This indicates that you owe interest to your bank or lender as a borrower. Moratoriums might also result in increased interest costs, putting additional strain on your future payments.
Sudden burden:- While a brief halt from debt repayment may provide some relief in the near term, the fact remains that the interest owed will eventually catch up with you. If you haven't planned ahead, the unexpected pressure of large payments might throw your monthly budget off and disrupt your cash flow.
Also Read: How To Apply For 1 Lakh Instant Personal Loan In India: Check Eligibility, Features & Benefits
Differences Between the Moratorium Period and Grace Period
A grace period is frequently confused with a moratorium period in loan. It's vital to remember that a grace period is a period after a payment is due, during which you can pay without penalty. In other words, if borrowers do not make a payment during the grace period, they will be penalized – such as a late fee, a credit rating drop, etc.
A borrower is not compelled to make a payment during a moratorium period in loan. Additionally, the length of a moratorium period can range from weeks to months, whereas the length of a grace period is typically 15 days.
Final Word
A Moratorium loan means that you can get short-term relief from the repayment of loans. Although a moratorium temporarily halts EMI repayment and assists those facing difficulties repaying their loans, it is entirely optional and not mandatory for all borrowers.
Additionally, borrowers must remember that applying for a moratorium does not provide any relief for interest amount during the period of the moratorium. Hence, it is advisable to avoid a moratorium if you can sufficient the means to pay the EMIs on time.
FAQs on Moratorium Period
Q1. Is it compulsory for everyone to opt for a moratorium in situations like COVID-19?
Ans: No, availing of a moratorium in any situation is not mandatory. It is a voluntary decision and depends completely upon the borrower's discretion who can choose to not avail the moratorium.
Q2. Are only education loans eligible for moratorium?
Ans: For most education loan borrowers, a moratorium period is a standard feature which allows the student a specified time after they complete their education, get a job, and start repaying the loan. However, for other loans, moratoriums may be provided on the basis of the bank's policy and the circumstances in the country.
Q3. What is the maximum period of moratorium?
Ans: The maximum period of moratorium depends on the latest guidelines provided by RBI. For the moratorium imposed in March 2020, the maximum tenure was 6 months.
Q4. Is the grace period the same as the moratorium period?
Ans: No, grace period and moratorium period are different concepts at the core. While the grace period can lead to a penalty and a dip in the borrower's credit score, there is no such penalty for a moratorium.
Q5. Is the interest waived off during the moratorium period?
Ans: No, the interest component of the loan is not waived off during the imposition of a moratorium. It gets added to your subsequent EMIs after the moratorium is lifted.
Before you go…
Looking for instant 🚀 personal loans 24*7 anywhere, anytime? Get personal loans up to ₹20 lakh starting at 9.9% p.a. Install the Navi app now!
Disclaimer: This article has been prepared on the basis of internal data, publicly available information and other sources believed to be reliable. The information contained in this article is for general purposes only and not a complete disclosure of every material fact. It should not be construed as investment advice to any party. The article does not warrant the completeness or accuracy of the information, and disclaims all liabilities, losses and damages arising out of the use of this information. Readers shall be fully liable/responsible for any decision taken on the basis of this article.