The definition of debt trap is often misinterpreted. Taking a loan or using credit cards for purchases is also being in debt; and it's not necessarily a bad thing. As a matter of fact, being completely debt-free could have a negative impact on your credit score. However, if you have multiple loan EMIs and credit card bills to clear but don't have the repayment capacity is when you have fallen into a debt trap. Piling up debt could bring unnecessary stress.
Keeping all these in mind, we have shared certain tips that you could consider to stay away from debt trap.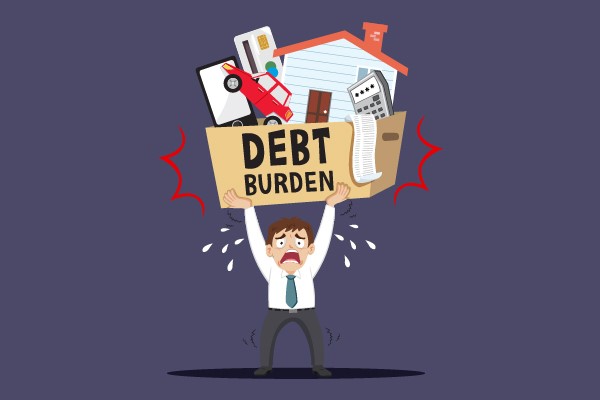 What is a Debt Trap?
A debt trap means a situation in which you are trapped in a cycle of debt that has built over time.. For example, there are people who often apply for loans in succession to clear their preceding loan accounts. This is not a good practice at all and could have severe repercussions in your financial life.
If you desire financial freedom, you must be aware of the ways you can avoid a debt trap. Taking loans might seem to be a solution for your immediate financial inadequacies, but if you are not careful, they can cause irreparable damage
4 Reasons That Could Lead You Into a Debt Trap
Following could be reasons for falling into a debt trap:
Taking personal loans in succession to clear another loan: Taking a low interest personal loan to clear your existing high interest loan isn't wrong. However, taking loans in succession to clear existing loans or dues is never a good idea. 
Over utilisation of credit cards: There are people who use credit cards for every transaction. Such consumers usually have a high credit utilisation ratio, meaning they have utilised over 40%-50% of their credit card limit. Among this group of credit card users, there's a section who use multiple credit cards, have a high credit utilisation ratio but don't have the repayment capacity. This could lead them to fall into a debt trap. Pro tip: Use credit cards wisely to save more on your expenses.
Not having a repayment plan: Not planning your repayments early could land you into a financial soup. Let's assume that you have taken a loan. On top of that you have credit card bills to pay. If you don't have a plan in place to divide your EMI payments, you could struggle during EMI due dates. 
If your EMIs are greater than 50% of your income: Product marketing has advanced to new levels. People now shop impulsively or out of a need to own everything popular as a result. This results in wasteful spending, which is outside of one's budget. People tend to rely on credit and borrow money to cover these costs. The ongoing EMI for the house, car and other items increases the EMI load.
Also Read:Home Loan Interest Rates: Current Housing Loan Interest Rates In 2022
5 Ways to Avoid Falling into a Debt Trap
Now that you understand what a debt trap is and what it entails, let's look at some ways you might escape this scary scenario. A debt trap is not the end of the world, even though it is a bad situation for anyone to be in. Here are some ideas you can implement to escape a debt trap.
1. Stop accumulating additional debt
Stopping from taking out new loans to pay off your current ones should be your first and primary action. These loans can rapidly increase your commitments and add to your financial and mental stress.
2. Get rid of high-interest loans first
The next step you should take while trying to escape a debt trap is to concentrate on paying off your high-interest debt. Paying off these debts as soon as possible would free up some of your money, which may then be utilised to make timely payments on your other loans and EMIs since these loans tend to deplete your finances quickly. In case you have taken a high-interest personal loan, you can choose to transfer your existing loan to a new lender at a lower interest. This facility is called loan balance transfer.
3. Create a Budget for your Expenses.
Making a strict budget and altering your habits and lifestyle is a crucial step that can help you free up part of your income. You'll have more money after cutting back on unnecessary spending, which you may use to pay off some of your EMIs and monthly loan payments. Additionally, doing this will enable you to save some extra cash that you can use to prepay in full or in instalments.
4. Loan Consolidation
If you have too many loans, managing your debt and making on-time monthly payments may be more difficult. This increases your potential for missing a monthly payment, which could worsen your situation. You can handle your financial situation more easily and have only one EMI payment if you combine all your debts into one big loan obligation. By consolidating your debt, you can go from having a high-interest rate to a considerably lower one.
5. Utilise Leveraged Investments to Pay- Off Debt.
You may be able to lower your outstanding debt commitments if you have investments like mutual funds, bank savings, or even equity. You might reduce your debt levels by paying off a portion of your loans using the proceeds from the sale of your investments. You can concentrate on starting over with your investments once most of your loans have been paid off.
Also Read: 6 Tips You Can Consider To Save Money In 2022
Final Word
Almost all of us had taken out loans when we needed money, and there's nothing wrong with that. But managing funds poorly could be disastrous, leading to a debt trap. Tracking your income and expenses to determine how your money is being spent can help you avoid falling into a debt trap. Repaying loans and EMI's on time would safeguard you from high-interest rates and help you meet your financial goals.
FAQs on Debt Trap
Q1. Should I close my credit card or existing loans to steer clear of debt?
Ans: Staying in debt isn't wrong. However, piling up debts without having a proper financial plan can be disastrous. So, close your credit card or existing loans early only if you feel that your existing debts are causing financial stress.
Q2. How can you reorganise and consolidate all of your debts?
Ans: If you have various loans with varying tenures, you can talk to your bank about consolidating these loans into one and reorganising the interest and tenure in a manner that is appropriate for your new situation. If you carry out these steps, you can reduce the interest rate. You can also try to negotiate with the bank to lengthen the term of the loan to cut down on the amount of the EMI payments.
Q3. I am a student and am thinking of going for an education loan. Will it lead to a debt trap?
Ans: If you're sure of your repayment capacity then there's nothing to worry about piling debt. It always depends on how smartly you can manage your money, repayments, etc.

Before you go…
Looking for instant 🚀 personal loans 24*7 anywhere, anytime? Get personal loans up to ₹20 lakh starting at 9.9% p.a. Install the Navi app now!
Disclaimer: This article has been prepared on the basis of internal data, publicly available information and other sources believed to be reliable. The information contained in this article is for general purposes only and not a complete disclosure of every material fact. It should not be construed as investment advice to any party. The article does not warrant the completeness or accuracy of the information, and disclaims all liabilities, losses and damages arising out of the use of this information. Readers shall be fully liable/responsible for any decision taken on the basis of this article.