In terms of investment strategies, ETFs (Exchange-Traded Funds) and mutual funds may not be so different. But there are some key dissimilarities which can affect your investment choice significantly. As an investor, you must know the key differences between ETFs and Mutual Funds to maximise returns and reduce risks. In this article, you will learn about ETF vs mutual funds to understand which will be the right fit for your investment goals. Read on!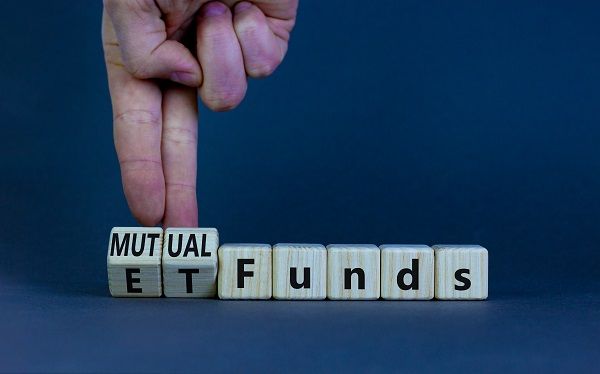 What is an ETF?
An ETF or Exchange-Traded Fund is a relatively newer model of investment which is almost similar to mutual funds but has some very basic differences. Unlike mutual funds, ETFs don't have any minimum investment amount and are traded on the stock market throughout the day. They are designed to mimic the performance of the index that they are replicating. These are passively managed funds and you can easily buy or sell them all throughout the trading session of a day.
What is a Mutual Fund?
A mutual fund is both actively and passively managed by fund managers and the Net Asset Value (NAV) changes in accordance with the value of the underlined assets. Unlike ETFs, mutual funds have a specific lock-in period for some specific schemes like ELSS, and withdrawal attracts a certain charge.
A larger, diversified portfolio of funds can be perfect for investors with a low-risk appetite. In addition, mutual funds have a large pool of investment options like bonds, debt instruments, stocks, etc.
ETF vs Mutual Fund – The Key Differences
Even if ETF and mutual funds are similar in many aspects, they have some basic differences that make it difficult for investors to choose between them.
The following table will help you clarify the differences between ETFs and mutual funds:
| | |
| --- | --- |
| Exchange-Traded Fund (ETF) | Mutual Funds |
| Units are bought and sold like ordinary equity shares | Units are bought and sold by placing a request with the fund house or AMC |
| Investors need to pay brokerage fees for the sale or purchase of units | No brokerage fees for sale or purchase of units |
| Lower expense ratio | Higher expense ratio |
| Purchased throughout the day | Purchased at the end of the trading day |
| Opening a Demat account is compulsory | Opening a Demat account is not compulsory |
| ETFs do not have any lock-in period. | Some mutual funds such as ELSS come with a lock-in period of 3 years. |
Things to Consider Before You Invest
Regardless of whether you choose to invest in an ETF or mutual fund, you need to keep some of the following pointers for higher profits or returns.
Risk Appetite: Risk appetite is the ability and inclination of the investor to deal with the losses. Although mutual funds are considered to be less risky when compared to ETFs, both carry the same level of risk, which varies depending on the type of funds you choose to invest. For example, debt funds are relatively less risky when compared to equity funds.
Expense Ratio: ETFs have a lower expense ratio as it is passively managed, while mutual funds have a higher expense ratio as they are actively managed. A higher expense ratio will ultimately affect your returns.
Tracking Error: Tracking error is the standard deviation of differences between the return of an index fund and the index it is mimicking. Notably, the tracking error can vary from 1% to 2%.
Investment Goals: ETF and mutual funds can be good for long-term financial goals. However, one can create a more diversified portfolio in mutual funds compared to ETFs. With an ETF, one can also profit from short-term investments like money market instruments.
Also Read: 10 Best ELSS Mutual Funds in India: Benefits Of Investing In ELSS Tax Saving Funds
Final Word
When it comes to investment, several factors need to be considered before coming to any conclusion. ETF offers tax benefits, low commission and easy liquidity. But mutual fund provides higher returns depending on the mode and plan of investment. Higher risk yields more returns in long term investment. So, assess your financial goals, risk appetite and other factors before you make an investment choice. If you are ready to invest, visit Navi Mutual Fund and get started today!
FAQs on ETF vs Mutual Funds
Q1. What are the different types of mutual funds?
Ans: There are three main types of mutual funds segregated depending on risk factors. They are equity funds, debt funds and balanced or hybrid funds. Among these three, equity funds provide higher returns but high-risk factors.
Q2. What do you understand by ELSS?
Ans: ELSS or Equity Linked Savings Scheme comes under equity fund schemes. It has a minimum investment limit of 80% in stocks and was announced by the Ministry of Finance in 2005. It has a lock-in period of three years and is eligible for tax deduction under Section 80C of the Income Tax Act.
Q3. What are arbitrage funds?
Ans: Arbitrage funds profit from the difference between the same asset prices in two different markets by the simultaneous purchase and sell. This is considered a good option to profit from volatile markets without taking too much risk.
Q4. How are balanced and hybrid funds different from each other?
Ans: As the name suggests, hybrid funds are funds that invest in different asset classes. Primarily they invest in equity and debt funds in different proportions. On the other hand, balanced funds invest in stocks and instruments in equal proportions. These funds offer stability and come with low risk.
Q5. When can you avail of indexation benefits?
Ans: Indexation benefits can be availed in case of long term capital gains if the gain is derived from the sale of debt mutual funds. This allows the investor to recalculate and increase the purchase price of any asset to adjust the effect of inflation.
Before you go…
Want to put your savings into action and kick-start your investment journey 💸 But don't have time to do research? Invest now with Navi Nifty 50 Index Fund, sit back, and earn from the top 50 companies.
Disclaimer: Mutual Fund investments are subject to market risks, read all scheme-related documents carefully.
This article has been prepared on the basis of internal data, publicly available information and other sources believed to be reliable. The information contained in this article is for general purposes only and not a complete disclosure of every material fact. It should not be construed as investment advice to any party. The article does not warrant the completeness or accuracy of the information and disclaims all liabilities, losses and damages arising out of the use of this information. Readers shall be fully liable/responsible for any decision taken on the basis of this article.