Arbitrage funds are a type of equity-oriented hybrid mutual funds that generate returns by making use of a unique investment opportunity. Capital appreciation is the primary goal of investing in mutual funds. Many experts in the industry believe that leveraging arbitrage opportunities is the best way to achieve this goal.
Read on to know what Arbitrage funds are, how they work, benefits, risks, and if you should invest.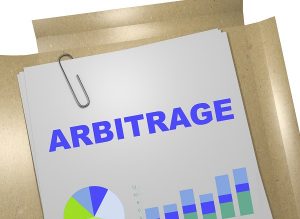 What Are Arbitrage Funds?
Arbitrage funds are equity-oriented hybrid funds that invest in a mispricing opportunity that comes from market volatility. They are quite different from most other schemes that wait for their assets to grow in terms of value.
Fund managers utilise price differences in two market segments (cash and future) or between two stock exchanges. So, the capital gain comes from the difference between the cost price and the selling price.
The price mismatch is generally a very short-term opportunity, but it can render considerable returns with less risk. However, if there are no opportunities with regard to mispricing, the fund invests in debt and money market instruments. Nonetheless, as the prices differences are tiny, the manager has to make several trades in a day to ensure decent profits.
How Do Arbitrage Funds Work?
As mentioned above, there are two arbitrage opportunities that a fund manager can utilise:
Price Difference between Spot and Futures markets
Before we proceed with how this mispricing works, let's understand what these two markets are.
Spot market:

Commonly referred to as cash or stock market, it is where investors buy or sell stocks in real-time.

Futures market:

It is a type of auction market where an investor buys or sells securities based on their future pricing. To invest in an expected future price, you will have to enter into a futures contract. On the maturity date mentioned in the contract, the transfer of securities takes place at the agreed-upon price.
Profit Difference between Two Exchanges
In 2018, SEBI introduced norms of the interoperability framework for trading stocks across different exchanges. Let's say that the shares of XYZ Company are trading at Rs. 100 on the National Stock Exchange of India (NSE) and at Rs. 115 on Bombay Stock Exchange (BSE).
If fund managers spot this rare price difference, they can buy the stock from NSE and sell it on BSE at the same time. Without any risk, the fund will generate a profit of Rs. 15 per share, excluding transaction costs.
Also Read: Why Should You Invest In Top 5 Arbitrage Funds?
Benefits of Investing in Arbitrage Funds
Recently, arbitrage funds have been gaining a lot of traction due to the following benefits that they offer:
Many individuals stay away from the world of mutual funds because of the risk factor. Fortunately, these equity-oriented hybrid funds offer the primary benefit of being a low-risk investment option.
Firstly, as one is buying and selling the same equity in different market segments at the same time, the investment is associated with low financial risk. Moreover, the fund does not face any long-term investment risk.
Secondly, their diversified portfolio (at least 65% in equity and a minimum of 35% in debt) helps reduce the risk further. The fund manager invests in debt when there are no mispricing opportunities, which makes the fund stable.
Protection Against Volatility
Market fluctuation and volatility become a major disadvantage for other equity-oriented mutual fund schemes. Fortunately, volatility works in favour of arbitrage funds. When the market is unstable, there are more opportunities for price differences between cash and futures markets.
The fund manager needs to identify the right opportunity because volatility can adversely affect both markets. But if the fund manager can do that, these funds perform the best during a volatile market.
Due to a higher proportion of asset allocation towards equity, these schemes are taxed as equity funds. Thus, based on the holding period, the returns will fall under the short-term capital gains (12 months or less) or long-term capital gains (more than 12 months) category.
For the first category, you will have to pay a tax of 15% (plus cess). Meanwhile, for LTCGs, you will pay a tax of 10% if your returns are above Rs. 1 lakh.
Risks of Investing in Arbitrage Funds
Before making any investment decision, it is crucial to know the risks that it carries. Despite offering some impressive benefits, arbitrage funds also carry the following risks:
As mentioned above, an arbitrage fund manager needs to make multiple trades a day to ensure decent profits, which results in high operating costs. This is why arbitrage funds have a high expense ratio.
Given that the expense ratio reduces the overall returns, investors should compare the expense ratio of various funds before making a decision.
Indeed, arbitrage funds offer risk-free returns, but these are not always assured. So far, it is clear that these schemes outperform if the fund manager picks the right opportunity during a volatile market. However, when the market is stable, the manager focuses on debt instruments, which can lower your returns.
Moreover, as short-selling is illegal in India, you might earn negative returns when the market is completely bearish. In these situations, the futures market might trade at a lower cost than the cash market.
Who is an Ideal Arbitrage Fund Investor?
Despite offering a low-risk investment opportunity with reasonable returns, arbitrage mutual funds in India are not ideal for all investors. The risk associated with these schemes is similar to pure debt funds, but they predominantly invest in equity. Thus, they are suitable investment options for those looking to invest in equity but have a low-risk appetite. Furthermore, if you are looking to hedge your portfolio against market fluctuations, arbitrage funds are a safe option.
Also Read: Best Low-Risk Mutual Funds
Final Word
Many investors stay clear of equity-oriented mutual funds because of their high-risk profile. But with the introduction of arbitrage funds, investors can now enjoy investing in equity and equity-related instruments at almost no risk. However, it is crucial that you understand how arbitrage funds work, benefits risks, and whether they are suitable for your investment portfolio.
FAQs on Arbitrage Funds
Do arbitrage funds come with tax benefits?


In India, only Equity Linked Savings Scheme (ELSS) mutual funds offer tax benefits. There are no tax benefits for arbitrage funds under Section 80C or any other section of the Income Tax Act. For taxation, these schemes will be treated as equity funds.

What is the role of an arbitrage fund manager?


Arbitrage fund managers play a significant role in spotting mispricing opportunities and capitalising on them to generate returns. Furthermore, they also have to allocate 35% of the assets towards high-quality fixed-income generating instruments. Thus, their asset selection decision can massively impact the capital gains.

Can arbitrage funds give negative returns?


Arbitrage funds are famous for carrying low risk and offering protection against volatility. Yet, during extremely bearish conditions, the futures market may trade at a lower price than the cash market. Thus, you might obtain negative returns in the short term.

What are the types of hybrid funds?
There are seven types of hybrid funds depending on investment objective and portfolio allocation. They are as follows:
Arbitrage Fund

Aggressive Hybrid Fund

Conservative Hybrid Fund

Multi-Asset Allocation Fund

Dynamic Asset Allocation Fund

Equity Savings Fund

Balanced Fund
Before you go…