Digital payment methods are opening alternative ways for cashless payments across the country. The government is taking initiatives to make the payment process cashless as much as possible. Cashless payments are hassle-free and time-saving, not to mention, that they also reduce the use of paper. Cashless payment can be made by a card or online payment options or UPI such as Google Pay, Paytm, and PhonePe. In this article, you will learn about RuPay vs Visa, the two prominent cashless payment modes, and understand which one to choose. Read on!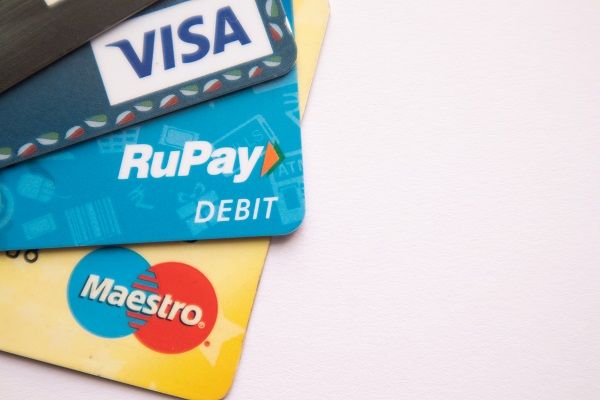 What is a RuPay Card?
RuPay is India's aboriginal payment network developed by the National Payments Corporation of India and introduced by the Reserve Bank of India in 2014. It was launched with the aim of making India's entry into the global payment market easier. The name is derived from 'rupee' and 'payment' to show India's originality in taking initiatives for cashless global payment.
What is a Visa Card?
A visa card, similar to RuPay in nature, is a cashless mode of payment and uses the Visa network to process its payments. Visa initially started with credit cards and gradually expanded its limit to debit cards, prepaid cards and gift cards. Visa cards are easily identifiable by the logo on the card and are issued by not Visa itself but the partner financial institutions. The card comes with a 16 digit number which is unique to every customer, a microchip and a magnetic strip.
Also Read: 8 Best Credit Card with Airport Lounge Access For Frequent Travellers
RuPay vs Visa Card: Which One to Choose?
If you own more than one payment card, the choice to use which and when depends on the type of payment you make. Following are some of the differences between RuPay and Visa, which will help you make your choice more wisely.
| | | |
| --- | --- | --- |
| Parameters | Rupay | VISA |
| Launched in | 2014 | 1958 |
| Card type | Debit | Credit/ Debit/ Prepaid/ Gift |
| Processing fee | Low | High |
| Transaction speed | Fast | Comparably slow |
| Withdrawal limitation | Anywhere in India | Within and outside of India |
| Insurance | Provided | Provided |
Considering the differences, both cards are essentially useful modes of payment. But Indians might benefit from using RuPay a little bit more than Visa.
Also Read: What Is The Difference Between Credit Card And Debit Card?
Final Word
This article provides you with an insight into an indigenous and a foreign method of payment – RuPay vs Visa. Both are equally useful while making payments anywhere in India. RuPay, being the aboriginal product of India, has some added benefits to it. It is provided by small sector and rural financial institutions as well, which is not available for the foreign payment gateways.
FAQs on RuPay vs Visa
Q1. Why are transactions made using RuPay faster than those made using Visa?
Ans: RuPay transactions are processed faster as they happen within and across the country, while Visa payments are slower as they are processed abroad.
Q2. Are there any charges paid by the financial institutions for RuPay or Visa?
Ans: Banks or financial institutions have to pay a quarterly fee to a foreign payment network such as Visa and MasterCard. But there is no such fee chargeable for RuPay network.
Q3. Is there an option to choose RuPay as your preferred payment method while opening a bank account?
Ans: Yes, you can choose RuPay from the available options while filling up the application form for opening a bank account.
Q4. What is the insurance coverage available under RuPay Insurance?
Ans: Under the RuPay insurance programme, a RuPay cardholder under the old PMJDY scheme is eligible for Rs. 1lakh, and under the new PMJDY, the insured amount is Rs. 2 lakh.
Q5. What is Visa payWave?
Ans: Visa payWave is the latest innovation in digital payment. It lets a customer make contactless payment at the point of sale. One can just wave the card or the phone where the card is saved to make the payment at check out.
Before you go…
Mutual Fund investments are subject to market risks, read all scheme-related documents carefully.
This article has been prepared on the basis of internal data, publicly available information and other sources believed to be reliable. The information contained in this article is for general purposes only and not a complete disclosure of every material fact. It should not be construed as investment advice to any party. The article does not warrant the completeness or accuracy of the information, and disclaims all liabilities, losses and damages arising out of the use of this information. Readers shall be fully liable/responsible for any decision taken on the basis of this article.