Individuals and business owners can avail of a term loan for various needs, although availed mostly by people running businesses. A term loan helps the business to meet its requirements when it comes to capital expenditure, expansion, etc. In this blog, you will learn about the vital details of a term loan, including its types, features, benefits and more.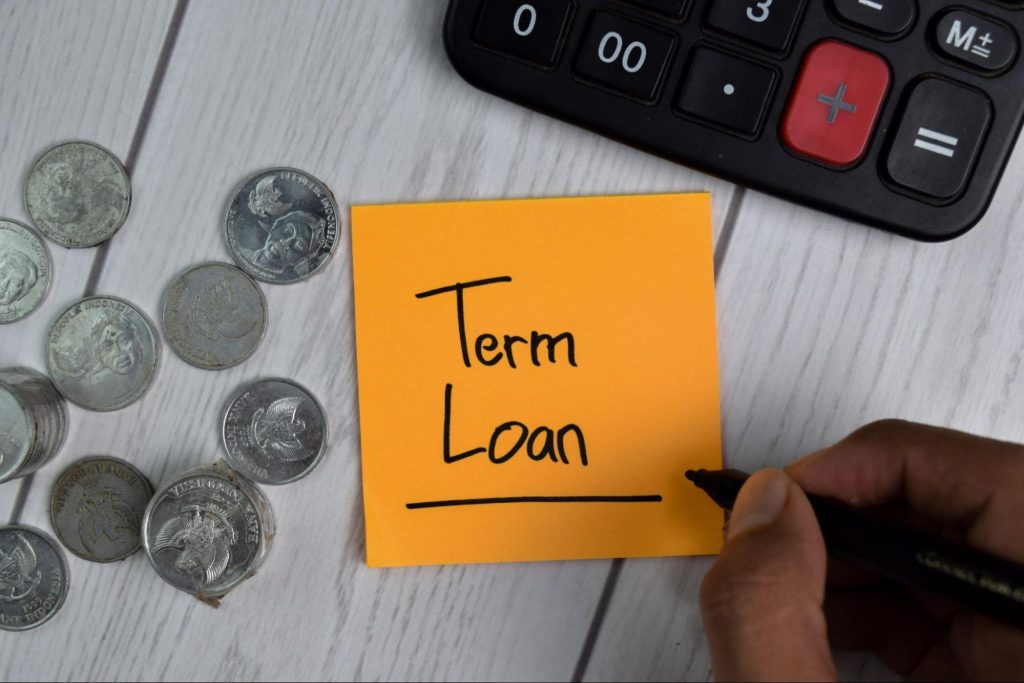 What is a Term Loan?
A term loan is a loan taken for personal or business purposes by a bank or other financial institution. These institutions offer short-term, long-term or intermediate-term loans at fixed and floating interests. It is often availed by businesses to raise funds for purchasing equipment or land, upgrading a business, maintaining cash flow in the business, etc.
Furthermore, term loans can be described as long-term debts raised by businesses with an EMI schedule for repayments. These loans can be both secured and unsecured.
However, only businesses that reflect good creditworthiness and maintain their financial statements receive term loans.
Types of Term Loans
Given below are the types of term loans:
Banks and NBFCs provide short-term loans to companies that are not eligible for a long tenure of credit. Short-term loans are generally provided for less than 12 months or up to maximum 18 months.
Financial institutions and NBFCs provide long-term loans to companies that provide their assets as collateral. The tenure ranges from 5 years to 10 years. The repayment schedule depends on the business's profit and cash flow. It can be either monthly or quarterly.
Newly established companies avail of intermediate term loans where the tenure ranges from 2 years to 5 years. These loans play an important role in maintaining the cash flow of a business.
How Does a Term Loan Work?
Given below are the details illustrating how a term loan works:
First, borrowers have to meet the eligibility criteria of lenders. The loan amount gets fixed after the type of term loan is determined. Every term loan comes with a fixed amount.
Tenure of repayment is fixed
There is a fixed tenure of repayment. The lender decides it when you avail the loan.
Need for collateral is decided
You can avail term loans through both secured and unsecured credit. This will, however, depend on the eligibility of the borrower.
Floating or fixed rate of interest
The borrower decides whether he wishes to opt for a floating or fixed interest rate. However, term loans usually have fixed interest rates.
You need to pay EMIs as per the repayment schedule. For example, every term loan has a fixed repayment schedule. You can calculate their EMIs with the help of an online EMI calculator.
Features of a Term Loan
The features of term loans are as follows:
Lender and borrower negotiate the interest rate at the time of distribution of the loan
Borrowers can repay in instalments if the term loan tenure ranges from 5 to 10 years
The borrower needs to repay the loan as per the fixed schedule
If the business is going through financially rough times, the lender should be aware of it. In such situations, financial institutions can reschedule the tenure
Interest rate is higher for unsecured term loans
As per applicable terms and conditions, term loans get converted into equity holding
In case of defaults, the lender will levy penalties
Lender charges a commitment fee on the loan amount that one has not utilised
Advantages of a Term Loan
The advantages of term loans are as follows:
Term loans are a popular option for short-term and medium-term financing because they are least expensive.
You can easily negotiate the conditions of term loans. Moreover, the terms and conditions are flexible as well.
You can easily avail these loans without going through much hassle. The application process is easy
Term loans stand for debt financing, i.e. equity shareholders don't lose their interest. They don't even have to face dilution of equities.
As per the Income Tax Act rules, borrowers can avail of many tax benefits on the interest they pay for term loans.
Disadvantages of a Term Loan
The disadvantages of term loans are as follows:
Debt financing is beneficial only if the inward return rate is more beneficial than capital loss. Term credits raise a business's financial risk.
If the borrower cannot stick to the repayment schedule, it might affect his/her liquidity.
How to Apply for a Term Loan?
Given below are the procedures for applying for a term loan online:
Step 1: Visit the official website of the financial institution
Step 2: Select term loan from the available loans
Step 3: Click on 'apply'
Step 4: Fill up the application form
Step 5: Attach and submit the necessary documents like age/income/address/identity proof
Step 6: Wait for the lender to scrutinise your application and sanction the loan
Also Read: Apply For Short Term Loans In India: Benefits, Eligibility Criteria, Steps to Apply
Eligibility Criteria for Applying for a Term Loan
Given below are the eligibility criteria for availing of a term loan:
Minimum age of the applicant has to be 18, and maximum age has to be 65
The borrower needs to have a CIBIL score of 750 or above
The applicant needs to have a good repayment history and creditworthiness
Applicants shouldn't have any history of default with any lender
Applicants need to have a regular source of income
The criteria will, however, vary from lender to lender.
Documents Required for Applying for a Term Loan
Given below is the list of documents that an applicant would need for applying for a term loan:
Bank statements for the previous 12 months
KYC documents – Identity, Age, Address proof
Filled up application form with passport size photograph
Also Read: Apply For Long-Term Loans: Eligibility, Documents & Benefits
Final Word
To sum up, business owners can avail of a term loan to fulfil their business requirements. They can choose short-term, long-term or intermediate-term loans based on their requirements. Term loans have many advantages that you, as a borrower, can benefit from.
FAQs on Term Loan
Q 1.
What factors influence the repayment schedule of a term loan?
Ans: The repayment schedule of a term loan depends on the following factors:
Cash flow
Debt service coverage ratio
Repayment capacity
Q 2. Can I avail  for a term loan for expansion of my business?
Ans: Yes, you can easily avail a term loan to expand your business. A long-term loan is a more suitable option. This is because you can avail of a large sum of money. Short-term loans are a good option if the borrower doesn't require a large amount.
Q 3. Which is better – a short-term loan or a long-term loan?
Ans: Compared to a short-term loan, long-term loans have a low rate of interest and EMI. But short-term loans are a good option if you need money on an immediate basis. Financial institutions emphasise the borrower to pay back long-term loans. However, you need to consider your business needs and then decide which one to opt for, short-term or long-term loans. 

Q 4. What is the loan amount of a short-term loan?
Ans: When it comes to short-term loans, the amount of money ranges from Rs. 5,000 to Rs. 3 lakh. Talk to your lender to find out what is the loan amount that they are offering for a short-term loan and decide accordingly.

Q 5. What is a term loan EMI calculator?
Ans: A term loan EMI calculator is an online calculator. It helps the borrower to calculate the monthly instalments for repaying the loan. With this online calculator, you can easily check the EMIs, total amount payable and total interest payable. 

Before you go…
Looking for instant 🚀 personal loans 24*7 anywhere, anytime? Get personal loans up to ₹20 lakh starting at 9.9% p.a. Install the Navi app now!
Disclaimer: This article has been prepared on the basis of internal data, publicly available information and other sources believed to be reliable. The information contained in this article is for general purposes only and not a complete disclosure of every material fact. It should not be construed as investment advice to any party. The article does not warrant the completeness or accuracy of the information, and disclaims all liabilities, losses and damages arising out of the use of this information. Readers shall be fully liable/responsible for any decision taken on the basis of this article.