Mr Singh wishes to invest in mutual funds in order to fulfil his financial goals. However, he might want to consider certain factors concerning a scheme before investing. One such aspect is the total expense ratio (TER).
TER in mutual funds is the fee that an asset management company (AMC) imposes every year on investors to cover the cost incurred for running a mutual fund scheme. It is computed as a percentage of the overall assets under management (AUM). Generally, the TER consists of a base TER, additional expenses as per Regulation 52(6A)(b) and 52(6A)(c), and Goods and Services Tax (GST).
Like Mr Singh, if you too plan on investing in mutual funds and want to know everything about the Total Expense Ratio, read on!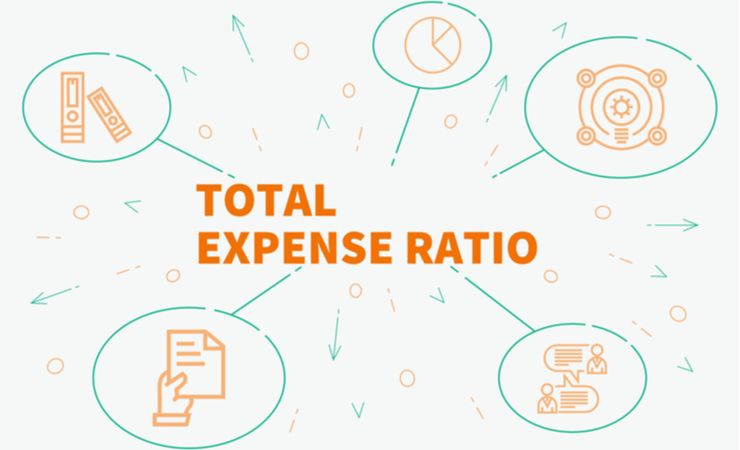 How is the TER Decided and Charged?
Asset Management Companies (AMC) charge the expense ratio based on the rules and regulations of the Securities and Exchange Board of India. The guidelines concerning TER in mutual funds are different for non-equity oriented and equity-oriented mutual fund schemes.
Here's a tabular representation of the maximum TER that a fund house can charge for different types of mutual fund schemes:
| | | |
| --- | --- | --- |
| Assets Under Management | TER for equity-oriented funds | TER for non-equity oriented funds |
| On the first Rs. 500 crore | 2.25% | 2.00% |
| Next Rs. 250 crore | 2.00% | 1.75% |
| Next Rs. 1,250 crore | 1.75% | 1.50% |
| Next Rs. 3,000 crore | 1.60% | 1.35% |
| next Rs. 5,000 crore | 1.50% | 1.25% |
| Next Rs. 40,000 crore | TER reduction of 0.05% for every increase of Rs. 5000 crore of daily net assets or part thereon | TER reduction of 0.05% for every increase of Rs. 5000 crore of daily net assets or part thereon |
| Above Rs. 50,000 crores | 1.05% | 0.80% |
Now let's take a look at some charges that AMCs may levy over and above TER:
Brokerage and transaction costs: Not exceeding 0.12% in case of cash market transactions and 0.05% in case of derivatives transactions
Expenses not more than 0.30% of daily net assets contingent on specific minimum inflows from B30 (beyond the top 30 cities)
Besides these, note that a fund house can levy additional expenses of up to 0.20% of the daily net assets of a scheme. That said, such additional expenses are not applicable for close-ended schemes, ELSS funds or any scheme that does not have an exit load.
Also read: Top 10 Demat accounts in India in 2022
Components of TER in Mutual Funds
Fund management fees
This constitutes a key component of the total expense ratio. In order to meet the cost of running an office, recruiting staff and managing funds, AMCs deduct this fee from the fund corpus. This is a fixed cost that is higher for active funds than passive funds.
GST
For the fund management services provided by AMCs, an investor needs to pay GST. The current GST rate stands at 18%, making it a crucial cost component of mutual funds.
Transfer agent fee
The transfer agent in mutual funds plays a similar role as the registrar of equity investment. A registrar takes care of all the unit holder services such as fresh investments, redemptions, account management, and corporate actions, including dividend payouts. In India, CAMS and Karvy are the principal transfer agents that hold such activities.
Commissions and brokerage
In mutual funds, there are two kinds of payable commissions – brokerage and statutory charges. These are payable due to the execution of transactions in debt and equity as part of routine portfolio management and commissions to the distributors who sell the products.
Marketing and operating costs
The costs incurred on daily operations are the operating costs. It includes marketing expenses, such as the cost of advertising, branding, promotional activities and more. Note that if you invest in direct plans of mutual fund schemes, fund houses do not need to pay commission to the third-party agent (broker or distributor).
How Does TER Impact the Returns of a Fund?
Since TER in mutual funds is a percentage of the overall fund assets, it has a significant impact on investors' returns.
For example, let's say that a mutual fund scheme has a TER of 2.25% and generates a profit of 18%. Thus, the total returns on the investment will stand at 15.75%. It is evident from this example that a lower TER will result in a higher profitability rate.
Nevertheless, a higher TER does not necessarily mean lower returns as it also depends on the funds under management. You might still want to keep a lookout for this aspect as it directly affects the fund's Net Asset Value (NAV).
Additionally, investors might want to compare the TER of different funds and ensure the costs do not outweigh the benefits.
Also read: Key differences between SIP and mutual funds
Example Showing Calculation of TER
To understand TER calculation, you might want to consider the following illustration:
An equity mutual fund manages total assets worth Rs. 200 crores. The administrative fees associated with this fund is Rs. 80 lakh and management fees is Rs. 90 lakh. In addition, there are other expenses that amount to Rs. 50 lakh.
Therefore, Total expenses = Administrative costs + management fees + additional expenses
= Rs. (80,00,000 + 90,00,000 + 50,00,000)
=Rs. 22,000,000
TER = Total expenses/Total assets
= 22,000,000/2,00,00,00,000
= 0.011 or 1.1%
Now that you know the calculation of TER, you might want to compare various funds with respect to their expense ratios and choose the best suitable option. In this regard, you may consider investing in the Navi Nifty 50 Index Fund offered by Navi. This fund comes with the lowest expense ratio (0.06%). You can start investing in the Navi Nifty 50 and other Navi Mutual Funds through Zerodha, Paytm Money and Groww, to name a few.
Final Word
When choosing a mutual fund scheme, it is imperative that you compare the expense ratio of different funds in the same category. That said, considering the TER in mutual funds is not enough. Make sure to take into account other vital aspects, such as your financial goals, the experience of fund managers, and past returns of the scheme before investing.
Frequently Asked Questions
Q1. Why does an index fund have a lower TER than equity funds?
Ans: An index fund has a lower total expense ratio than equity funds or any other active funds as its management costs are low. Index funds are passively managed funds where fund managers simply track the underlying benchmark index. This is why they charge a lower management fee.
Q2. Why is the TER of a direct plan lower than that of a regular plan?
Ans: In the case of regular plans, fund houses pay out commissions to brokers and distributors who sell several products to their customers. To procure clients, one might need to pay upfront brokerage, and for retaining clients in the fund, there is a trail commission. However, in the case of direct plans, AMCs need not pay any distribution fees as no financial intermediary is involved. Due to this, the TER in mutual funds is lower for direct plans than regular plans.
Q3. How does the expense ratio affect NAV?
Ans: Here's the formula for net asset value (NAV): 
NAV = [Overall Assets – (Total Liabilities + Total Expenses)] / Number of outstanding units
As you can see, the expenses of the fund are taken into account when computing NAV. Accordingly, the higher the expenses, the lower will be the fund's NAV.  
Q4. Why should one be extra careful while choosing debt funds with respect to their expense ratios?
Ans: Debt funds generally yield lower returns than equity funds. For instance, let's say you choose a debt fund with an expense ratio of 2%. Considering the average returns of a debt mutual fund scheme is between 6%-9%, you might consider choosing a fund with a minimum expense ratio for maximum returns.
Q5. How do AUM changes have an impact on TER?
Ans: AUM is the total value of assets held in a mutual fund scheme's portfolio. As per SEBI regulations, AMCs can charge the maximum expense ratio based on the AUM. Therefore, if there is a change in a fund's AUM, its expense ratio also changes.
Before you go…
Disclaimer: Mutual Fund investments are subject to market risks, read all scheme-related documents carefully.