As per SEBI (Securities and Exchange Board of India), equity mutual funds must allocate a minimum of 65% of their investment corpus to stocks. Investing in such mutual fund schemes involves a certain amount of risk owing to market volatility. However, with equity funds, you can enjoy higher returns than debt funds.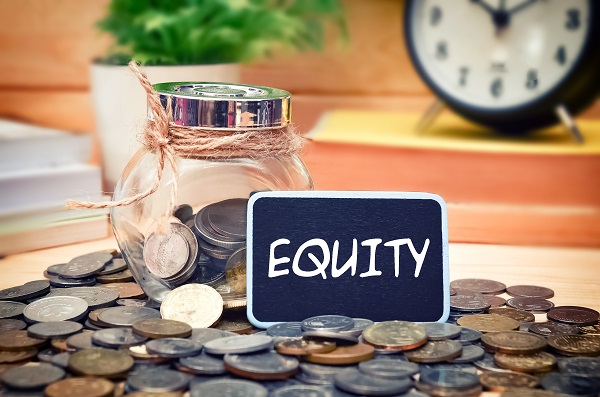 What Are Equity Mutual Funds?
Equity funds primarily invest in equity shares of different companies. Fund managers of such funds attempt to generate maximum returns by diversifying the investment across various sectors and different market caps. Equity mutual funds can generate much better returns than debt funds or term deposits.
However, since these funds mainly invest in equity, their performance is impacted due to price fluctuations in the stock market. As a result, there is a considerable amount of risk associated with investments in equity funds. 
Also Read- How To Invest In ELSS Funds?
Who Should Invest in Equity Mutual Funds?
If you can take high risks and are looking to earn higher returns than debt funds or bank fixed deposits, equity funds can be a suitable option for you. That said, since they carry high financial risk owing to stock market volatility, you must assess your risk profile before investing.
Equity funds are further segregated into various types based on factors, such as market cap and investment strategy. Make sure to invest in a fund that's in line with your financial goals. To know more about the various kinds of equity funds, read on.
Types of Equity Funds
Here, we have mentioned the types to help you understand equity mutual funds in a better way.
Sectoral/thematic funds
When equity funds invest in a specific market sector like – IT, BFSI, Pharmaceutical, etc., they are referred to as sectoral funds. Such funds bear high risk and offer less diversification as they focus on a particular theme or sector. 
Focused Equity Fund
As per SEBI guidelines, these funds invest in a maximum of 30 stocks. They do not spread their investments over a large number of sectors. Fund managers of focused equity funds pick stocks based on the fund's mandate to earn maximum returns for investors.
Contra Equity Fund
Such equity schemes follow a contrarian strategy when investing the fund corpus. Such equity funds analyze the market to figure out low-performing stocks. After that, these equity funds purchase these stocks at lower prices under the assumption that they will perform well in the future.
Small-cap Funds
Such funds invest a minimum of 65% of their total assets in equity shares of small-cap companies. Such organizations are placed at the 251st position and below in terms of market capitalization. These schemes are likely to offer greater returns than the mid-cap and large-cap mutual funds. At the same time, these funds carry higher financial risk.
Mid-cap funds
These funds invest a minimum of 65% of their fund corpus in equity shares of mid-cap firms. Mid-cap companies refer to organizations that are ranked between 101 and 250 with respect to market cap. These mid-cap funds tend to offer higher returns than the large-cap schemes. However, they are riskier than the latter.
Large-cap funds
They invest at least 80% of their total assets in equity shares of large-cap companies. Such companies are well-known firms with a proven track record. The returns from these funds are more stable compared to both small and mid-cap funds.
Multi cap funds
Such funds invest in shares of large-cap, mid-cap, and small-cap companies. Thus, such funds maintain a diversified portfolio. As per regulations of SEBI, these funds will have to invest at least 25% of the fund corpus in each of the large-cap, mid-cap, and small-cap stocks. 
These funds capitalize on the various opportunities across various market caps to generate optimum returns for investors.
Large and midcap funds
These funds invest a minimum of 35% in large-cap stocks and at least another 35% in mid-cap stocks. After meeting the asset allocation requirements, fund managers of such schemes decide where to invest the remaining portion of the fund corpus. Funds that aim to generate higher returns will have more exposure to mid-cap.
Moreover, they might even choose to add small-cap stocks to the portfolio. That said, fund managers might allocate funds to large-cap stocks if they wish to keep the volatility in check.
Also Read- Difference Between SIP And Mutual Funds
ELSS or Equity Linked Savings Schemes
Such schemes help you save tax on your mutual fund returns. Under section 80C of Income Tax Act 1961, ELSS offers tax deductions of up to Rs. 1.5 lakh. As per the rules of SEBI, such schemes must invest at least 80% of their pooled funds in equity or equity-linked instruments. Note that in the case of ELSS schemes, there is a lock-in period of 3 years.
Why Invest in Equity Funds?
Here we have mentioned why equity funds are an advantage for an investor. Check the reasons below.
Diverse portfolio
As mentioned above, equity funds are available in various forms to suit different investors seeking equity exposure. You can invest in a multi-cap fund to enjoy balanced returns at minimum risk. However, you may also consider investing in small or midcap funds if you are looking to earn higher returns. But note that the risk is higher in the case of small and mid-cap funds.
A convenient option
Investing in mutual funds is a convenient option for those who are not comfortable with direct equity investments. Also, equity funds can provide high returns along with stability in the long run.
Mitigation of risk
Equity funds are generally managed by fund managers of any asset management company who constantly tracks the performance of the market. They make investments backed with their vast experience to help you earn maximum returns while mitigating risk through diversification.
SEBI regulations
SEBI closely monitors equity funds and regulates them when required. As a result, all funds have to disclose their NAVs, month-end portfolios, expense ratios, etc., to maintain transparency.
Taxability in Equity Funds
In the case of equity mutual funds, any returns earned against the sale of units within 12 months will be considered as short-term capital gains (STCG). Such gains are taxed at a flat rate of 15%.
On the other hand, the returns earned after selling a mutual fund after 12 months are known as long-term capital gains (LTCG). Returns exceeding Rs. 1 lakh will get taxed at a rate of 10%. Note that no indexation benefit is available in this case.
How to Save Tax on Equity Funds?
For saving taxes against your mutual fund returns, you may consider investing in equity-linked insurance schemes. It is the best tax saving option as per section 80C of the Income Tax Act 1961. In the case of equity-linked schemes, you will get tax deductions of up to Rs. 1.5 lakh as per section 80C of the Income Tax Act, 1961.
Also, note that in the case of long-term capital gains, no tax will be levied on returns of up to Rs. 1 lakh.
When to Invest in Equity Mutual Funds?
There is no specific time to invest in equity funds. However, your decision to invest must be in sync with your investment objectives, investment horizon, and risk profile. Also, before investing, you must do some search on the current market conditions and also consider certain factors, such as the past performance of the fund, experience of the fund manager, expense ratio, etc.
Everyone has some financial goals that are unique to them. These objectives can be short-term, mid-term, and long-term. Such goals accordingly drive your investments in financial instruments. Normally in mutual funds, if you have a long-term investment horizon, it is beneficial owing to the power of compounding.
Things to Consider When Investing in Mutual Funds
You must make sure to consider the following aspects before investing in equity mutual funds:
Investment Goal
First, decide on your investment goal before choosing to invest in mutual funds. Your investment goal can be financing your child's higher education, building a retirement fund, etc.
Performance of the Fund
It is necessary to consider the performance of a mutual fund before parting with your savings. This gives you an idea regarding the consistency of the fund and whether it is being able to fulfil the goal that it was set up to fulfil.
Expense Ratio
It is a fee charged by fund houses every year for managing a mutual fund scheme. Before allocating your money to any scheme, check the expense ratio and compare it with the category average.
Fund Manager's track record
You must check the credentials of a fund manager before investing in a mutual fund. After all, whether or not a fund can achieve its objective depends on the fund managers' skillset and experience.
How Can You Invest in Mutual Funds with NAVI?
You can simply go to the play store and download the Navi app to park your savings in any of the mutual equity funds offered by Navi. You can start investing through a SIP with an amount as low as Rs. 500. Alternatively, you can opt for a lump sum investment. The following are some benefits of investing via Navi's mobile-based application:
Easy to use user interface
No transaction fees
100% paperless KYC and zero transaction charges
You will get all the facilities on this app to make your investment dream come true!
Final Words
Equity funds are thus of various types and offer returns to investors based on their financial goals. Some funds offer high returns but come at greater risk, while some offer stable returns at lower risk. So, it all depends on your investment goals.
Frequently Asked Questions
Q1. What is a lock-in period in mutual funds?
Ans: The Lock-in period of mutual funds refers to the time duration for which you are not allowed to redeem the fund units either wholly or partially. 
Q2. What is SIP in mutual funds?
Ans: SIP stands for a systematic investment plan. It is a way of investing in mutual funds and is quite useful as mutual funds are an unpredictable game. Through SIP, you can invest a fixed sum of money regularly in a mutual fund. A SIP ensures that you are invested at the high as well as low points. 
Q3. Is FD better than equity funds?
Ans: FDs offer you fixed returns with minimal risk. In comparison, mutual funds offer higher returns, but the associated risk level is higher as well. Make sure to consider aspects, such as investment objectives, risk appetite, etc., before deciding whether to opt for a bank FD or a mutual fund scheme.
Q4. Do equity funds come with a lock-in period?
Ans: ELSS funds are the only sub-category of equity funds that come with a lock-in period of 3 years. No other has a lock-in period; you can redeem your units after placing a redemption request.
Q5. Should I invest in a large-cap or multi-cap fund?
Ans: Whether you should opt for a large-cap fund or a multi-cap fund depends on factors, such as your risk appetite, financial goals, etc. Make sure to consider these aspects before making a decision.
Before you go…
Looking for instant 🚀 personal loans 24*7 anywhere, anytime? Install the Navi app now!
Or, maybe you're looking to buy that house you've been eyeing 🏠 and you need a loan of up to Rs. 5 crores. Install the Navi app now and get your instant in-principle approval right away! Interest rates starting at 6.40% p.a.
How about an affordable health insurance policy 👨‍⚕️ starting at a monthly premium of just Rs. 241? Install the Navi app and get your policy in under 2 minutes
Instead, want to put your savings into action and kick-start your investment journey 💸 But don't have time to do research. Invest now with Navi Nifty 50 Index Fund, sit back, and earn from the top 50 companies.
Disclaimer: Mutual Fund investments are subject to market risks, read all scheme-related documents carefully before investing.