Index funds have been around in India for a couple of decades now, but have started gaining more and more popularity recently. According to Morningstar Research in the United States, for 2018, index funds saw an inflow of $458 billion while actively managed funds saw an outflow of $301 billion. Similar trends are emerging in India as well.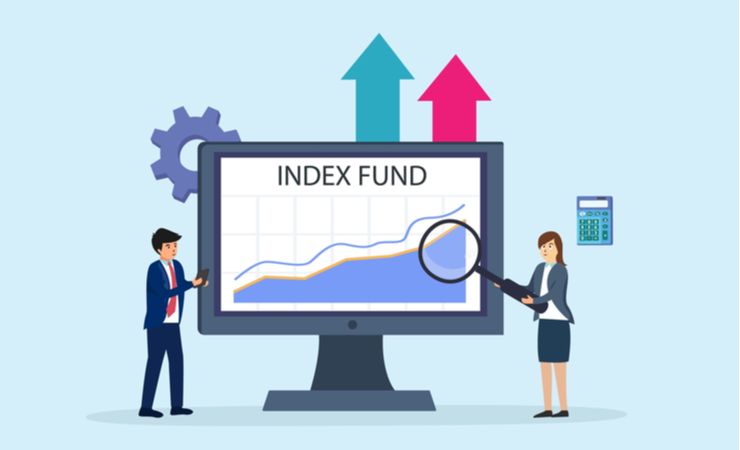 What is an Index Fund and How Does it Work?
An index fund is a type of mutual fund that mimics a given financial market index eg. NSE Nifty, BSE Sensex, etc. There is an index fund for nearly every existing market. A financial index typically consists of a portfolio of stocks with each stock assigned a weightage. An index fund mimics an index by investing in the same set of stocks in the same weightage as the underlying index. Such funds are therefore a passive form of investment, where, unlike an actively managed fund, the investment strategy does not change frequently.
Advantages of an Index Fund
Lower Cost
Since index funds are passively managed, they are inexpensive in terms of their operating cost (a.k.a. expense ratio) compared to actively managed funds. This is because the fund manager does not need a team of analysts or researchers for stock-picking and market-timing. Good index funds offer an expense ratio in the range of 0.2%-0.3% while actively managed funds typically charge 1.5-2.5%. This could mean a significant difference in your overall returns depending on your portfolio.
Diversification
Diversification is a key aspect of an individual's investment portfolio. A well-diversified portfolio is less volatile and a safer mode of investing. Index funds provide a broad market exposure as they invest in all the stocks that form a given index and as an investor you don't need to worry about diversification.
Can Provide Better Returns
Generating returns better than the market is extremely hard. All actively managed funds try to outperform the market but few ends up actually doing that. For instance, in the last 5 years only 11 % of actively managed large-cap funds in India have performed better than the benchmark index. A higher expense ratio of these funds also plays an important role in overall returns. Index funds tend to perform better than most funds in the long term. So, if you're looking for investing in a fund for the long term then index funds are the way to go. As a matter of fact, over the past couple of years, index funds have been performing at par if not better than actively managed equity funds. You can choose to invest in some of the best performing index funds if you're going for long-term investments.
Who should Invest in Index Funds?
Before investing in mutual funds, you should consider your investment horizon, goals, and risk appetite. Though considered by most risk-averse investors, you should do enough research on fund performance before investing. However, if you're looking for broad market exposure or are just starting out investing in equities, index funds could be a good investment avenue. For instance, if you want to invest in equities but are wary of the risks associated with actively managed equity funds, you can opt for a Nifty or Sensex index fund.
Things to Keep in Mind while Choosing an Index Fund
Expense ratio
Expense ratio denotes additional charges levied by mutual funds to finance its expenses, including operational costs, maintenance fees, and allocation charges, to name a few. Different index funds offer different expense ratios. The lower the expense ratio, the better it is.
Tracking error
Tracking Error is the difference between the actual returns of the portfolio compared against the benchmark index. It's an indication of the performance of the fund. Even though index funds are perfectly indexed against the benchmark, some divergence can creep in. A positive tracking error means that the fund has performed better than the benchmark and vice versa.
Benchmark Index
As there are index funds for virtually every market index, it's a critical factor in decision making. A large-cap based index (Nifty 50, Sensex) may be more reliable and consistent. While a small-cap index (NIFTY Small cap 100, BSE Small cap) may offer higher returns but comes with an increased risk.
Buy direct
Like all mutual funds, index funds can also be bought in two modes – direct (via the fund's AMC) and regular (via a distributor). A regular fund may charge as high as 2% as commission for the distributor, making the overall returns lower. Direct funds are the way to go.
Market trends
A bullish market will always give a positive return while a bearish market will give a negative return. This is because an index fund mimics the market despite the underlying market conditions. Make use of SIP investments to stay invested at all times. If you are starting your investment journey, you can start with an amount as low as Rs.500.
Duration of investment
Markets may be prone to fluctuations in the short term but are generally bullish in the long term. Invest for the long term to get reliable returns.
Final Words
Investing in Index funds can be a good option if you're looking for better returns in the long run. Ideal for long-term investments, passive funds can give your broader market exposure. For instance, if you decide to invest in the Navi Nifty 50 Index Fund or Navi Next 50 Index Fund, you can enjoy exposure to top stocks spread across varied sectors, ranging from pharma to financial services.
Happy indexing!
FAQs on Index Funds
Q1. Can index funds guarantee better returns than active funds?
Ans: There's nothing called "assured returns" when it comes to mutual funds. Similarly, it's impossible to provide assurance that index funds will give better returns than actively-managed funds. However, index funds have the ability to give you broader market exposure. And going by recent records, index funds have been performing better than active funds. But then again, markets are unpredictable. So, if you're just starting out, do substantial research and invest in the best-performing funds to steer clear of any risk.
Q2. Can I withdraw my index fund returns anytime?
Ans: An open-end index fund scheme can be redeemed anytime. However, for Equity Linked Saving Schemes (ELSS Funds), you can only redeem after the completion of the 3-year lock-in period.

Q3. Can I invest in index funds for a short period of time and expect high returns?
Ans: Index funds perform better in the long run. So, investing in index funds for a short period of time might not be the best idea. However, it has the potential to give you better returns if your investment horizon is 7 years or more. 
Q4. What is the Nifty 50 Index Fund?
Ans: Nifty 50 is the benchmark in the Indian Stock Market. It is an index that represents the average of 50 of the largest Indian companies listed on the National Stock Exchange. Nifty 50 Index Funds are usually open-end schemes that aim to achieve return equivalent to the Nifty 50 Index by investing in stocks of companies comprising the Nifty 50 Index.
Before you go…
Disclaimer: Mutual Fund investments are subject to market risks, read all scheme-related documents carefully before investing.