A small business loan allows an individual to invest in operations, infrastructure, machinery and equipment. As a result, individuals can grow their small businesses efficiently. Moreover, they can pay back the loan amount in small instalments every month.
Further, business owners can customise their small business loan to fit their requirements.
Read along to know more about small business loans!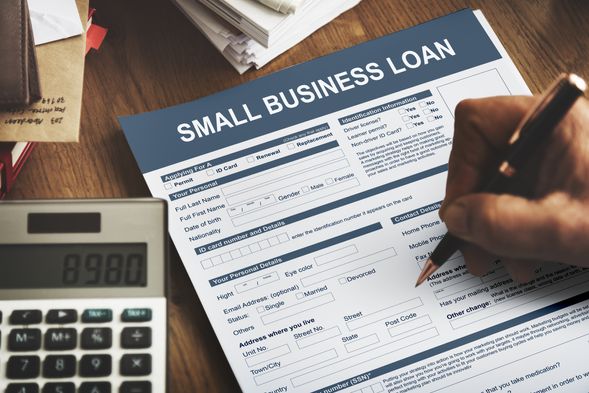 What Is a Small Business Loan?
Business owners can use the funds coming from small business loans for various purposes like working on capital or using them for renovations, hiring new staff or acquisitions. Moreover, when a bank or financial institution assesses an individual's eligibility for a loan, they look into various factors such as the condition of the business, cash flow and the collateral.
Furthermore, different kinds of business loans are available for start-up and women business owners.
Also Read: Features And Benefits Of A Business Loan EMI Calculator
What Are The Different Types of Small Business Loans?
Small businesses require additional funds to meet their daily business requirements. Besides, these micro and small enterprises need funds during the initial setup stages. As a result, these small and micro business owners need to know about the various types of small business loans to get financing through proper channels for their company.
The list below shows some common types of small business loan for new business:
Credit Line/Bank Overdraft
Individuals can avail of this facility from banks and online money lending institutions. Here the institution allows a revolving credit facility to business owners. They can withdraw money up to an approved limit from their business accounts even if the actual balance in the account is low. Further, the excess amount is considered a loan, and the individuals have to repay the excess amount plus the interest in the account.
Short-Term Loans
These loans have a small ticket size due to their smaller repayment window. Ticket size in the aspect of a loan refers to loan amounts which are usually below ₹1 lakh in value. Generally, financial institutions give out these loans for 3 to 18 months. Moreover, these loans are meant for limited capital investment and working capital finance.
Also Read: Apply For Short Term Loans In India: Benefits, Eligibility Criteria, Steps to Apply
Equity Funding
One can disinvest their shares in the company in return for capital investments. It is a widespread practice in developed markets like the USA. However, it is a less preferred option in India as it accompanies the risk of diluting the ownership. Nonetheless, business owners can retain the opportunity to buy back shares. This way, once the investment objective is met, the owners can get back their preferred number of shares in the company.
Trade Creditor
When a supply provides goods and raw materials to the business owner but has not been paid yet is considered a trade creditor. It is a common practice for small and micro business owners. Besides, the owner's payback the suppliers in bulk when they have access to funds for the credit they owe. This can be considered a form of MSME business loan, possible only when there is massive trust between the business owner and supplier.
Also Read: Section 115 QA – Income Tax on Buyback of Shares
Equipment Finance
Equipment financing is a prevalent form of a start-up loan. It is an excellent way of improving cash flow and working capital. In this case, the business owner keeps the tools and machinery from his business as collateral. As a result, the lender can take over the equipment when the owner defaults.
Factoring/Advances
According to this arrangement, the factoring company pays the money in advance to the business owner for receivables. However, a certain percentage is paid instead of paying the total amount. Usually, 70%-90% of the invoice value is paid, which is retained to cover unforeseen charges.
Loan on Accounts Receivables
Invoice financing is another term used to refer to this kind of loan. These are short-term credits given to small and micro businesses in return for account receivables. The only shortcoming of this type of loan is that only SMEs with commercial clients can avail of this loan.
Government Small Business Loan
The government of India provides special schemes for new businesses to boost their sales and capacity. Moreover, it offers loans to the elderly, women and people belonging to minorities to fund their ventures.
What Are The Benefits Of a Small Business Loan?
Small business loans have certain benefits like:
Easy accessibility.
They have multiple repayment options.
Hassle free application process.
One can customize solutions.
Quick fund disbursal.
Interest rates are affordable.
Provides tax benefits to business owners.
Helps in managing business finances better.
It does not always require a collateral.
What Are The Eligibility Criteria for Small Business Loans?
The criteria that a business owner must fulfil to become eligible for a small business loan are:
A borrower should be a self-employed professional like a manufacturer, trader or retailer.
The minimum age to apply for small business loans is 21 years, moreover, the maximum age at the time of maturity should be 65 years.
Borrower's company's minimum turnover should be ₹10 lakh in the last 12 months.
Lastly, the business should have been running for the last 3 years, and the owner(s) should have 5 years of experience .
Rate Of Interest That a Financial Institution Offers for New and Small Business Loan
Interest rates that a financial institution offers to small businesses range from 11%-30 % per annum for a loan amount extending up to 1 crore. Further, the loan tenure will depend on the borrower's loan amount.
What Are the Documents Required?
The following documents are required to apply for a small business loan:
Proof of Identity- Aadhaar Card, Voter ID card, Passport, etc.
Address Proof- Passport, Voter ID card, Utility Bill, etc.
Bank statements dating back to 6 months
Business Income Tax Certificate
Chartered Accountant certified balance sheet showing profit/loss of last 2 years
Proof of Business- Trade license, Establishment license, etc.
Sole/Partnership proprietor deed
House/Commercial property documents- for secured loans
How To Apply For a Small Business Loan?
The process of applying includes the following three steps:
Check the criteria
Submit application and documents
Wait for approval of a loan from the financial institution
Final Word
Individuals who have a small business or require funding to start their business venture should research different banks and financial institutions. This will help them find the right institution that will match their requirements. Further, one should check their eligibility for a loan amount beforehand. Finally, business owners should keep all their documents before applying for a small business loan.
FAQs on Small Business Loan
Q1. What is the best way to pay the EMIs of my small business loan?
Ans: You can pay your EMIs to the lender through standing instructions where the money will be auto-debited. Further, you can use net banking options to pay your EMIs timely. Besides, you can also give your lender an outdated cheque.
Q2. Is my CIBIL score essential to get a business loan?
Ans: Yes, your CIBIL score is crucial to get your loan approved. Moreover, most lenders look for a score that is more than 685 to approve the loan.
Q3. Is there any advantage offered to women from NBFCs and banking institutions while applying for a small business loan?
Ans: Certain financial institutions may provide a few advantages for business loans for women.
Q4. How to speed up my loan approval process?
Ans: In order to speed up the loan approval process, you should thoroughly follow the loan application process. Moreover, you should also provide all the documents in time.
Q5. Can I apply for a loan if I have a low credit score?
Ans: Yes, you can apply for a loan even if you have a low credit score. However, there is a high chance your interest rates will be high.
Before you go…
Mutual Fund investments are subject to market risks, read all scheme-related documents carefully.
This article has been prepared on the basis of internal data, publicly available information and other sources believed to be reliable. The information contained in this article is for general purposes only and not a complete disclosure of every material fact. It should not be construed as investment advice to any party. The article does not warrant the completeness or accuracy of the information, and disclaims all liabilities, losses and damages arising out of the use of this information. Readers shall be fully liable/responsible for any decision taken on the basis of this article.