Considerable amounts of money, like Rs. 2 lakh or more, are hard to come by. Unless you have been saving for a long period of time, you might not have that much accumulated with you. In such cases, if there is a financial need that you need to manage, you can always take a personal loan of Rs.2 Lakh.
A personal loan is a quick loan which offers funds for your personal financial needs. You can avail Rs. 2 lakh or even higher through personal loans offered by lenders. Navi offers Rs. 2,00,000 loans within minutes. You can download the Navi app on Android or iOS and apply for a Rs. 2 lakh instant loan when you need money if you are eligible for the same.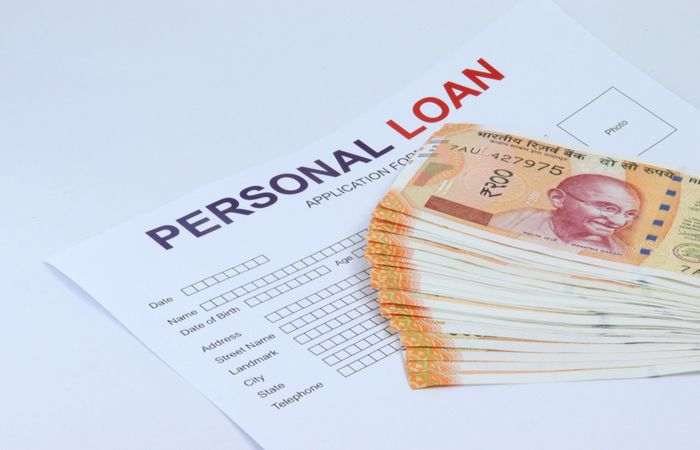 How To Get ₹2 Lakh Loan through Navi?
You can get Rs. 2 lakh instant loan from Navi using the following steps –
Download the Navi app on your smartphone and register with your mobile number

Click on 'Apply' on the home screen to start the loan application process

In the next few screens, you would have to provide your information to complete the application. This information includes the following –

Full name

Age

Marital status

PIN code

Employment details

Monthly income level

PAN card number

Once the complete details are provided, submit your application

The application would be reviewed by Navi digitally and a loan amount would be approved. You can get approved for up to Rs.20 lakh loan too.

Then you need to click your selfie using the app itself and enter your Aadhaar card number to complete your KYC.

After the loan is approved by Navi's technology-driven app, you will be shown a loan offer that you can customise according to your requirement such as the loan amount, EMI amount and tenure (period of the loan).

Then your KYC process would require a selfie upload and then submission and verification of your Aadhaar Number.
After the KYC is completed, you need to link your bank account details on the App and your Rs. 2 lakh loan would get instantly credited to your bank account.
Also read: Why You Should take A Personal Loan: Top 7 personal loan benefits
Features and Benefits of ₹2 Lakh Loan through Navi
Availing a Rs. 2 lakh loan from Navi has its advantages. These advantages include the following –
1. Quick Loan Disbursal
You can get a Rs. 2 lakh instant loan within a matter of 20 minutes. The loan application process is online and once you download the application, you can complete the process quickly and get funds at the earliest.
2. Wide Range of Loan Amount
Navi offers loans starting from Rs. 10,000 to Rs. 20 lakh. So, even if you need an amount more or less than Rs. 2 lakh, you can choose Navi for your needs.
3. Wide Range of Repayment Tenor
There is a range of repayment tenures offered. You can choose a suitable tenure based on your affordability of paying off the loan easily.
4. Minimal Documentations
You just need your PAN card and Aadhaar card to get a loan from Navi. For your photograph, click your selfie. The loan application process is made simple and quick.
5. Ease of Finding an Affordable EMI
You can use Navi's EMI calculator to find out the Rs.2 lakh instant loan EMI. You can also change the loan amount and/or the repayment period to change the EMI. The calculator calculates the EMIs instantly and helps you find the most suitable amount
Eligibility Criteria for ₹2 Lakh Loan
Here are some important eligibility requirements to get a loan that lenders might specify–
| | |
| --- | --- |
| Age of the Applicant | There is a minimum and maximum age criterion. The minimum age ranges anywhere between 18 and 25 years depending on the lender while the maximum age is usually 65 years |
| Occupation | Self-employed individuals, self-employed professionals and salaried employees can avail of the loan |
| Monthly Income | There is a minimum monthly income that you should earn to qualify for the loan. This amount is decided by the lender |
| Credit Score | Your credit score should at least be 650 to be eligible for the loan |
Also read: Top 11 Ways To Improve Your Credit Score
Documents Required for ₹2 Lakh Loan
Here are the documents required:
Recent coloured photographs of the applicant

A valid identity proof

A valid age proof

A valid address proof

A valid proof of occupation and income

Bank statements of the applicant for the last 3-6 months
Do not delay your financial needs anymore. Apply for a personal loan from Navi and get sufficient funds to pay for them or to meet any unforeseen emergencies.
Also read: How To Get 5 lakh Instant Personal Loan
FAQs on ₹2 Lakh Loan
Q1. 1. I need Rs. 2 lakh urgently. How long does it take for the loan to get sanctioned?
Ans: The time taken to sanction the loan varies across lenders and it can range from a few minutes to days. If you choose Navi, however, a Rs. 2 lakh loan would be sanctioned within 20 minutes.
Q2. Can I Avail a Rs. 2 Lakh Loan Without Income Proof?
Ans: Yes, you can easily avail of a loan of Rs. 2 Lakh without any income proof. However, you would need to provide your credit history or apply for the loan with a co-applicant. 
Q3. What Are The Factors That Can Affect a Rs. 2 Lakh Loan's EMI?
Ans: Your credit score plays a major role in determining the interest rate of your personal loan; which in turn affects the EMI amount. The tenure you choose also affects the EMI that you are supposed to pay
Before you go…