For the past few years or so, especially during pandemic and the post-pandemic world, there has been a sharp increase in demand for no cost EMIs. Consumers have been opting for no cost EMIs like never before to buy various products of their choice. So, how different are no cost EMIs compared to regular EMIs? Retailers or any e-commerce platforms allow you to buy products on EMIs, which consists of the principal amount and the interest. However, in no-cost EMIs, no interest rate will be levied on you directly, which makes the purchase affordable.
No cost EMI means you only pay the price of the product in parts. But does that mean that banks and other no cost EMI card issuers and facilitators aren't making money out of this service? Let's dive a bit deeper.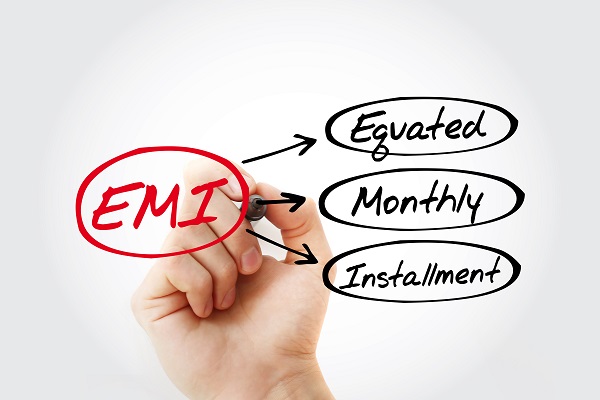 What is No Cost EMI?
As the name suggests, no cost EMI enables you to pay monthly instalments without requiring you to take the burden of interest amount, suggesting that you are paying only the total cost of the product. As a result, no-cost EMI is a lucrative repayment option helping you tide over a high-cost purchase without straining your finances.
However, you need to be aware that no-cost EMI does not mean that the price quote is devoid of interest amount. A retailer or a lender sells products, including the interest amount, or else they compensate the interest charge by not offering any discount on the product.
How does No Cost EMI Work?
Besides knowing what is no cost EMI, you should have an idea of how the no-cost EMI scheme works. Customers availing of no cost EMI do end up paying some extra amount while purchasing a product. No cost EMI works on two concepts. The first concept is dodging the discount to compensate for the interest rate, and the other method includes adding the interest component to the product's original price.
Equating discounts with interest rate: You are supposed to get a certain discount on your purchase under a traditional monthly instalments plan. However, while availing of no-cost EMI, you will not be entitled to any such discounts. You will have to pay the entire price of a product.
For instance, you might get a discount of 10% on purchasing a television set worth Rs. 25,000. But, in a no-cost EMI, the retailer is not going to provide any discount to you. Hence, you will pay the entire price of the product under the no-cost EMI tag.
Interest amount is built in the product price: In this method, the retailer incorporates the interest component into the actual product cost and makes you pay for it under the flexible repayment option and no-cost EMI norms.
For instance, you are going to buy a smartphone for Rs. 15 000. The retailer incorporates interest charges and sets the selling pricing of the mobile phone at Rs. 17000. You pay the extra amount of Rs. 2,000 under the no-cost EMI tag.
Advantages of Availing of a No Cost EMI
Here are the notable benefits of availing of a no-cost EMI that will help you manage the monetary burden that generally comes your way while making a hefty purchase.
With no-cost EMI, you can easily make big-ticket products.
You can manage your cash flow constraints easily while buying costly products.
Furthermore, availing no cost EMI will significantly boost your CIBIL score. Opting for smaller loans at no-cost EMI will help you boost your credit score, provided you repay on time.
You can conveniently pay for the cost of a product over a few months.
For purchasing an item on no-cost EMI, you can opt for online and offline payment modes. Additionally, at present several e-commerce platform extends this service to their customers.
Limitations of Availing of Zero Cost EMIs
Here are the limitations which you will experience while availing of a zero cost EMI:
Under no-cost EMI option, the cost of borrowing is higher eventually. Furthermore, the interest payable is inclusive of GST.
While returning a product, you still have to bear the interest rate.
You must also pay a non-refundable processing fee on buying certain things. Additionally, you have to pay service tax and other associated charges to the bank.
No cost EMI choice is applicable only if one uses a credit card.
Furthermore, you cannot avail of zero-cost EMI on all the products you desire to buy.
Hence, it is imperative to know the specific details related to no cost EMI to make the most out of this repayment method. Though no cost enables you to buy exorbitant products with ease, you should make sure that you are not buying or availing of unreasonable products. It is also applicable when you avail any credit option. Avoid choosing a loan amount that strains your future finances.
RBI Statement on No Cost EMI
Zero-cost EMI levies no interest rate on customers. However, it comes with short-term tenure and with additional charges. Under no-cost EMI scheme, customers end up paying more interest than what they have perceived in the beginning.
In a circular of 2013, the Reserve Bank of India stated that the concept of no-cost EMI is invalid. Hence, RBI has put a stop to no-cost EMI to protect customers' financial future and bring transparency to the pricing structure of the product.
Here's the effect of no-cost EMI ban by the RBI:
Debarring no-cost EMI scheme has secured customers from paying extra interest components while purchasing a product.
However, the condition is not the same with consumer goods manufacturer. After the RBI update, the sale percentage has degraded.
With the degradation of the sale percentage of consumer goods, overall sale in the country has also been disrupted.
Final Word
No-cost EMIs enable you to purchase high-end products conveniently. You don't have to pay the entire cost of products in one go. However, while choosing no-cost EMI for purchasing a product or availing of any credit option, you should also consider the down payment and other hidden charges.
For any other immediate financial requirement, sign up for Navi Personal Loan. Download the Navi app and get instant personal loans up to Rs.20 lakh at attractive interest rates starting from 9.9% p.a.
FAQs on No Cost EMI
Q1. Does it take a long time for a seller to process no-cost EMI?
Ans: Most reputed sellers do not take too long to clear such requests. In most cases, it can take anywhere between 3 and 5 working days for such an application to pass. Keep in mind that this is an estimate.
Q2. Is it profitable to buy a product outright or through no-cost EMIs?
Ans: A no-cost EMI can be beneficial if you do not have the requisite amount to buy a product or item you need. However, in case you are able to afford a product through a lump-sum payment, you should consider doing so. Often, such a purchase comes with added discounts. You can default on your EMIs and hurt your credit rating too, which is not a risk when you purchase an item by making a single payment.
Q3. What is the processing fee on a no-cost EMI?
Ans: In most cases, you do not need to pay processing fees for a no-cost EMI purchase through e-commerce platforms. However, if you avail of a consumer durable loan with such a facility, your lender can charge a processing fee.
Q4. Is a down payment necessary for no cost EMI purchases?
Ans: You do not need to pay a specific amount as a down payment for such purchases. Instead, your bank will convert the entire amount into EMIs. Such a facility makes it easier for a consumer, as he/she does not need to spend any money immediately. 
Q5. Does a seller provide a no-cost EMI facility on all its listed products?
Ans: In most circumstances, a seller offers a no-cost EMI facility on only a few products. The seller picks these products based on market performance, listed pricing, inventory and several other factors. This is why most online retailers mention that no-cost EMI is available on 'select products only.'
Q6. How do financial institutions profit from no-cost EMI?
Ans: The interest amount is actually discounted from the product price. You will pay for an amount that will be price of the product minus the discounted amount. So the total amount you pay to your bank is the actual price of the product, excluding GST. Your bank will charge GST on the interest amount.
Q7. Does no-cost EMI curb borrowing expenditure?
Ans. No, with no cost EMI, you eventually pay an extra interest amount. However, if you are aware of the two working procedures of this repayment method, you can manage your finances accordingly.
Q8. What is the fundamental difference between a standard EMI and a no-cost EMI?
Ans. Traditional monthly instalments hold the interest component, principal amount, and processing charges. On the other hand, zero-cost EMI converts your purchase into interest-free EMIs.
Q9. How worthwhile is it to avail no cost EMI?
Ans. Like any other credit option, you have to pay the no-cost EMI timely. If you can repay the loan amount, only then opting for no-cost EMI will prove worthwhile.
Before you go…