MACD or Moving Average Convergence Divergence is a popular indicator that analyses trends and momentum operating in a stock or overall market. Gerard Appel developed this momentum indicator in the 1970s and it gives an idea of the prevailing trend and the chances of its reversal. It represents an average consensus of a stock's value over a period of time.
Read on to learn more about MACD, its benefits and limitations.
What is MACD?
Moving Average Convergence Divergence (MACD) indicator allows market participants to track directional changes, momentum, trends, and strength in a stock's price.
Heavy fluctuations occurring in stock markets can make it difficult for traders to understand the actual trend. Therefore, the moving average will reveal a particular stock's true overall trend or momentum.
As MACD indicator removes the daily price volatility, it serves as a reliable technical tool. It considers moving averages from two different time periods and furthermore derives the momentum oscillator line by deducting these two moving averages. In trading terminology, this momentum oscillator line is called divergence.
How Does a MACD Indicator Work?
Moving average convergence divergence functions as an oscillator that tracks market trends as well as the possibility of their reversal. Whenever the MACD is above zero, it signals a bullish indicator, and if this oscillator goes below zero, it sends out bearish signals. Moreover, whenever these indicators start moving upwards from zero, it exhibits an impending bullish wave. 
On the other hand, if this indicator starts moving towards zero and further down, it again signals bearish sentiments in the particular security or market as a whole.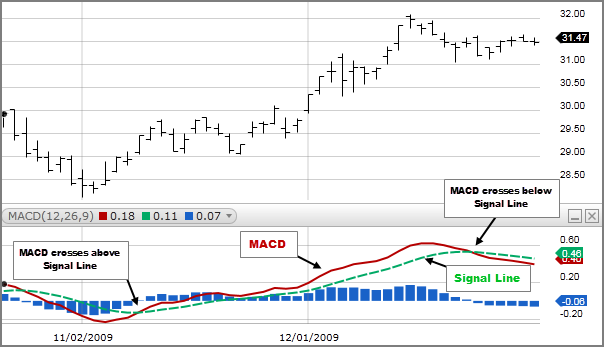 At times of trading ranges, it will experience both bullish and bearish pressures simultaneously. The fast line will witness to and fro movement across the signal line. 
Traders close out their position whenever this happens so as to reduce the volatility of their portfolio.
 What Does MACD Measure?
If you look at the MACD chart, you will see that there is a MACD line represented in blue. You can also see a signal line represented by red and a histogram in green which measures the difference between the signal line and the MACD line.
This oscillator gives an idea about prevailing momentum or trends by having zero and MACD lines as reference points. Whenever the MACD line moves up or breaches the zero line, it indicates an uptrend in a particular stock. On the other hand, if the MACD line moves below the zero line, it signifies a downtrend.
In a similar way, MACD also provides buy or sell signals to traders. When the MACD line moves above the zero line, it triggers a buy signal for traders. Whereas if the MACD line moves below the zero line, it means a sell signal for traders.
Therefore, using all these relative signals or indicators, traders can reposition their trades and undertake profitable trades.
How Can You Calculate MACD?
MACD has three crucial components, which are the MACD line (blue), the signal line (red) and histogram (green). The moving average convergence divergence line is the difference between two moving averages. Signal line gives out buy or sell signals by looking at price or momentum changes. Lastly, the histogram is the difference between signal and MACD line.
The MACD formula for computing the blue line is 12 days exponential moving average – 26 days moving average.
The red line is representative of the 9-day exponential moving average of MACD. It is located above the MACD line and gives out purchase or sell positions.
The histogram MACD indicator formula is MACD line – Signal line.
And finally, for computing the MACD, you need to subtract the long term exponential moving average from the short-term exponential moving average.
How to Interpret MACD?
MACD is all about the convergence or divergence of moving averages. You can see convergence when moving averages are moving towards each other. On the other hand, if moving averages are moving away from each other, it indicates divergence.
The 12-day moving average is fast and responsible for movements in MACD. However, the longer moving average of 26 days is slow and less reactive to any changes occurring in the price of securities.
It gives crossover signals when the 12-day Exponential Moving Average (EMA) crosses the 26-day EMA. A positive MACD value indicates that the 12-day exponential moving average has moved above the 26-day exponential moving average. This positive value will increase when short duration EMA diverges further from long duration one. For traders, this means that momentum in the stock is on the upside.
A negative MACD value means that the 12-day exponential moving average is below the 26-day exponential moving average. This negative value will keep on increasing as shorter EMA diverges from the longer one. It indicates a downside in momentum in relation to the price of the stock.
What Are the Advantages of MACD?
Some advantages of MACD are as follows:
The MACD chart is a quite simple and reliable technical analysis tool. It is easy to understand and helps to analyse market trends and signals.
It is a reliable indicator of momentum prevailing in a stock. This is because the moving average negates or removes the daily fluctuations occurring in the stock's price.
It mostly works or considers short-term moving averages of either 12 days or 26 days. Therefore, it is beneficial for short-term traders as they can track market signals more efficiently.
Another benefit of MACD is that it also gives signals for any trend reversals.
What Are the Disadvantages of MACD?
Here are some disadvantages of MACD:
It may not be useful for long-term traders and investors, as it only considers the short-term moving averages. One can only get an idea of short-term market trends.
The signals given out by MACD are quite slow. If you are following these signals to enter the market, you may miss out on early profit opportunities.
There are occasions of false alarms regarding shifts in the price of a security.
Differences Between MACD and Relative Strength
The differences between MACD and Relative Strength have been explained below:
| | | |
| --- | --- | --- |
| Parameter | MACD | Relative Strength |
| Meaning | The moving average convergence divergence shows a directional shift in momentum of a security's price as compared to its previous price point | Relative strength index shows whether a stock is overbought or oversold based on reading occurring on the RSI scale |
| Working | MACD exhibits a relationship between two exponential moving averages | RSI shows changes in price with regard to recent highs and lows |
| Reading Assessment | A positive MACD will indicate an upward trend while a negative MACD will signal a downward trend | As per RSI, a reading of more than 70 means an overbought stock. Furthermore, a reading of less than 30 means heavy selling in stock |
Final Word
MACD indicator is a popular technical tool that allows individuals to gauge the direction of momentum in trading. Traders, especially short-term traders, use this as it provides reliable market signals. In light of this, it is imperative that individuals also consider supplementary indicator tools and get an affirmative signal before arriving at any decision.
FAQs
Q1. Is MACD a leading or lagging indicator?
Ans: MACD functions as a lagging indicator as its functioning is dependent on historical price points of a stock. As it uses previous price points, it lags the price. However, in some cases, histograms are useful for determining future trends, and the histogram category of MACD functions as a leading indicator.
Q2. What is MACD bullish divergence?
Ans: A bullish divergence means that MACD has not reached a low value even though the price of the underlying stock is trading at a low value. This indicates bullish sentiments, and the stock may quickly reverse this falling trend.
Q3. Is MACD a reliable indicator?
Ans: Yes, MACD functions as a reliable indicator. This is because it irons out the fluctuations in price by considering only the moving averages.   
Q4. What is technical analysis in stocks?
Ans: Under this analysis strategy, individuals look at historical data sets like price and volume changes. They use this to calculate the entry and exit points of a particular stock. Moreover, some investors also try to gauge the future behaviour of a stock by looking at its technical analysis data.
Disclaimer



This article is solely for educational purposes. Navi doesn't take any responsibility for the information or claims made in the blog.