National Pension Scheme (NPS) is a retirement benefits scheme launched in 2004 by the Government of India (GOI) for government employees. But in 2009, it was opened to all sections. National Pension Schemes invest in low-risk equity funds, security funds and a few alternative investments and offer high returns. It also allows tax benefits of up to Rs.2 lakh under Section 80C and Section 80CCD (1B).  
So, which NPS scheme should you invest in?
Check out this list of top 10 National Pension Schemes to invest in India (2022) to make the right choice. Read on!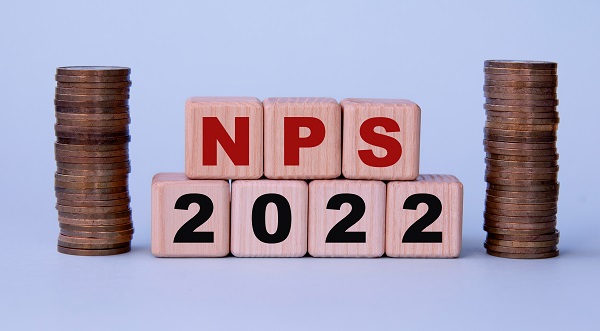 Top 10 National Pension Schemes in India (2022)
The following is a list of best-performing NPS schemes in 2022 by their 5-year returns.
| | | |
| --- | --- | --- |
| Serial Number | Name of the NPS Scheme | 5-Year Annualised Returns |
| 1. | HDFC Pension Management Company Limited Scheme E- Tier II | 13.20% |
| 2. | ICICI Prudential Pension Fund Scheme E- Tier II | 12.70% |
| 3. | UTI Retirement Solutions Scheme E- Tier II | 12.60% |
| 4. | Kotak Pension Fund Scheme E- Tier I | 12.30% |
| 5. | SBI Pension Fund Scheme E- Tier II | 11.70% |
| 6. | LIC Pension Fund Scheme E- Tier I | 11.30% |
| 7. | SBI Pension Fund Scheme A- Tier I | 10.00% |
| 8. | LIC Pension Fund Scheme G- Tier II | 9.20% |
| 9. | HDFC Pension Management Company Limited Scheme A- Tier I | 9.10% |
| 10. | HDFC Pension Fund Scheme C- Tier II | 8.80% |
How Do National Pension Schemes Work?
The National Pension Fund is a voluntary retirement plan regulated by PFRDA (Pension Fund Regulatory and Development Authority) and the Central Government. This long-term social security program is open for all employees in India, including those in public, private and unorganised sectors.
The best NPS schemes aim to attract those looking to earn a stable income after retirement. These are low-cost pension plans offering tax benefits and optional risk for those who want higher returns. Professional fund managers have to follow various regulations of PFRDA to manage these funds.
Subscribers to NPS need to regularly contribute to their pension accounts over the course of their employment. After retirement, they can withdraw a part of the accumulated funds as a lump sum. The rest goes towards an annuity plan that offers a monthly pension for the rest of your retirement life.
Also Read: What Are Pension Funds? Types Of Pension Funds
Types of National Pension Scheme Accounts
There are two types of NPS accounts you can open. These are:
Tier I NPS account
This is the basic and low-risk NPS account that is mandatory for any investor. People are not allowed to withdraw from this account till they are 60 years old. Then, they can withdraw 60% of their investments and utilise the rest for an annuity plan. This account offers tax-free returns at all stages of investment and tax benefits of Rs. 2 lakh.
You will need to invest at least Rs. 500 in this account at the time of registration and Rs. 1000 in a financial year to sustain the NPS account. There is no maximum cap on the investment amount for this NPS account.
Tier II NPS account
This is a voluntary retirement account that an investor can open if he/she already has a Tier I NPS account. Investors can make withdrawals and contributions from this account at their convenience. This account does not offer any tax benefits, unlike a Tier I account.
The minimum investment amount for a Tier II NPS account is Rs. 1000 at the time of opening. Thereafter, investors can make contributions in multiple of Rs. 250, with no cap on the maximum contribution. Subscribers can switch between a Tier 1 and a Tier II plan anytime.
How are National Pension Schemes Managed?
Pension fund managers in the government and public sector are responsible for the management of NPS. There are four main asset classes in NPS:
Equities (E)
Government Securities (G)
Corporate Debt (C)
Alternative Investment Funds (A)
Along with multiple asset classes, these schemes also allow investors to customise their asset allocation with two distinct investment strategies.
| | |
| --- | --- |
| Active Choice | Auto Choice |
| These offer the highest flexibility in choosing the proportion of asset classes in your portfolio. Investors can take a maximum of 75% exposure to equities till they are 50 years old. Another restriction is that they can allocate a maximum of 5% exposure to AIFs. Active choice investments allow you the maximum freedom to choose your asset allocation to reach your financial goals. | This option allows you to automate your asset allocation. There are three different asset allocation models for these funds- aggressive life cycle fund, moderate life cycle fund and conservative life cycle fund. These NPS schemes aim to preserve your wealth as you reach retirement age by minimising your overall portfolio risk. |
Also Read: 9 Best Monthly Income Plans To Invest In 2022
Benefits of Investing in National Pension Schemes
A portion of funds goes towards equities that offer higher potential returns over traditional investments.
The scheme allows partial withdrawals to address financial needs.
It is one of the most affordable investment options available.
It offers the flexibility to change investment patterns and the fund manager.
Under Section 80C, investors can tax benefits of up to Rs. 1.5 lakh.
Allows investors additional tax benefits of Rs. 50,000 u/s 80CCD (1B) over and above those offered u/s 80C.
Who Can Invest in National Pension Schemes?
Investors looking to start building a retirement corpus early.
Those with a low-risk appetite.
Private sector employees looking for regular income after retirement.
Those who want tax-free income after retirement.
Anyone looking for income tax deductions under Section 80C and Section 80CCD (1B).
Things to Consider before Investing in National Pension Schemes
Risk appetite: NPS has a cap of 50% to 75% exposure to equities, whose returns depend on market performance. This results in a higher potential to earn returns compared to fixed-income instruments but imparts it with higher risk. Investors should evaluate their risk appetite before deciding their asset allocation.
Financial goals: Your funds stay locked in till retirement. After the age of 60, you can withdraw up to 60% of the funds. Hence, you need to have long-term financial goals to invest in an NPS plan.
Final Word
NPS is a low-cost pension product offering stable income and tax benefits after retirement. Furthermore, they offer a high degree of flexibility to change asset allocation and the fund manager to suit your financial goals. To choose the best NPS schemes, you may want to check their past performance, your risk appetite and investment goals.
FAQs on National Pension Scheme
What is the eligibility criteria to join NPS?
Any Indian citizen between the age of 18 and 60 years can apply for NPS regardless of their employment status. Non-Resident Indians (NRIs) can also join the scheme, but their investment will be closed if their citizenship changes.
How can I opt for an NPS scheme?
You can open an NPS account on the official website of NSDL using your PAN, Aadhaar and mobile number. Alternatively, you can go to any bank or other financial institutions registered as POP-SPs (point of presence service providers) and submit your KYC papers to apply for NPS.
What are the various asset classes an investor can choose for NPS?
Asset Class E: Invests 50% of the corpus in equities and equity-related investments.
Asset Class G: The entire portfolio is comprised of government securities.
Asset Class C: Invests primarily in corporate bonds and money market instruments of various companies.
Asset Class A: Consists of alternate investments such as REITs, CMBS, MBS and InvITs.
What is a Permanent Retirement Account Number?
Permanent Retirement Account Number (PRAN) is a 12-digit number given upon registration for an NPS account. Any investor investing in NPS gets a PRAN card with this number and the investor's name, father's name, signature and photograph.
Can investors extend the maturity date for NPS?
Yes, investors of NPS can choose to extend the maturity date, which is fixed when they are 60 years of age. This is called deferment, and it lets you extend the maturity date for up to 10 years.
Before you go…
Looking for instant 🚀 personal loans 24*7 anywhere, anytime? Install the Navi app on Android or iOS now!
Or, maybe you're looking to buy that house you've been eyeing 🏠 and you need a loan of up to Rs. 10 crores. Install the Navi app on Android or iOS now and get instant in-principle approval right away! Interest rates starting at 6.46% p.a.
How about an affordable health insurance policy 👨‍⚕️ starting at a monthly premium of just Rs. 241? Install the Navi app on Android or iOS now and get your policy in under 2 minutes.
Instead, want to put your savings into action and kick-start your investment journey 💸 But don't have time to do research. Invest now with Navi Nifty 50 Index Fund, sit back, and earn from the top 50 companies.